Lodge #322 Home
Latest News
Elks National Foundation 2016 Re-Newal Pin
ENF is excited to offer a new recognition opportunity to new donors beginning with the 2016 fiscal year. Keep donating to the Elks National Foundation to receive the Road to Renewal Pins. The members listed below have been awarded the Great Heart year 2 pin.
Michael Brass
Paul M Cable
Heather L Hildenbrand
Bruce H Hulin
Kenneth M Kaminski
Andrew Meade
Paul Miser
Janice Noll
Joseph Patane
Timothy Seawell
Greg Sheets
Pam Simpson
Ross S Sprague
Joyce K Witt
Thank you
A BIG HEARTFELT THANK YOU TO EACH & EVERY MEMBER & YOUR FAMILIES FOR YOUR EXTREMELY GENEROUS DONATIONS! Next month I will report on the $ amounts in donations our Lodge donated to the Fresno VA Hospital, Fresno VA Community Living Center/Rehab, SLO Vet Center, and the SLO VA Clinic.
- Donna Donovan, Veterans Services Chair
Purple Pig Round-Up
Hello again, just a quick update on Major Projects and our Purple Pig fundraising. If you came by on the Fourth of July, we hope you were able to pick up a Purple Pig at the back gate. Our Purple Pig round-up is on! Make sure to fill up your Purple Pig with change, and if you don't have a pig, you can pick one up at the lodge. We are having a contest for most change turned in on the following dates:
Friday, December 30 from 6-8 pm
Friday March 31 from 6-8 pm
CYOS + Live Music
Join us on Friday, January 20 for Cook Your Own Steak and live music from the Lucky Nines!
Hot Wing Night
5 Mondays means Hot Wings! Join us on Monday, January 30 for Hot and Honey BBQ wings. See you there!
Games are held on the 1st and 3rd Wednesdays of the month. Doors open at 5pm. Earlybirds start at 6pm. Bring a friend or family member!
(Dates subject to change please check the monthly calendar.)
Subscribe to the Elks Calendar on your Smartphone
You can now subscribe to the Elks #322 calendar with your smartphone. Follow the instructions below to get started.
Calendar Subscription Link: https://goo.gl/gT8HtK
iPhone Instructions
Copy the Calendar Subscription Link above.
Tap on the Settings icon from the iPhone's home screen.
Tap on Mail, Contacts, Calendars from the list of device settings.
Tap the Add Account button and select Other in the list of account types.
Choose the Add Subscribed Calendar option at the bottom of the screen.
Enter the Calendar Subscription link above in the Server field. Tap the Next button.
Enter a custom description for the calendar and tap Next once more to finish adding it to your iPhone.
Android/Google Instructions
Copy the Calendar Subscription Link above.
Log into your Google Calendar account in a web browser and click the down-arrow next to Other calendars.
Select Add by URL from the menu.
Enter the paste the Calendar Subscription link in the field provided.
Click the Add Calendar button. The calendar will appear in the Other Calendars section of the calendar list to the left.
The new calendar will now be synced to your Android phone
Elks YELL & Calendar

About the Lodge
We are open daily from 10am until 10pm.
(805) 543-0322
Lodge 322 meetings are held on the first and third Tuesdays @ 7:00 PM
Please check our News page for the latest happenings at Lodge 322.
Wireless Internet Available
You can now bring your personal computer into the lodge to check your emails or google any information you may need all while dining, enjoying a libation or visiting Lodge 322.
Elks RV Storage
Our brand new SLO RV storage facility is open to ALL Elks Members as well as the general public! Rent your spot now! Call (805) 543-0322. Elks Lodge #322 offers a clean, safe and secure location for RV & Boat Storage. Reserve a spot in our SLO RV Storage Facility for your recreational vehicles.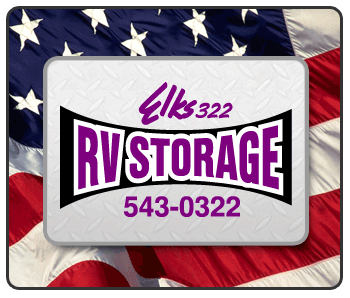 ---
About San Luis Obispo
San Luis Obispo (Spanish for St. Louis, the Bishop of Toulouse) is located roughly midway between Los Angeles and San Francisco on the Central Coast of California. Founded in 1772 by Spanish Fr. Junípero Serra, San Luis Obispo is one of California's oldest communities. The city, locally referred to as San Luis or SLO is the county seat of San Luis Obispo County and is adjacent to California Polytechnic State University.
---
Back to top