Lodge #322 Home

Latest News
Summer Volunteers Needed
Saturdays and Sundays: 10:00am to 1:00pm & 1:00pm to 4:00pm
Positions include prep, cashier, cooks and cleanup. Sign up by calling the Office or email volunteer@sloelks322.com.
Building Stronger Communities with Charity & Diversity
Esteemed Lecturing Knight, Richard Viar
It is the volunteers that make the Lodge run well. The Elks depend on the members to help the machine running smoothly. Volunteers also get the satisfaction of knowing they play an integral part in the workings of their Lodge. Communication is key to keeping the members informed and allowing a proper vehicle for them to know their desire to help out is managed.
Several times, I have been informed by a member, that they had tried to volunteer for one event or another but never heard back. Well meaning volunteers start by checking the boxes on their applications when joining. These are input into the Elks software and the person is flagged as "Interested", these names are collected by the Volunteer Coordinator and archived in a Committee Binder. Unfortunately, absent a centralized, efficient method of scheduling, and notifying the member they are all set for the date and event for which they want to help, the communication breaks down.
Many of the members may have already received a notice from a new application we are trying out, called "Signup Genius". Members are emailed with a calendar of the event as well as dates/times where they can participate. We hope to have all of the events needing volunteers uploaded to the application in time. For the present, the Poolside Grill is our test case to see if it provides the much needed communication and scheduling of those who have been trying to help.
When you receive an email, that is hopefully not going to your Junk File, from Signup Genius, you can simply click on the Sign Up link and be taken to the screen allowing you to pick the day you want. Just click on the date you want and the program will schedule you AND send a reminder 2 days ahead of the event. Hope to see you at the Grill!
Youth Activities Pig Raffle - Buy your raffle tickets today!
Elks Lodge #322 recently bought two quality market hogs at the California Mid State Fair for the purpose of having the animals become the source of additional funding to support our youth activities. As our membership has expanded, there is a growing interest in enhancing youth activities beneficial to our members children and you can be an important part of that effort by simply buying a couple of raffle tickets in this year's pig raffle with all net proceeds committed to support our youth. The two market hogs represent four quarters per animal, all cut and wrapped, or eight quarters total.
Each quarter comes packed in a suitable container and will be a real treat for the whole family. We then make the packaged quality meat available through the sale of charitable raffle tickets to our members, family and friends. Every raffle ticket gives someone the chance to win ¼ of the carcass which reflects eight chances to win! Our raffle tickets will only cost $20 each, quite reasonable given the quality of the "pampered" pork, the number of chances you have to win and, most important, all surplus funds go to support our LODGE YOUTH ACTIVITIES in the community.
Two tickets will be mailed to each member with the hope that you will buy or sell them to support this important effort for our kids. We will also be offering a "BONUS OPTION AGAIN THIS YEAR" whereby all you need do is sell a minimum of five tickets, take them all to the Lodge Office at the same time and we will give you an additional two free raffle tickets on the spot! Additional tickets will be available at the Lodge Office, Lodge Bar and from Officers and members who help us sell these tickets.
As a fraternal organization, we can make things happen by taking the initiative, a little time and effort to participate in this activity all of which can directly affect your children in a very positive way. Now is the time to help build the resource base to enhance and increase the level of youth activities as we work together to make our Lodge responsive to improving what we have done and exploring other alternatives as well.
Please watch for our mailer and buy your tickets early and often!! The drawing will be held in December and you need not be present to win!
Randy Arseneau, Chairman, 459-1940
Troy Good, 459-3350
Al Amaral, 441-3724
Major Project Update
Don't forget to pick up your ticket ($40) at the office for our Major Projects drive thru BBQ on Saturday, August 26. Each dinner ticket is good for a 4 person pork dinner.
Just to remind you, the Major Project (or Purple Pig) for the California-Hawaii Elks Association (CHEA) is to employ physical and occupational therapists to provide FREE therapy for disabled children who are not otherwise able to afford it. In addition, we employ speech therapists, and provide vision screening to help identify problems in children early so they can get care.
Currently, we employ 32 full time physical, occupational and speech therapists to help children throughout the States of California and Hawaii. Our Major Project is a 501 3(c) charity, so every dollar you donate is tax deductible. If you would like a record of your donations during the year, contact the Lodge Office.
In order to maximize our impact, we are looking for new ideas and help to generate donations for Major Project. To that end, a meeting will be organized for Major Project committee in July to start planning for more activities. If you expressed interest in Major Project on your membership application, we will be reaching out to you. If we miss you, please reach out to through the office. Thank you to all the people who donated extra money in your annual dues to this worthy cause.
Every dollar makes a difference in a child's life. Last year, we raised over $22,000. Let's see if we can't do better this next year!
CYOS + Live Music
Join us on Friday, August 11 for Cook Your Own Steak and live music.
Elks Donor Program
Any age is the right age to share the gift of life. In your 50s, 60s, 70s, or older? You've already made a big difference in the world— but we still need your help. Regardless of your age or health status, you can save and improve lives by signing up as an organ, eye, and tissue donor. Join more than 100 million registered donors and sign up today.
Go to donatelife.net or organdonor.gov for more information.
Games are held on the 1st and 3rd Wednesdays of the month. Doors open at 5pm. Earlybirds start at 6pm. Bring a friend or family member!
(Dates subject to change please check the monthly calendar.)
Subscribe to the Elks Calendar on your Smartphone
You can now subscribe to the Elks #322 calendar with your smartphone. Follow the instructions below to get started.
Calendar Subscription Link: https://goo.gl/gT8HtK
iPhone Instructions
Copy the Calendar Subscription Link above.
Tap on the Settings icon from the iPhone's home screen.
Tap on Mail, Contacts, Calendars from the list of device settings.
Tap the Add Account button and select Other in the list of account types.
Choose the Add Subscribed Calendar option at the bottom of the screen.
Enter the Calendar Subscription link above in the Server field. Tap the Next button.
Enter a custom description for the calendar and tap Next once more to finish adding it to your iPhone.
Android/Google Instructions
Copy the Calendar Subscription Link above.
Log into your Google Calendar account in a web browser and click the down-arrow next to Other calendars.
Select Add by URL from the menu.
Enter the paste the Calendar Subscription link in the field provided.
Click the Add Calendar button. The calendar will appear in the Other Calendars section of the calendar list to the left.
The new calendar will now be synced to your Android phone
Elks YELL & Calendar

About the Lodge
We are open daily from 10am until 10pm.
(805) 543-0322
Lodge 322 meetings are held on the first and third Tuesdays @ 7:00 PM
Please check our News page for the latest happenings at Lodge 322.
Wireless Internet Available
You can now bring your personal computer into the lodge to check your emails or google any information you may need all while dining, enjoying a libation or visiting Lodge 322.
Elks RV Storage
Our brand new SLO RV storage facility is open to ALL Elks Members as well as the general public! Rent your spot now! Call (805) 543-0322. Elks Lodge #322 offers a clean, safe and secure location for RV & Boat Storage. This is a popular service with a current 2-year wait list so reserve your spot in our SLO RV Storage Facility for your recreational vehicles today.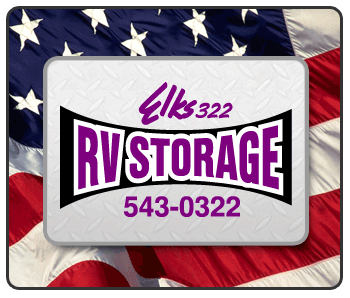 ---
About San Luis Obispo
San Luis Obispo (Spanish for St. Louis, the Bishop of Toulouse) is located roughly midway between Los Angeles and San Francisco on the Central Coast of California. Founded in 1772 by Spanish Fr. Junípero Serra, San Luis Obispo is one of California's oldest communities. The city, locally referred to as San Luis or SLO is the county seat of San Luis Obispo County and is adjacent to California Polytechnic State University.
---
Back to top