Lodge #322 Home
Latest News
Veterans Dinner - Wednesday, November 11
Join us as we honor those who have served the Veterans Day. Make your reservation today for this special Pork Loin Dinner, only $12 ($15 walk in). Veterans receive a free ticket with valid ID. Make your reservations or pick up your free veteran ticket at the office.X`
Youth Activity Fund Raiser
All members received two tickets via mail to sell of purchase eight chances to win 1/4 of pork from two Mid-State Fair pigs purchased. All net proceeds will support Youth Activities!
Only $20 for a chance to win one of eight quarters already cut, wrapped and ready for your freezer, but time is limited! Drop off your sold tickets or pick up a few more at the lodge office. Good Luck!
VA Hospital Donation
Lodge #322 is again collecting donations for the Fresno Veterans Hospital & Community Living Center/Rehab Unit. Your support is vitally needed. Clothing and sundries, including new sweat outfits, socks, travel size bathroom items, and board games are being collected now through December 8th.
Items Needed
NEW SWEAT OUTFITS (pants & crew or zippered jacket) needed for Rehab patients; ALL sizes, mostly L/XL plus Medium and 2X/3X)
NEW white crew socks
STORE BOUGHT magnifying READING Glasses
Glass cases
TRAVEL SIZE Hygiene products: toothpaste, shaving cream, shampoo, lotion, body wash (available at motels & CVS/Rite Aid/Walmart). Also larger sizes OK.
Disposable razors, toothbrushes, floss, denture cream/tablets
Lap Afghans (crocheted, knitted, quilted-approximate size- 35" X 42"-or longer for taller veterans.(For Thank You card Please include name/address)
ONLY NEW Caps (Baseball, Golf, Knit)
Coffee and supplies (boxes of Sweet n Low, sugar, creamer packets, only 12 oz Styrofoam cups( required to avoid spills)& Coffee
Playing cards(New/Used), Crossword/Word Search puzzle books
Board games, Need NEW ones (requested this year)-NOT USED!
New 2016 Wall Calendars (for patient's rooms)
To help me accurately summarize $ amount donated, please enclose copy of receipt to show how much you paid for each item.
Books and used clothing are no longer accepted by the VA!
Halloween Carnival - October 30-31
Bring your little ghosts, super heroes, and other costumed friends to our annual Elks Halloween Carnival. The fun runs from October 30-31 from 5:30-900PM. You'll SCREAM with excitement!
CYOS - November 20
CYOS and Karaoke Night return September 18th at 6PM. Come join the fun!
Games are held on the 1st and 3rd Wednesdays of the month. Doors open at 5pm. Earlybirds start at 6pm. Bring a friend or family member!
Wireless Internet Available
You can now bring your personal computer into the lodge to check your emails, map quest directions or google any information you may need all while dining, enjoying a libation or visiting Lodge 322. Thanks to Sterling Communications who has generously donated the equipment to bring Lodge 322 up to date in the wireless internet world.
(Dates subject to change please check the monthly calendar.)
---
Elks YELL & Calendar

About the Lodge
We are open daily from 10am until 10pm.
(805) 543-0322
Lodge 322 meetings are held on the first and third Tuesdays @ 7:30 PM
Please check our News page for the latest happenings at Lodge 322.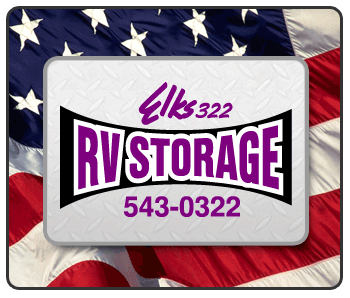 Elks RV Storage
Our brand new SLO RV storage facility is open to ALL Elks Members as well as the general public! Rent your spot now! Call (805) 543-0322. Elks Lodge #322 offers a clean, safe and secure location for RV & Boat Storage. Reserve a spot in our SLO RV Storage Facility for your recreational vehicles.
About San Luis Obispo
San Luis Obispo (Spanish for St. Louis, the Bishop of Toulouse) is located roughly midway between Los Angeles and San Francisco on the Central Coast of California. Founded in 1772 by Spanish Fr. Junípero Serra, San Luis Obispo is one of California's oldest communities. The city, locally referred to as San Luis or SLO is the county seat of San Luis Obispo County and is adjacent to California Polytechnic State University.
---
Back to top