Lodge #322 Home
Latest News
Memorial Day Pool Party
Summer is almost here! Join us for our annual Memorial Day pool party. Fun, sun, and pool side treats. Mark your calendar for May 25th!
Swim Lessons
Registration for summer swim lessons are now open. There will be three sessions between June and August for groups ranging from beginners to advanced intermediate swimmers. Click here for more details
Movie Night
Join us May 27th at 6:30PM for a special free event held to support our veterans. The movie "Halfway Home" is a documentary which details the experience of returning Vietnam and Iraq vets and showed at the Fremont, the Bay, and the Fair Oaks theaters. It was recently picked up by TV station KCET for showing at all their affiliate stations across the US and overseas. There will be a Q & A after the movie. Also finger foods will be served. Parental guidance is suggested. Please call for reservations.
SLO Homless Veterans Stand Down
On May 15th Gary & Donna will be distributing white T shirts, briefs, and socks. Members Kate Orgill and Hugo Santana for O'Connor Pet Hospital will be distributing small boxes/bags of dog food & treats, toys, leashes, & collars for Medium/Large dogs. Betty is also making arrangements for another Veterinarian to provide checkups & vaccines. DONATIONS NEEDED: Above items needed (NO LATER THAN WEDNESDAY MAY 13th). Thank You!! Also we NEED a couple of Volunteers to be available if Gary & I are called out of town. Will need to fill out & submit required forms. Portable showers will also be provided. NEED HOTEL/MOTEL SMALL SIZE toiletries: SHAMPOOS, CONDITIONERS, SOAP, SHOWER GEL, etc.
Pork Chop Dinner
REMINDER: EARLY RESERVATIONS NEEDED!! Please call ASAP to get your name on the Reservation List!! IF You definitely know or are likely planning on coming, the earlier the Better as the pork chops have to ordered by Monday May 18th and here ready to be cut on Saturday May 23rd!!! To help get an accurate count of pork chops needed, PLEASE specify the number of children who will be splitting a pork chop (does not include those who are splitting with an Adult). Teens 13 & older to be included in the number of Adults, unless otherwise indicated. For the children, we will also be offering chicken nuggets, if requested at the time you call & make your Reservation.
CYOS
CYOS and Karaoke Night return June 19th at 6PM. Come join the fun!
Games are held on the 1st and 3rd Wednesdays of the month. Doors open at 5pm. Earlybirds start at 6pm. Bring a friend or family member!
Wireless Internet Available
You can now bring your personal computer into the lodge to check your emails, map quest directions or google any information you may need all while dining, enjoying a libation or visiting Lodge 322. Thanks to Sterling Communications who has generously donated the equipment to bring Lodge 322 up to date in the wireless internet world.
(Dates subject to change please check the monthly calendar.)
---
Elks YELL & Calendar

About the Lodge
We are open daily from 10am until 10pm.
(805) 543-0322
Lodge 322 meetings are held on the first and third Tuesdays @ 7:30 PM
Please check our News page for the latest happenings at Lodge 322.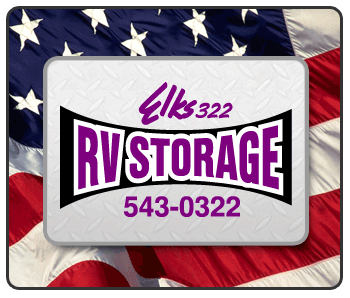 Elks RV Storage
Our brand new SLO RV storage facility is open to ALL Elks Members as well as the general public! Rent your spot now! Call (805) 543-0322. Elks Lodge #322 offers a clean, safe and secure location for RV & Boat Storage. Reserve a spot in our SLO RV Storage Facility for your recreational vehicles.
About San Luis Obispo
San Luis Obispo (Spanish for St. Louis, the Bishop of Toulouse) is located roughly midway between Los Angeles and San Francisco on the Central Coast of California. Founded in 1772 by Spanish Fr. Junípero Serra, San Luis Obispo is one of California's oldest communities. The city, locally referred to as San Luis or SLO is the county seat of San Luis Obispo County and is adjacent to California Polytechnic State University.
---
Back to top
Server: wsprd3