Lodge #322 Home
Latest News
Family Activities Night - Feb 4th
Family Activities Returns to the 4th Saturday at 4pm for the rest of the season! In February, we will be having Family Bingo. This was hugely popular last year, so we are moving to the dining room for plenty of room and fun. For April, we have a talent night scheduled. Please RSVP to Ann McDowell - kayakrat@aol.com telling the talent you wish to display, and the approximate time length of your act. It can be music, a short skit, poetry, whatever you want it to be. Looking for all the talented Elk families to come strut their stuff! We need your RSVP to confirm the event, so even if it is just a message that says "save a place for me", send it in. Thanks, and see you at Family Activities, the 4th Saturday at 4!"
Super Bowl Sunday - Feb 7th
Join us Sunday, February 7th for our annual Super Bowl Sunday potluck! Watch as Carolina Panthers take on the Denver Broncos at Levi Stadium. The party starts at 12pm and don't forget the to try the mangers special "Rum Punch"!
Hot Wing Night - Feb 29th
5 weeks in February means hot wings! Join us on Monday, February 29th for the best hot wing deal in town. Choose from hot or honey BBQ served with slaw and celery.
Games are held on the 1st and 3rd Wednesdays of the month. Doors open at 5pm. Earlybirds start at 6pm. Bring a friend or family member!
Wireless Internet Available
You can now bring your personal computer into the lodge to check your emails, map quest directions or google any information you may need all while dining, enjoying a libation or visiting Lodge 322. Thanks to Sterling Communications who has generously donated the equipment to bring Lodge 322 up to date in the wireless internet world.
(Dates subject to change please check the monthly calendar.)
---
Elks YELL & Calendar

About the Lodge
We are open daily from 10am until 10pm.
(805) 543-0322
Lodge 322 meetings are held on the first and third Tuesdays @ 7:30 PM
Please check our News page for the latest happenings at Lodge 322.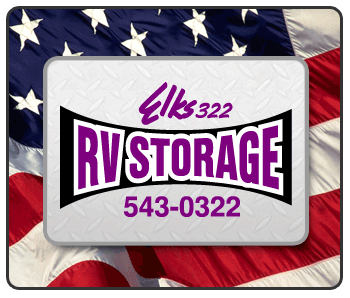 Elks RV Storage
Our brand new SLO RV storage facility is open to ALL Elks Members as well as the general public! Rent your spot now! Call (805) 543-0322. Elks Lodge #322 offers a clean, safe and secure location for RV & Boat Storage. Reserve a spot in our SLO RV Storage Facility for your recreational vehicles.
About San Luis Obispo
San Luis Obispo (Spanish for St. Louis, the Bishop of Toulouse) is located roughly midway between Los Angeles and San Francisco on the Central Coast of California. Founded in 1772 by Spanish Fr. Junípero Serra, San Luis Obispo is one of California's oldest communities. The city, locally referred to as San Luis or SLO is the county seat of San Luis Obispo County and is adjacent to California Polytechnic State University.
---
Back to top