Lodge #322 Home
Latest News
Investing in Our Youth
For many years, our Lodge has purchased livestock every year at the Paso Robles Mid-State Fair from local/county FFA and 4-H boys and girls. We do this to support their educational through the practical experiences these students receive in the process of raising their animals. Additionally, we have a very real need to generate funds to support our own Youth Activities Fund which provides funds for student scholarships, Boy and Girl Scouts, Soccer "Shoot Out", Hoop Shoot Competition, Youth Baseball, Football, Rugby, Band and many others through the sale of raffle tickets. Help us build our Youth Activities Fund with your purchase of a $20 raffle ticket for 1/4 of this years purchased animal(s). Tickets will be available for sale starting in September with the drawing held in December. Ticket will be sold at the office, Bar, or from an Officer or Trustee.
Halloween Meeting
The first Halloween Meeting for 2015 is here and we are going BIG! The Haunted House is Back!!! Help is needed with promoting via social media so bring your ideas. The meeting will be held on Thursday, August 6 at 6pm in the Lodge Room. Contact Larry at lprcll@aol.com or Ted at 805-712-7563 for more information. See you there!
CYOS
CYOS and Karaoke Night return August 21th at 6PM. Come join the fun!
Games are held on the 1st and 3rd Wednesdays of the month. Doors open at 5pm. Earlybirds start at 6pm. Bring a friend or family member!
Wireless Internet Available
You can now bring your personal computer into the lodge to check your emails, map quest directions or google any information you may need all while dining, enjoying a libation or visiting Lodge 322. Thanks to Sterling Communications who has generously donated the equipment to bring Lodge 322 up to date in the wireless internet world.
(Dates subject to change please check the monthly calendar.)
---
Elks YELL & Calendar

About the Lodge
We are open daily from 10am until 10pm.
(805) 543-0322
Lodge 322 meetings are held on the first and third Tuesdays @ 7:30 PM
Please check our News page for the latest happenings at Lodge 322.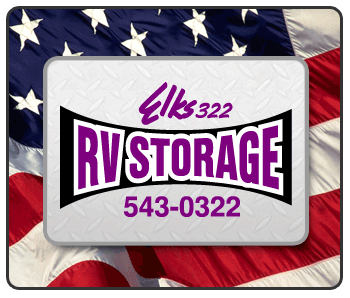 Elks RV Storage
Our brand new SLO RV storage facility is open to ALL Elks Members as well as the general public! Rent your spot now! Call (805) 543-0322. Elks Lodge #322 offers a clean, safe and secure location for RV & Boat Storage. Reserve a spot in our SLO RV Storage Facility for your recreational vehicles.
About San Luis Obispo
San Luis Obispo (Spanish for St. Louis, the Bishop of Toulouse) is located roughly midway between Los Angeles and San Francisco on the Central Coast of California. Founded in 1772 by Spanish Fr. Junípero Serra, San Luis Obispo is one of California's oldest communities. The city, locally referred to as San Luis or SLO is the county seat of San Luis Obispo County and is adjacent to California Polytechnic State University.
---
Back to top