Lodge #322 Home
Latest News
Memorial Service - December 4th
On this day, the Elks honor those of our Members who have departed over the past year. This is a solemn memorial occasion mandated by Statutes of the Order and as in the past all of our deceased members are memorialized and remembered.
This ceremony is always scheduled for the first Sunday in December, this year being the 4th of December. Our program will start at 2 pm and will take about 40 minutes. Following the Ceremony, there will be refreshments and an opportunity to visit friends we have not seen in sometime.
Christmas Food Basket Program
With the help of a $2,000.00 Grant from the Elks National Foundation our Lodge is providing Christmas Dinner and Gifts for 15 low income families in our community. We have received a wish list from all the members of the families and have entered the information on a "Christmas Stocking ornament" which will hang on the Christmas tree in the Lobby on Sunday, November 28th.
We will be giving each family a full Turkey Dinner (uncooked) with all the trimmings and a gift to each family member. We hope to be able to fulfill their wishes as far as we will be able. Of course it goes without saying that we need the help of our members to complete this program.
If you would like to help you may take one of Stocking Ornaments and buy the item or items listed on the back. There is a sign-up list by the Tree to record what family member you are buying for; please record your name & membership number so we know who is getting what. You may deliver the gift to the Lodge and we will wrap it up. Please, also bring the sales slip for the cost of the gift.
If you wish to donate part of the Christmas dinner there will be a barrel in the Lobby for food donations. Food donations can be a frozen 10# turkey, 5# sack of potatoes, gravy, canned vegetables, cranberry souse, a Pumpkin or Apple pie, etc. Please provide the sales slip for any food items donated.
We are thankful for your generosity ! If you have any questions please call Rose Hart at 209-817-2898 or Gloria Smith at 805-543-0391.
Purple Pig Round-Up
Hello again, just a quick update on Major Projects and our Purple Pig fundraising. If you came by on the Fourth of July, we hope you were able to pick up a Purple Pig at the back gate. Our Purple Pig round-up is on! Make sure to fill up your Purple Pig with change, and if you don't have a pig, you can pick one up at the lodge. We are having a contest for most change turned in on the following dates:
Friday, December 30 from 6-8 pm
Friday March 31 from 6-8 pm
Youth Activities Fundraiser - Pig Raffle
HELP PUT US OVER THE TOP!
If you haven't bought or sold tickets yet for 8 chances to win ¼ of two pampered fair pigs all cut and wrapped for your freezer, now is the time! The drawing will be held in December on Elks Orientation Night but you need not be present to win.
Remember, too, our "special deal" where if you buy or sell a total of five tickets and take them to the Lodge Office all at the same time, we will give you two more tickets free and increase your chance of winning!
With our increased numbers of family members with younger children in the San Luis Obispo Elks Lodge, we are trying to build our resource base to enhance those youth activities we now have and add new programs that parents may wish to include in our sponsorship. Together we can help accomplish this goal by buying raffle tickets which financially make it possible and enjoy the prospect of having a good chance to win prime quality pork for our family enjoyment as well.
If you haven't purchased the tickets we sent you, please do so now. If you need more tickets, just stop by the Lodge Office for more. Your individual support is crucial to our success in this effort and collectively we will "git er done"!
For questions, please call the Lodge Office 543-0322
Fresno VA Hospital Donations
ALL of the following items are needed and will be donated to the Veterans at the Fresno VA Hospital & Community Living Center/Rehab Unit. Your Support will help meet the needs of our local Veterans!! Please give generously & early!
Games are held on the 1st and 3rd Wednesdays of the month. Doors open at 5pm. Earlybirds start at 6pm. Bring a friend or family member!
Wireless Internet Available
You can now bring your personal computer into the lodge to check your emails or google any information you may need all while dining, enjoying a libation or visiting Lodge 322.
(Dates subject to change please check the monthly calendar.)
---
Elks YELL & Calendar

Volunteer
A lodge only prospers with the support and participation of its members. Follow the link below to view volunteer opportunities.
About the Lodge
We are open daily from 10am until 10pm.
(805) 543-0322
Lodge 322 meetings are held on the first and third Tuesdays @ 7:00 PM
Please check our News page for the latest happenings at Lodge 322.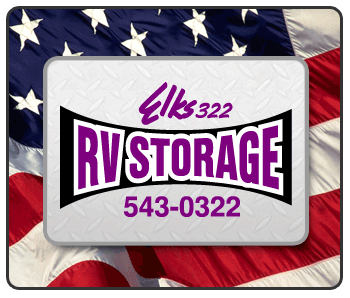 Elks RV Storage
Our brand new SLO RV storage facility is open to ALL Elks Members as well as the general public! Rent your spot now! Call (805) 543-0322. Elks Lodge #322 offers a clean, safe and secure location for RV & Boat Storage. Reserve a spot in our SLO RV Storage Facility for your recreational vehicles.
About San Luis Obispo
San Luis Obispo (Spanish for St. Louis, the Bishop of Toulouse) is located roughly midway between Los Angeles and San Francisco on the Central Coast of California. Founded in 1772 by Spanish Fr. Junípero Serra, San Luis Obispo is one of California's oldest communities. The city, locally referred to as San Luis or SLO is the county seat of San Luis Obispo County and is adjacent to California Polytechnic State University.
---
Back to top