Lodge #322 Home
Latest News
Purple Pig Round-Up
Hello again, just a quick update on Major Projects and our Purple Pig fundraising. If you came by on the Fourth of July, we hope you were able to pick up a Purple Pig at the back gate. Our Purple Pig round-up is on! Make sure to fill up your Purple Pig with change, and if you don't have a pig, you can pick one up at the lodge. We are having a contest for most change turned in on the following dates:
Friday, September 30 from 6-8 pm
Friday, December 30 from 6-8 pm
Friday March 31 from 6-8 pm
CYOS + Live Music - Friday, October 21 at 6pm
Join us for Cook Your Own Steak on October 21 at 6pm for the best steak you ever cooked and live music. See you there!
Youth Activities Fundraiser
Elks Lodge #322 recently bought two quality market hogs at the Paso Robles Mid State Fair for the purpose of having the animals become the source of additional funding to support our youth activities. As our membership has expanded, there is a growing interest in enhancing youth activities beneficial to our members children and you can be an important part of that effort by simply buying a couple of raffle tickets in this year's pig raffle with all net proceeds committed to support our youth.
The two market hogs represent four quarters per animal, all cut and wrapped, or eight quarters total. Each quarter comes packed in a suitable container and will be a real treat for the whole family. We then make the packaged quality meat available through the sale of charitable raffle tickets to our members, family and friends. Every raffle ticket gives someone the chance to win 1/4 of the carcass which reflects eight chances to win! Our raffle tickets will only cost $20 each, quite reasonable given the quality of the "pampered" pork, the number of chances you have to win and, most important, all surplus funds go to support our LODGE YOUTH ACTIVITIES in the community.
The drawing will be held in December on Orientation Night and you need not be present to win!
Two tickets will be mailed to each member with the hope that you will buy or sell them to support this important effort for our kids. We will also be offering a "BONUS OPTION AGAIN THIS YEAR" whereby all you need do is sell a minimum of five tickets, take them all to the Lodge Office at the same time and we will give you an additional two free raffle tickets on the spot! Additional tickets will be available at the Lodge Office, Lodge Bar and from Officers and members who help us sell these tickets.
As a fraternal organization, we can make things happen by taking the initiative, a little time and effort to participate in this activity all of which can directly affect your children in a very positive way. Now is the time to help build the resource base to enhance and increase the level of youth activities as we work together to make our Lodge responsive to improving what we have done and exploring other alternatives as well.
Please watch for our mailer and buy your tickets early and often!
RANDY ARSENEAU, CHAIRMAN (805) 459-1940
TROY GOOD (805) 459-3350
AL AMARAL (805) 441-3724
Games are held on the 1st and 3rd Wednesdays of the month. Doors open at 5pm. Earlybirds start at 6pm. Bring a friend or family member!
Wireless Internet Available
You can now bring your personal computer into the lodge to check your emails or google any information you may need all while dining, enjoying a libation or visiting Lodge 322.
(Dates subject to change please check the monthly calendar.)
---
Elks YELL & Calendar

Volunteer
A lodge only prospers with the support and participation of its members. Follow the link below to view volunteer opportunities.
About the Lodge
We are open daily from 10am until 10pm.
(805) 543-0322
Lodge 322 meetings are held on the first and third Tuesdays @ 7:00 PM
Please check our News page for the latest happenings at Lodge 322.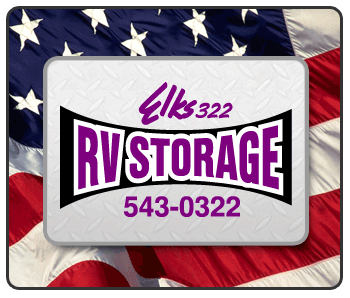 Elks RV Storage
Our brand new SLO RV storage facility is open to ALL Elks Members as well as the general public! Rent your spot now! Call (805) 543-0322. Elks Lodge #322 offers a clean, safe and secure location for RV & Boat Storage. Reserve a spot in our SLO RV Storage Facility for your recreational vehicles.
About San Luis Obispo
San Luis Obispo (Spanish for St. Louis, the Bishop of Toulouse) is located roughly midway between Los Angeles and San Francisco on the Central Coast of California. Founded in 1772 by Spanish Fr. Junípero Serra, San Luis Obispo is one of California's oldest communities. The city, locally referred to as San Luis or SLO is the county seat of San Luis Obispo County and is adjacent to California Polytechnic State University.
---
Back to top