Lodge #213 Home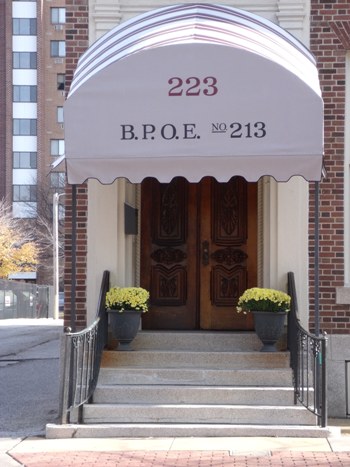 223 N. George Street | downtown York, PA | 717-848-2785
Welcome to B.P.O. Elks Lodge #213! Welcome to York, PA!
Upcoming Events!! Find them at our Lodge #213 Facebook Page!!
** Elks #213 Newsletter for November 2014 is now available! Select the "NEWSLETTER" link to the left to learn more about your Elks Lodge #213 and all its impact this month! **
FIRST FRIDAY DECEMBER 2014! Click on "EVENTS" link to the left to see what's happening at your Lodge!
* FLAG DAY 2014 ** Please watch out Flag Day ceremony here in York, PA. *
Located in the heart of downtown York, the lodge is a historic 19th century building that has been maintained to most of its original state. Come on down and enjoy the company of fellow Elks in a Grand Old Lodge!

The Lodge Meets every 2nd & 4th Mondays, except during July & Aug, When we meet on the 4th Monday only.

The Lodge is open Tuesday, 5-10 PM for Game Night, Wednesday and Thursday from 4-10 PM, Friday from 4-11pm, Saturday, from 12 noon-10 PM and Sunday, from 12 noon-8 PM. Dining Room is open Wednesday through Friday from 5-9 PM.
Visit our Facebook page and LIKE us today!
Directions: Rt 83 To N George St, Go South To 223 N George York PA

Lodge #213 ER Ronald Lewis (l.) along with Grand Lodge Exalted Rule (2014-15) John H. Amen and PGER Hess at the 2014 GL Convention in New Orleans, LA
---
Back to top