Mojave Elks Trap & Skeet Range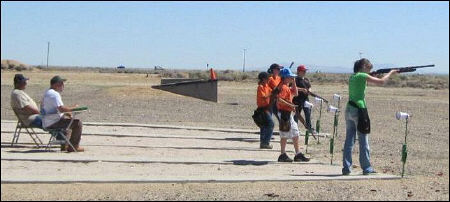 We invite everyone to enjoy a day of safe shooting !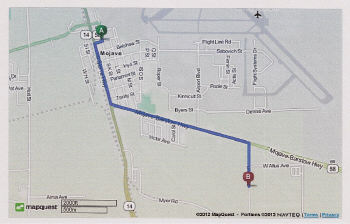 Our Range is 2½ miles SSE of our Lodge
East Business Hwy 58 + United Street
14866 United Street Mojave CA 93501
Latitude +35. 037548º N
Longitude -118. 148742º W
Elevation 2757 FT
Trap & Skeet Range Contacts
Bob Friend 661 816 7258
Billy Churchill 661 824 1728
Lodge Office
GENERAL SCHEDULE
Second and Fourth SUNDAYS at 8 am
September 2014 Schedule
Sunday September 14 at 8 am
Sunday September 28 at 8 am
First Annual Veterans Trap Shoot News Article
Second Annual Veterans Trap Shoot News Article
Third Annual Veterans Trap Shoot News Article I
Third Annual Veterans Trap Shoot News Article II
TRAPMASTERS ----------- INSTRUCTORS ----------- COACHES








Billy C David Bob George Homer Billy M
On Tuesday June 24th, the Mojave Elks Trap Range held the 3rd Annual Veterans Trap Shoot hosting several Veterans from the William J. 'Pete" Knight Veterans Home in Lancaster. These veterans were given the opportunity to shoot a round of clay targets at the range.
Each individual was presented a medallion by the range and a T-Shirt by the Mojave Youth Gun Club. The range would like to give special thanks to Bill Morris, members of the Mojave Youth Gun Club, Briana Crocoll, Gage and Mason Gogstetter and NRA Certified Instructor Karen Gogstetter for all their assistance with the shooting.
Following a morning of trap shooting all participants were transported to the ELKS lodge where they were served a hearty meal of meatloaf, mashed potatoes, sautéed green beans and chocolate cake prepared by ELKS member Dollie Cooksey.
The Mojave Elks Trap/Skeet Range personnel and the Mojave Youth Gun Club are proud to be able to show their appreciation to our veterans, as we know they are all America's Heroes.
The Rattlers Gun Club is practicing at.the Range Wednesdays at 3:30 pm
Thank You to our Regional Sponsors !
Brookfield Development
Coca Cola
Donuts - Mojave
Homer Hansen
Norman Hanson Firearms - Tehachapi
Intren
Karl's Hardware
Mortenson Construction
Billy Morris
Todd Porter Concrete - Rosamond
S&C Electric
Score Keepers
Stoken Deli & Donuts
Vestas
Dollie's Trap Range Photo Gallery
WE RECYCLE !
---
NOTICE
All persons 18 and under are required to take a certified Hunter Safety Course
before they are allowed to shoot Trap or Skeet at our Range.
A Safety Certificate will be presented upon successful completion of this course.
---
Back to top