Aid to Rural Hospitals
Aid to Rural Hospitals
The Montana State Elks Association provides financial aid to rural community hospitals in Montana to purchase equipment to aid patient care. MSEA has identified 47 smaller hospitals that are eligible for MSEA support. These community hospitals are located in remote, rural towns that have limited resources. Many of these smaller hospitals cannot provide operating room services and the majority have one or two practitioners who take calls from home to cover emergency patients.
Highlights
Prairie Community Hospital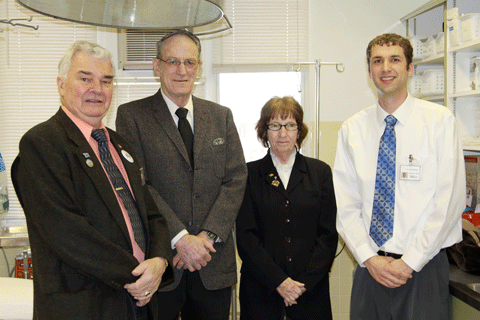 Prairie Community Hospital in Terry was recently awarded an $8,000 grant from the Montana State Elks Association's Major Project Program.
Members of the Miles City Elks Lodge #537 met with PCH Administrator Parker Powell last week to present a check, which will be used to purchase a portable ventilator for the hospital's Emergency Room.
PCH Director of Nursing Kay Schaaf, who was also on hand for the presentation, said the portable ventilator will replace an older manual ventilator that the hospital has been using.
"It'll help a lot," Schaaf said. "It'll reduce the number of people needed in the ER." The MSEA Major Project Program provides financial aid to rural community hospitals throughout Montana, allowing small hospitals to purchase needed medical equipment.
Many of these community hospitals are located in remote, rural towns that have limited resources. In the past 20 years, the MSEA Major Project Program has donated about $950,000, according to the MSEA Web site.
Source: http://www.prairiecommunityhospital.org/?p=213
St. John's Lutheran Hospital
St. John's Lutheran Hospital in Montana was afforded a GE Dinamap Machine to their Emergency Department by way of Elks funding. The Dinamap is used to triage patients that comes through the Emergency Department and Urgent Care doors. It checks the vital signs of each patient and has the capability to monitor blood pressure, heart rate, and oxygen saturation.
"The support we receive through the Elks State Project Committee is essential for our small rural facility," stated KC Hoyer, Executive Director of the Foundation. "As most of you know, St. John's is a stand alone healthcare facility, and we don't rely on a parent company to help fulfill our ever changing equipment needs; we have to find ways to raise those dollars on our own. Local organizations, like the Elks, help us keep state-of-the-art technology at St. John's. Not an easy feat, as technology rapidly changes and our equipment ages. The Elks have gone to bat for us over and over again, to secure the funding for vital equipment, and they have been doing this for over 11 years. It's highly admirable, and truly appreciated."
"In Fiscal year 2009 (April 1, 2008 – March 31, 2009), the SJLH Emergency Department saw 6,557 emergency patients and 4,820 urgent care visits. The new DInamap machine will help each and every one of those visitors get triaged in the future," Hoyer concluded.
Source: http://www.libbymt.com/news/2011/03/ElksStateCommitteepr.htm
---
Back to top