Local high school graduates honored with Elks Lodge scholarships
The Whittier Elks Lodge #1258 has awarded $625 in scholarships to graduating high school seniors. At the Wednesday, May 19, 2010 Lodge meeting, Scholarship Chairman Sylvia Reveles, along with Exalted Ruler Tom Riles, PER presented the certificates to the award recipients.

Congratulations go to $200 recipients, Marcus Ortiz and Stephanie Romero, $150 recipient Anthony Morales, and $75 recipient Sabrina Valles.

In addition, five students were recognized as District Level Participants. They are Alicia Soto, Charlene Ngu, Nicole Garwood, Sabrina Adams and Corina Limon.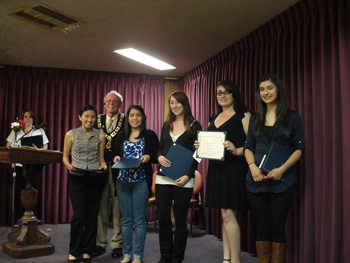 Alicia Soto, Charlene Ngu, Nicole Garwood, Sabrina Soto and Corina Limon celebrate with Exalted Ruler Tom Riles, PER.

** FOR INDIVIDUAL PICTURES PLEASE CLICK ON "SCHOLARSHIP" BUTTON ON LEFT COLUMN **