Elks Donate Funds to Pierre-Fort Pierre Food Pantry During 2020 Ardis Townsend Challenge to Fight Hunger
The Pierre Elks Lodge #1953 applied for a $2,500 Gratitude Grant from the National Elks Foundation in April of this year. After hearing that the lodge was awarded the grant in May, Exalted Ruler Jonathan Ward put a challenge out to the members of the lodge to raise additional funds to match the grant and Pierre Elks Lodge members donated $1,015. As a result, more than $3,500 in grant funds and lodge donations were earmarked for the Pierre-Fort Pierre Food Pantry to assist those needing additional help during the Coronavirus pandemic. During a check presentation-a $3,515 check was given to the pantry. The Elks funds allowed the organization to meet a goal of $50,000 as part of the annual Ardis Townsend Challenge to Fight Hunger! Thanks to the National Elks Foundation, to all who donated and to Lorie Pogany and Steve Wegman for their work in securing the NEF Gratitude Grant!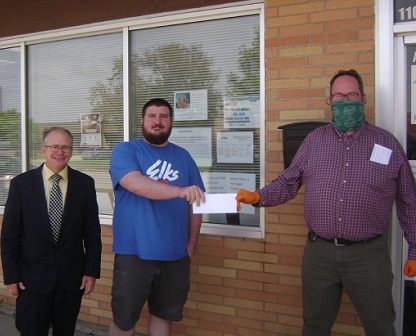 Pierre Elks Lodge Esteemed Leading Knight Marc Ulmen and Exalted Ruler Jonathon Ward are pictured during a check presentation with PARS Executive Director Corwin Jones. ​