Utah Elks Care for "Little Warriors" In Need
For the last six years, the Utah Elks Veterans Program has hosted a Little Warrior Camp for kids who have lost a parent in action or have suffered a loss related to PTSD. This year, 83 children between 6 months to 19 years old fell into this category. Out of the 83 eligible youth, 55 attended the camp with a caregiver.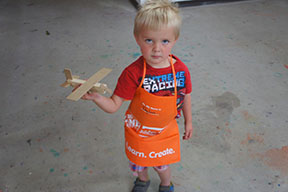 The camp aims to provide a recreational healing opportunity and general fun times for families who are grieving. Robert Pagnani, the Veterans Chairman of the Utah Elks, explained, "We bring them here for three days and try to spoil them the best way that we can. We hope that we can take away the sadness that they might have and give them happiness and to show them how much we care about them."
The camp runs over a weekend in the summer and has all the makings of a summer camp, including a BB gun range, an archery range, wildlife talks from biologists, zip line, a swimming pool, arts and crafts, obstacle courses, camp fire stories, movie night, and, of course, all meals were provided. And after a three-day weekend of fun, one camper remarked, "I love it. I love it here. It's the most goodest camp that I've ever been."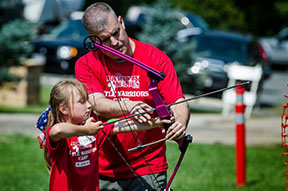 At the start of the camp, the Utah Elks Veterans Programs also provides backpacks filled with flashlights, toiletries, sunscreen, insect repellent, coloring books and crayons, and additional stationary supplies. Beyond providing gift bags for the families, they also provided their time. A total of 56 Elks were involved from 5 Elks Lodges across the state!
Outside of the weekend, Elks also raise funds and request donations of supplies throughout the year. In fact, most of the meals, gift items, and activity stations are donations. On top of the donations of materials, the Utah Elks also raised enough money to provide one family with a $2,000 scholarship to further their education.
The Utah Elks aim to support their community in many ways, and the Little Warriors Camp is just one of many programs that have made a collective impact throughout the state. You can find more information on what other states are doing to help their communities by visiting the elks.org directory of state projects.