Nebraska State Fair in Grand Island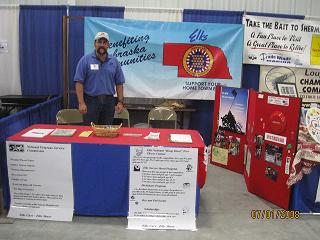 The Nebraska State Fair was held at the Fonner Park complex in Grand Island, August 26th thru Sept. 5th, 2011.
This was an awesome year to be apart of it. We set a record for 1 day at 68,000. For the entire 11 days there was 333,048 people that visited the fair.

The Nebraska Elks Association was very gracious in extending us $1,200.00 to get the ball rolling on having a booth at the fair again this year. This was the second year the Elks have had a booth.

Our hopes are to hand out wonderful drug awareness information to our states youth, and to get the word out about our great order.

If interested in assisting with the booth call:



Jeremy Brandt
308-380-2052
giarmguard@hotmail.com

Thank you very much to all of the Nebraska lodges that assisted us in this project either by submitting funds towards the booth or for volunteering members to man the booth. We have had a great response from the public.
We have talked with fellow elk members from around the state, visited with youth about scholarship possibilities, younger youth about our Hoop Shoot and Soccer Shoots.

And the greatest part that makes me very happy is that we have fellow Nebraskans that want to join our great order. We have even received addresses from people outside our state that are interested in join their local Elks lodge!!!!!!!!!!

Way to go NEBRASKA....We have let ourselves be heard and are spreading the word.
---
Back to top