CHEA Theme Child 2015 - 2016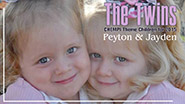 Jayden and Peyton were born on November 1, 2010 in Clovis, California. The addition of these beautiful twin girls was a happy and welcomed addition to Melissa, Chris, and two year old Addysen. All was well with this growing family…as it seemed. The twins were within the 40 week gestational age for birth; they were just a few weeks early; born at 35 weeks gestational age. Soon after their birth, they both developed health problems. Melissa was adamant about exclusively breast feeding her precious girls. Born at 4 lbs 13 oz, Peyton was faced with difficulty latching to the breast and effectively gaining and maintaining a healthy weight. This was soon remedied by supplementing her with one formula feed per day. Jayden was born at 5 lbs 8 oz and seemed healthy and had no difficulties nursing and gaining weight. Mom scheduled twice weekly appointments with their pediatrician to ensure adequate health and weight gain. At merely four months, Jayden began demonstrating signs of rapid health decline which most noticeably included fever ranging from 103-108, excessive vomiting, diarrhea, and rapid weight loss. In a desperate attempt to slow the weight loss, her pediatrician prescribed three daily feedings of specialized formula in addition to the breast feeding. Only two short weeks from onset, she was diagnosed with failure to thrive and fever of unknown origin. Due to the severity of her condition, Jayden was hospitalized and treated for her symptoms. Several labs were ran that revealed nothing more than a mild infection. She was treated with antibiotics and when the fever broke and labs improved, she was discharged home. It would only be a few short weeks before Jayden's symptoms returned with increased severity resulting in yet another hospital admission. During her stay, she suffered from febrile seizures as well as further weight loss. Another round of slightly more aggressive antibiotics were administered and she was discharged home. A few months would pass before her symptoms returned, this time more aggressively than ever before. She underwent several lab and radiological testing during this seven day hospital admission. The doctors were working together diligently to come up with answers as to what was causing her recurring condition. The medical team assigned to her case contacted all known specialists in every possible field that could potential pertain to her resulting in a more detailed diagnosis. Her diagnoses included celiac disease, severe bone growth delay, failure to thrive, excessive vomiting, fever of unknown origin, and loss of developmental milestones. In the midst of Jayden's medical dilemmas, Peyton began showing a decline in health as well. After a complete evaluation by her pediatrician, it was concluded that Peyton was merely responding to her twin's symptoms and was experiencing a form of separation distress which resulted in her inability to eat and sleep effectively. This caused Peyton to lose weight and become increasingly irritable and inconsolably fussy. Due to Jayden's reoccurring symptoms and loss of developmental milestones, and Peyton's newly onset medical decline, their pediatrician prescribed occupational therapy to begin immediately. He had suggested trying to find a therapist that was trained in cranial sacral therapy as he believed this could be a positive asset to the girls' treatment. The challenge the family now faced was to find an OT that could fully understand and foster both of the girls' therapy needs. The girls' maternal grandmother suggested contacting the California-Hawaii Elks Major Project as her brother Jimmy had received services several years prior to aid in his severe cerebral palsy. When the family contacted Judy Linda, Occupational Therapist, she was immediately reminded of Jimmy's case as Judy was the therapist assigned to him some 30+ years before. This was the start of a wonderful and productive therapy relationship. Upon accepting the family on Judy's caseload, she learned of the intense medical history these girls possess. Jayden was far behind her peers developmentally at 11 months old. She was able to sit, an 8 month skill, but had no motor skills beyond that. Her digestion was not functioning well… She cried a lot, and was very clingy to her mom. She was unable to sleep, unable to suck on her bottle and she would fatigue rapidly. She would spike a fever very easily and had repeated hospitalizations. Peyton was left out sometimes due to her sister's extensive needs. Peyton had separate issues relating to her "twin responses," so Occupational Therapist Judy was mindful to incorporate her into the therapy program to foster her development as well. With Judy's training in cranio sacral techniques, guided by the pediatrician and supported by the Elks Major Project, a program was implemented which began to change the course of Jayden and Peyton's poor health and developmental delays. At the first therapy visit, Jayden, age 11 months, limp and cradled in her mother's arms; had very poor circulation of her cerebral spinal fluids. After just one therapy treatment, her mom reported that she finally slept through the night. This was an important improvement for this very tired mom. When there is a high risk situation, like the twins, the outcome is always a gamble. Without the early and continuing implementation of therapy, there is a minimal chance of normal development. Over the last three years, the twins have been fostered through every developmental step. With therapy to guide, and grow with them, they have flourished and have a very positive outlook ahead of them. Thank you Elks of California and Hawaii for allowing Judy Linda, Occupational Therapist to be such a beneficial asset to families such as this one. Discover how you can refer a child for therapy.
Download the 2015 Theme Children Brochure for the complete story!
---
Back to top