Lodge Facilities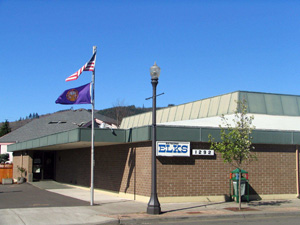 Our Second Century
The RaymondElks Lodge #1292 has been serving North Pacific County for 103 years. Dedicated to the principles of the Order, Raymond Lodge will continue to serve well into the future.
Stop by our Lodge in downtown Raymond for friendly conversation and fun. We are open Monday through Thursday from 2 PM until 9:00 PM, Friday from 2 PM until 10:30 PM and Saturday from Noon until 10:30 PM. Open Sundays for special sporting events or special occasions.
Thank you for taking the time to read this and by all means, take the time to stop by when you are on US Highway 101 in our beautiful state.
RV Friendly
When passing through Raymond on U.S. Highway 101 with your RV, stop by for fun and conversation. Although we don't have hook-ups at the Lodge, you can park your self contained unit within a block for easy access.
How to Get Here
When entering Raymond on U.S. Highway 101, turn west on Commercial St. Travel three blocks and turn right on 3rd street and the Lodge will be on your left near the middle of the block. It is a Brown, brick faced building located across from the local community center.
Hours of Operation and Facility
Come and visit your fellow Elks at our Lodge located at 326 3rd St. Our hours are Monday through Thursday from 2 pm until 9:00 pm, Friday 2 pm till 10:30 pm and Saturday from noon till 10:30 pm. Raymond Lodge has been serving the Willapa Harbor area since it's inception on October 12th, 1912.
---
Back to top