Lodge Facilities

RV Parking
We have 12 RV sites with full hook-ups 50/30/20 amp electrical service. Our friendly Lodge has a large bar, Lunch served 7 days a week, Dinner served Mon-Sat. Lake Havasu City has many local attractions: Six Golf courses, our world famous London Bridge, Lake Havasu and, Colorado River for boating swimming and fishing . Many off road trails in the area. Take a free scenic boat ride to the casino just across the lake. RV parking fee is $25 per night. Call 928-230-0980 for reservations. (Reservation service available between Oct and May. RV parking first come first served basis available year round.)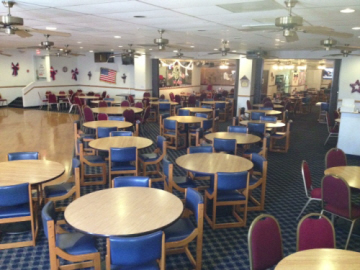 Dining Room
Dinners are served Monday thru Saturday.
Monday - Spaghetti or Lasagna
Tuesday - Burgers, Hot Dogs, grilled Chicken breast sandwich or Chicken breast salad.
Wednesday - Our World famous Baby Back Ribs!
Thursday - Steak, Chicken & Fish
Friday - Full Menu
Saturday - Full Menu
Dancing and Live Music
Dancing and live music Wednesday, Friday and Saturday. Country line dancing Monday and Karaoke on Thursday. There's always something going on at the Elks!
Kitchen with Monday Night Spaghetti Crew
Authentic Italian Cuisine....well almost! Our Spaghetti, or Lasagna on alternate Mondays, is very popular with our Members. There's always a crowd that shows up from 4 til 7 PM each Monday night to enjoy some pasta.
Kitchen with Tuesday Night Hamburger Crew
This talented group of Volunteers will grill you a delicious burger, hot dog, chicken breast sandwich or fix you a grilled chicken salad.
Share Library
Have you read all of your old paper backs? Bring them in to our Share Library and exchange them for some new ones!
---
Back to top