Lodge Facilities

RV Parking
Twelve RV sites with 50 amp electric. Water at the Lodge and Dump station in town.. Our friendly Lodge has a large bar, Lunch served 7 days a week, Dinner served Mon-Sat. Many local attractions: World famous London Bridge, Lake Havasu and, Colorado River for boating, swimming and fishing . Many off road trails, nearby casino. . RV parking is "First come first served". Please register with bartender in Lodge. RV parking is $18 per night. When sites are full, overflow parking is available.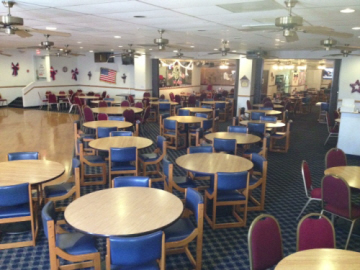 Dining Room
Dinners are served Monday thru Saturday.
Monday - Spaghetti or Lasagna
Tuesday - Burgers and More
Wednesday - Our World famous Baby Back Ribs!
Thursday - Steak, Chicken & Fish
Friday - Full Menu
Saturday - Full Menu
Dancing and Live Music
Dancing and live music Wednesday, Friday and Saturday. Country line dancing Monday and Karaoke on Thursday. There's always something going on at the Elks!
Kitchen with Monday Night Spaghetti Crew
Authentic Italian Cuisine....well almost! Our Spaghetti .or Lasagna on alternate Mondays are very popular with our Members. There's always a crowd that shows up from 4 til 7 PM each Monday night to enjoy some pasta.
Kitchen with Tuesday Night Hamburger Crew
Share Library
Have you read all of your old paper backs? Bring them in to our Share Library and exchange them for some new ones!
---
Back to top