Lodge Facilities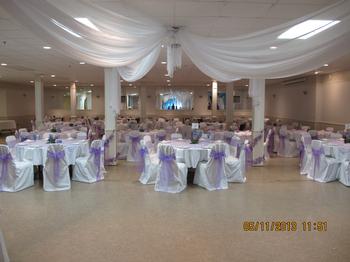 First Floor Function Hall
Our main function facility accomodates 240 people, with room for a dance floor and an elevated entertainment corner. This facility is accompanied by our kitchen facility which boasts enormous counter space, 10 burner stove with two ovens, four section pizza oven, full size commercial refrigerators, two upright freezers and two wash sinks. Our main function facility in adjoined by our main lounge. Besides a fully stocked sitting bar, there is a standing bar & 6 booths. Two televisions are on either ends of the bar, and is joined by two additional TV's at the opposite end of the lounge. For more information on Hall Rentals, please contact House Manager Kittie Peling at 978-374-5050.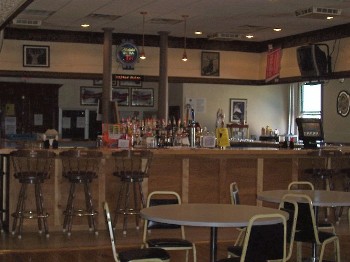 Members Lounge - Second Floor
Our members lounge is located on the 2nd floor. The centerpiece is the main bar, rectangular in shape and accomodates up to 28 people. This is equipped with a center service island, dual service and cleaning equipment and a multi-station beer tap. A TV monitor allows the staff to admit guests from the downstairs door. The facility has 2 pool tables, a shuffleboard table, and tabletop video games. A 4 alley dart board area is also provded. A modern jukebox is also available for your enjoyment. An ATM is located in the lounge for your convenience. A 62" widescreen TV is located at the end of the room, in addition to the two 42" Plasma TV's overhead on either side of the bar. The modern HVAC system is enhanced by ceiling fans and 6 smokeaters. Bar-height tables are adjacent to the bar at each window and additional tables are located between the bar and the main TV. The Members Lounge also features full service Mass State Lottery.
---
Back to top