Lodge Facilities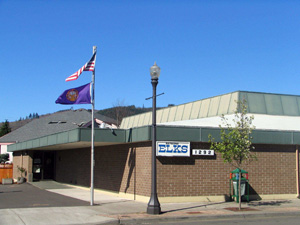 Join us for our 100th Anniversary Celebration
Join us on October 12th and 13th of 2012 as we celebrate our 100th anniversary. Big dinners both nights, with music on Friday by the King Brothers and Saturday by the Aberdeen Elks "Dukes of Swing". It will be a weekend you won't forget!
Raymond Elks Lodge #1292
When passing through Raymond on U.S. Highway 101 with your RV, stop by for fun and conversation. Although we don't have hook-ups at the Lodge, you can park your self contained unit within a block for easy access. We also have two members who operate local RV Parks. Call the Lodge at 360-942-1292 for more information.
Raymond Elks Lodge #1292
When entering Raymond on U.S. Highway 101, turn west on Commercial St. Travel three blocks and turn right on 3rd street and the Lodge will be on your left near the middle of the block. It is a Brown, brick faced building located across from the local community center.
Raymond Elks Lodge #1292
Come and visit your fellow Elks at our Lodge located at 326 3rd St. Our hours are Monday through Thursday from 3pm until 11pm, Friday 3pm till 1am and Saturday from noon till 1am. Check out our latest bulletin by clicking on "Lodge News" in the left hand margin. Raymond Lodge has been serving the Willapa Harbor area since it's inception on October 12th, 1912.
---
Back to top