Lodge Facilities
Location/Driving Directions
The Red Bluff Elk's Lodge is located 135 miles North of Sacramento and 125 miles South of the Oregon border on Interstate Hwy 5. Coming either from the North or from the South, on Interstate Hwy 5, take the second RED BLUFF exit #649, head West on Antelope Blvd./Hwy.36 West to the first stop light, go left (South) on Gilmore Road to the end and the Elk's Lodge parking lot.
Lodge Property
Red Bluff's Elk Lodge sits on 7 1/2 acres, bordering on the Sacramento River. The Lodge has parking for 100 vehicles and 16 R.V. hookups, a 475 foot long peninsula/park/picnic area for 1200 people, a marina, part of the year, 3 tennis courts, a large outdoor Bar-B-Q, a Bar-B-Q pit, 3 horse shoe pits, and steps to the river.
RV Hookups
The Lodge has 16 full service R.V. hookups (8 pull through) that include water, electricity, and a dump station. A donation of $15.00 is requested.
Lodge Office
Open Monday through Friday 9:30am to 4:30pm, and on Saturday from 9:00am to Noon. Contact Julie or Frank to obtain rental requirements and agreements, information and pricing of catered events (ie: Weddings, Birthdays, Anniversaries, Family Reunions, etc.) Telephone 530-527-3421 Fax: 530-527-3423
Lounge
Open Monday through Saturday, 11:00am to 11:00pm (later if customers are present) & the first Sunday of each month from 9:00am to 6:00pm. This is a full service bar, with seating at the bar for 30 people and additional table seating for 125 more. It is equipped with four 19" tvs, a 52" big screen Tv, a V.C.R., a piano, a shuffle board, and three Pool Tables. Stop by and say hello to our characteristic bartenders.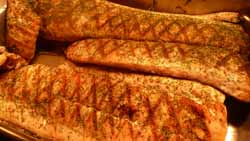 Restaurant
A full service restaurant offering great food at low prices. MONDAY NIGHTS the Elks offer a steak sandwich special with tradional bar fare, including french fries and green salad. Sandwiches are available from 5:30pm to 8:00pm. Price $9.00. WEDNESDAY NIGHTS the Emblem Club puts on a fantastic dinner (the menu varies from week to week) served in the members' lounge from 5:30pm until 7:00pm. THURSDAY NIGHTS' dinners are: The 1st and 5th Thursdays are "Family Night": hamburgers, hotdogs, fries and salad served from 6:00pm until? The 2nd and 4th Thursdays,"Lodge Night" a Steak dinner with all the trimmings and desert, served from 7:00pm until? The 3rd Thursday "Club Night" the menu changes each week, during the summer months it is served outside at the barbecue, serving time is always 6:00pm to ? FRIDAY NIGHTS we serve a buffet style dinner from 6:00pm until 8:00pm. The menu changes from week to week, but always includes a main beef, pork or lamb dish (prime rib, tenderloin, etc.), vegetables, potato, soup, dinner rolls, and desert. A fish option is always available. Prices typically range from $16 to $17 per person.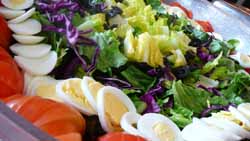 Lodge Facilities and Catering Ability
The Lodge's penninsula is a beautiful setting for a Wedding, or for a large Family Reunion. Inside we can seat over 500 people in or main room (which can be divided into three separate smaller rooms to accommodate any size group). We have a seperate full service bar specifically for these rooms. We have a in-wall sound system for either music or for speaking. For smaller groups that don't require food, our conference room can seat up to 30 people. We also have a card room that can be converted into another conference room that also seats 30 people. We handle all types of catering services, from donuts and coffee, to lunches, to sit down or buffet stile dinner for up to 600 people on our property. We also provide the same catering, away from our premises.
Sunday Brunch
On the first Sunday of selected months, including Mothers' Day Sunday, we have an outstanding brunch. We have the ability to feed up to 500 people from 10:00am to 1:00pm. This brunch includes coffee, juice, 2 full salad bars, an omelet bar, numerous hot items, and a dessert bar. This brunch is so good that we have Elks from surrounding Lodges (Redding, Wilows, and Paradise to name a few)that come to our Lodge to eat on a regular basis.
---
Back to top