Lodge Facilities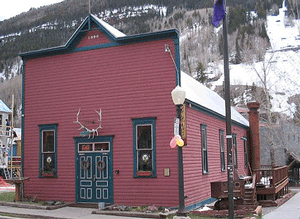 Telluride Elks Lodge
Our new location is 472 W. Pacific Ave. Telluride CO 81435 970-728-6362 We are located on the corner of Townsend and Pacific in the Historic Swede-Finn Hall building
Outdoor Grill
Turkey Bingo
Telluride Elks Club
Our Lounge is open from 3-7 PM Monday through Friday.
Lodge Hall rentals w/kitchen
The Lodge Hall is available to rent with or without use of the Kitchen facilities. Please contact the Manager for details at (970) 728-6362
Nearby RV parking
The abovementioned Town Park, 7 blocks from the Lodge, has wonderful camping facilities.
The Price as of 2006 is $16/night for an RV up to 30'. The dumpsite is about 10 blocks away.
Note that there are a couple festivals which completely consume the Town Park's camping facilities. Check their website for details. There at the Town Park is also the Telluride Community Swimming Pool
No offstreet parking
Sorry, Telluride Lodge has no offstreet parking. There is town parking in front & to the side of the Lodge, & free day parking about 3 blocks away. See our RV listing for referral to RV parking 7 blocks away.
---
Back to top