Lodge Facilities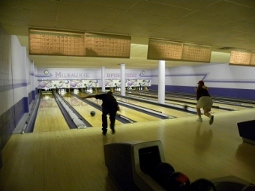 Bowling Alley
Eight Lanes, ABC approved. League nights. Bowlers wanted. Bowling is great fun for the whole family! Open Bowling 1st & 3rd Sunday of the month 1pm to 5pm. $2 per person, per game (shoe rental is an additional $1 per pair). Bring your group bowling! Reserved Party rates: 4 lanes for 2 hours = $80.50 8 lanes for 2 hours = $161.00 8 lanes for 3 hours = $241.50 Call the lodge office or contact Mark Skow at 503-654-9496.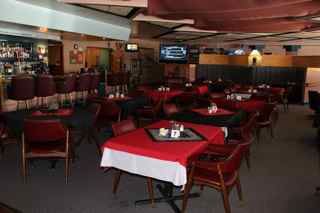 Bar/Lounge
Five Lounges. Main lounge, card room, sports bar, and 2 lounges supporting lodge room. Big screen TVs, poker machines, Keno and lottery on site. Membership has its privileges!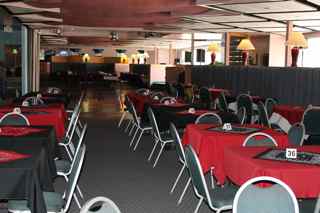 Lounge/Dining Room
Full kitchen capable of serving up to 500 people. Dinner is served Monday, Wednesday, Friday and Saturday. Tuesday is Taco Night and Thursday Hamburgers and Beer. Additional seating available in the adjoining bar/lounge area.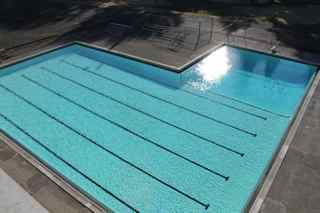 Swimming Pool
Almost ready to dive in....not yet....but soon. Check back for grand opening of pool date!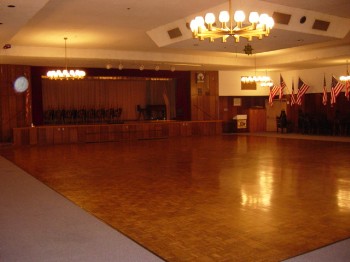 Lodge Room
The Lodge Room comfortably seats up to 400 people. If additional seating is required it opens to the Dining room, which will accommodate an additional 200 people (or more). The lounge restaurant also can open to the lodge room for additional seating if necessary. Lodge room also serves as our multi function room with stage, sound system, and great lighting. The space is capable of seating 500 for dinner or 800 for theater seating. Available for rent for special events.
Sauna and Steam
Sauna, Steam, showers, weight room, basketball court, handball court, tread mill room all part of athletic facility.
Youth Building
Scholarship program, Hoop Shoot, Easter Egg Hunt, Christmas programs are just a few of the programs offered for youth. Drug awareness materials are available. We are always looking for Volunteers to increase our youth programs.
RV Parking/Hook-ups
Overnight parking is available we have, eight RV hookups. Daily rates are: 30 amp $18.00, 20 amp $15.00, dry camp is $13.00. Our monthly rates: 30 amp $290.00, 20 amp $250.00, dry camp $200.00 and RV storage is $45.00 monthly. Join the Trail-ers and see the country! Call the office for your reservation and availability.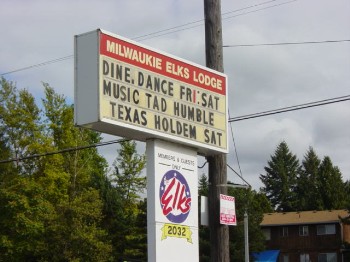 Location
On McLoughlin Blvd. 1/2 mile south of the town of Milwaukie. Located between SE Park Avenue and the Bomber, on the west side of the street. Look for our Elks Lodge sign on the street.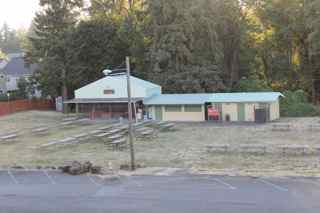 Out Door Park
Large picnic area in back of building with tables, horse shoe pits and Bar-B-Que area. Come join us for the 4th of July festivities.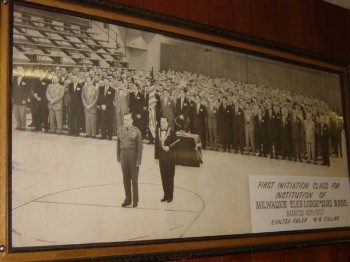 The First Members
Picture is the first member ceremony.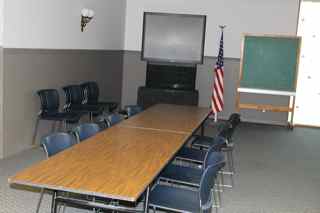 Conference Room
Newly remodeled conference room available for use or rent for a small fee. Seats up to 30 people. Available at no charge with meal service.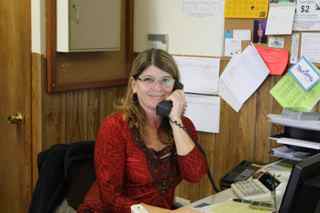 Lodge Office
Open 10am to 4pm Monday through Friday. Call for information about all functions of the lodge. (503) 654-9588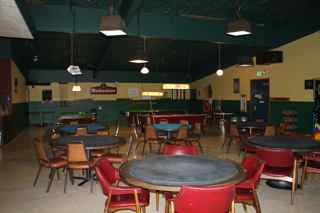 Game Room
Card tables, pool tables, dart board, bar, and good gamesmanship can all be found in the large game room located just around the corner from the main lounge. 8 ball anyone? Bingo every Thursday night in the bar beginning at 6pm. We play five Bingo games at a $1 a card. As a grand finale, we play Black-Out for $2 a card for double the prize pot! Come win some money and join in on the fun. Ten percent of the take-in goes to Maplewood Meadow Charity.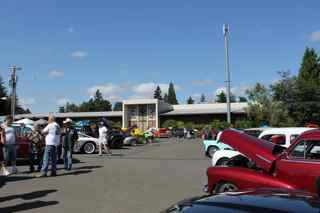 Parking Lot
Large parking lot in front of the building. Additional parking behind the building with a side entrance. This area is perfect for handling large events at the lodge and outside activities.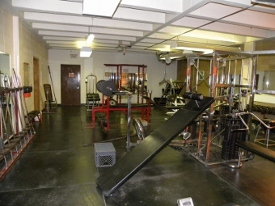 Exercise Room
Basketball court, handball court, weight room, tread mill room, sauna, steam, showers and lockers available. Exercise areas for both men and women.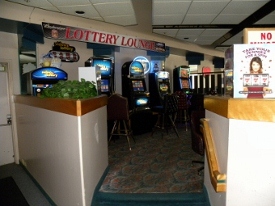 Oregon Lottery
Full lottery games available. Keno and pull tabs as well.
Library
Small library with book exchange. Bring one and take one.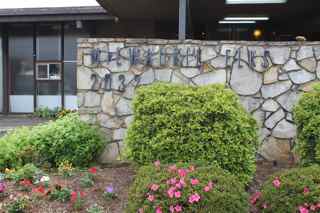 Lodge Building
60,000 square feet facility built in 1957.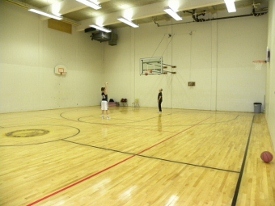 Basketball Court
Great full basketball court with viewing area above. Contact the lodge office for further information regarding gym schedule and availability.
Racquet Ball
One court with viewing area.
Web Site
milwaukie2032@elks.comcastbiz.net is our new email address. Others are working on a web site. Come join in and help us grow.
Lounge Hours
Monday through Saturday - Open 4:00pm till Closing, Sun: Closed except for special events.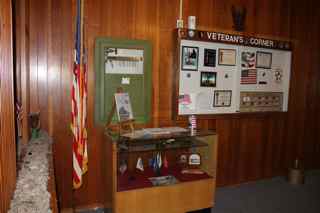 Veteran's Corner
Help our Veteran's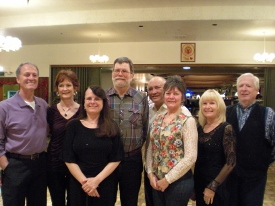 Footloose Friends
Footloose Friends Dance Party is on the First Friday of each month. Come and enjoy a fun night of great music, dancing and lots of laugh. Dance to a mix of WCS, Country, 2-Step, Waltz, Hustle, Nightclub Two Step and your requests. Dancing: 8pm to 12am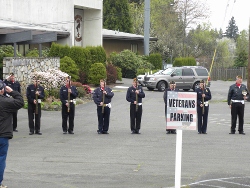 Veteran's Parking
On March, 23, 2012, Milwaukie Elks Lodge # 2032 designated four (4) parking spaces reserved exclusively for veterans. On April 17, 2012, those spaces were officially recognized by the Veterans Committee, in partnership with the local Chapter of the VFW and The American Legion. The VFW, American Legion, and local Boy Scouts performed a full Color/Honor Guard ceremony along with a twenty-one gun salute to dedicate and commemorate the Veterans of Milwaukie Lodge 2032. According to veteran committee members Larry Jones, Chuck Nicodemus, and Allan Wilson, all past service members, "as far as we know this is the first lodge to officially designate dedicated reserved parking for lodge veterans." As we all know, Elks have always supported veterans, and they will forever have a special place in the heart of Elkdom. In fact, without those veterans who have served in the military for the past 226 years, it could be argued that there would not be the Benevolent and Protective Order of Elks. Milwaukie Lodge # 2032 is proud to honor all veterans. May God Bless Elks everywhere; and especially those veterans who made the ultimate sacrifice.
---
Back to top