Lodge #622 Home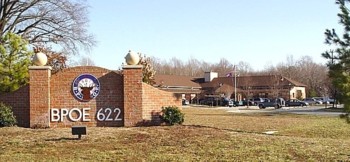 Congratulation to the 2013 - 2014 Annapolis Lodge Officers who won the MD, DE and DC Elks Association 2013 - 2014 Ritual contest held on March 9th 2014. Annapolis Lodge Officers will represent the MD, DE and DC Elks Association in this year's ritual contest at the Grand Lodge convention in July Wish our Lodge Officers good luck when you see them.

2 PYTHIAN DRIVE EDGEWATER, MD 21037

North Central District Ritual Contest Winners 2011/2012/2013/2014

WELCOME TO THE LAND OF PLEASANT LIVING AND THE HOME OF THE UNITED STATES NAVAL ACADEMY.

Meeting on the first and third Wednesdays, at 7:00 p.m., except during the Months of July and August, when we meet only on the third Wednesday, at the Lodge Home.

Luncheon Specials Served: Tuesday - Friday 11:00 a.m. until 2:00 p.m.

LOUNGE HOURS Closed on Saturday and Sunday from April 1st till September 10th. Opened on Saturday and Sundays for Special Lodge Events. Check the Calendar.

Open Monday 3 p.m. to 10 p.m. Open Tuesday thru Friday - 11 am to 10 p.m.
---
Back to top