Lodge #258 Home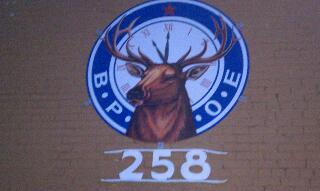 Business hours:

Mon-Thurs 3:00PM to 11:00PM

Fri-Sat 12:00PM to 12:00AM

Please check in periodically to see what the "goings on " are at Elks Lodge 258.

PHOTOS WILL NOW APPEAR ON THE LINKS PAGE.

The Friday Night Dinner Menu is on the Links page.

Please check out the calendar.

Now: Burgers Monday through Thursday, 3-9PM, and Saturdays, Noon to 9PM.

You may opt out of having our newsletter physically mailed to you. Contact Secretary Rich Mackall or leave a note at the bar.
Members get a free drink on their birthday.

---
Back to top