Lodge #258 Home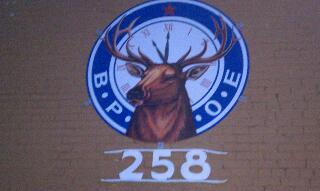 Business hours:
Mon-Thurs 3:00PM to 11:00PM
Fri-Sat 12:00PM to 12:00AM
Please check in periodically to see what the "goings on " are at Elks Lodge 258.
PHOTOS WILL NOW APPEAR ON THE LINKS PAGE.
The Friday Night Dinner Menu is on the Links page.
Please check out the calendar.
Now: Burgers Monday through Thursday, 3-9PM, and Saturdays, Noon to 9PM. Also at noon Friday, until the dinner prep crew arrives.
You may opt out of having our newsletter physically mailed to you. Contact Secretary Rich Mackall or leave a note at the bar.
---
Back to top