Lodge #2370 Home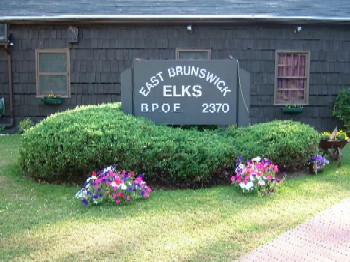 Summer is coming & Spring is in the air! As Chair of the Veteran/Army of Hope Committee I want to thank all my brothers & sisters in Elkdom for coming together to make our Nite of Blues the great success it was. Your enthusiasm payed off. I also want to thank all those non elk members who donated their talents for such a worthy cause. I just can't find the words to express my thanks & gratitude to all of you. With much love, Annie
The next EBTV interview will be posted here featuring David Lonski. Keep stopping in for the latest news at EB Elks. Here it is.... Good jobs guys! https://www.youtube.com/watch?v=J5rvrCyA2iA
You will also find our Wednesday Nite Wings n' Things menu among other things in the "NEWS" section of the site. Our JUNE Newsletter is now posted there too.
COME TO "OUR HOUSE" THE LODGE ON THE LAKE,
FOR A MEMORIAL DAY PICNIC.
Every Friday Nite we have dinner with a theme. Thank you Eileen Malvagna for starting a new tradition...Friday Nite Birthday Bashes.
June 10th is a Good Bye Party for Joe & Jan Piegaro. They are moving to Florida. Come out to wish them well, & remember...CASH IS KING! ;)
COMING IN JUNE: FEED THE HUNGRY KISS AWAY CANCER CAMPAIGN

YOU CAN FIND OUT THE DETAILS OF ALL OUR UPCOMING EVENTS IN THE JUNE NEWSLETTER.
Elks Care, Elks Share. Are YOU an Elk?
Elks Lodges bring so much more to their communities than just a building, golf course or pool. They are places where neighbors come together, families share meals, and children grow up. Elks invest in their communities through programs that help children grow up healthy and drug-free, by undertaking projects that address unmet need, and by honoring the service and sacrifice of our veterans.
If you are interested in joining, call the lodge at 732-821-9527 (Wednesday evenings) Come in for Wings N Things: Every Wed @7pm Great Pub Food and every Wednesday Evening is Open House Night Come on Down to the Lodge By The Lake! Come sunday afternoons to watch sports & the kitchen is open.
Meetings: First & Third Thursdays, except July & August we only meet the third Thursday.
Meeting Directions: Farrington Lake At Hardenburg Lane, East Brunswick, NJ
Mailing Address: East Brunswick Elks-Lodge #2370 - PO Box 120 - East Brunswick, NJ 08816
Physical Address East Brunswick Elks-Lodge #2370 Oakmont Ave 21B East Brunswick, NJ 08816
OK... here is the latest interview with AIMEE on EBTV. She did a great job & Thank you EBTV for the great editing you did to highlight our Public Service Appreciation Event on April 30th. https://www.youtube.com/watch?v=gGnZcWKmu9w
OK...so Joan Scaduto did a fabulous job when she was interviewed on EBTV the East Brunswick cable channel about our lodge. You can view it here: https://www.youtube.com/watch?v=Dt3-_Jjoenk&feature=youtu.be&t=3

---
Back to top