Lodge #1574 Home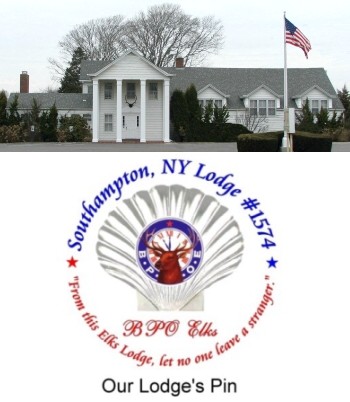 WELCOME
Elks members and their guests are always very welcome to visit us in beautiful Southampton, New York. You will be greeted with a warm smile, a hearty handshake, friendly fellow Elks, and a "welcome" token. Our Lodge's motto is displayed in our tap room and on our Lodge's pin ... "From this Elks Lodge, let no one leave a stranger". We also offer complimentary secure wireless broadband internet connection to visiting members who travel with their own computers or internet access devices - see our Lodge Steward for access and password info.
We are located at 605 County Road 39 (an extension of Rte. 27/Sunrise Hwy.), approximately 6 miles east of Hampton Bays, and approximately 1 mile west of Southampton Village (or about 80 miles east of New York City), on the "South Fork" of eastern Long Island, N.Y. Click on "Links" on the menu at left to find a link to Google Maps for our location. Ocean and bay beaches are only a short distance away; the scallop shell on our Lodge's pin represents the world renowned gourmet Long Island Bay Scallops harvested from our waters nearby. Boating, fishing, golf, world class shopping, vinyard/winery tours, and many other recreational opportunities abound nearby, and many drop in to visit us after a Montauk or Shinnecock fishing trip. Ours is also a historical area - Southampton, founded in 1640, is said to be the oldest permanent English settlement in NY State, and many colonial homes and museums may be viewed nearby. And of course, our area has breathtaking mansions of movie and recording stars, financial magnates, etc., which are impressive even from streetside view or from the water.
Our Lodge has a total of 17.7 acres of land, and there are often fun and interesting events held on our own "fairgrounds" property, which we offer for rental.
Lodge Membership Meetings are at 7:30 p.m. on the 2nd & 4th Wednesdays of every month, except in July & August when we meet on the 4th Wednesday only. Only Elks members in good standing may attend meetings. Southampton Lodge of course has female members, and we also have a ladies' auxiliary, The Ladies of the 1574 Club, who meet on the 1st and 3rd Wednesdays of each month at the lodge, and we are very grateful for their tireless support and contributions to the spirit and facilities of our Lodge.
Lodge opens at 3 p.m., Monday through Saturday, and at noon on Sunday. The lodge closes when patrons leave, usually around 7:30 p.m. weekdays, and around 7 p.m. on Sundays. We are open later on meeting nights, usually until around 11 p.m., but we do not offer bar service during meetings.
Southampton Elks Lodge ... an easy-going, no pressure, friendly place, where "B.P.O.E." really means "Best People On Earth". To our lodge members and traveling Elks: drop by our Elks lodge and make yourselves "at home".
Elks Care - Elks Share!
---
Back to top