Lodge #296 Home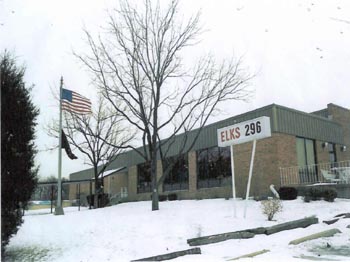 A FRATERNAL ORGANIZATION
HOME OF THE 2012 ELKS NATIONAL BOWLING ASSOCIATION TEAM HANDICAP CHAMPIONS.
HOME OF THE MEERKATS: THE 2014 IEA BOWLING ASSOCIATION TEAM CHAMPIONS.
HOME OF THE 2014 ELKS NATIONAL BOWLING ASSOCIATION SENIORS DOUBLES HDCP CHAMPIONS.
HOME OF MARY RANDE, IEA LADY OF THE YEAR 2014-15
MAKE THE LODGE YOUR DESTINATION NOT YOUR OBLIGATION.

For the past 120 years Joliet Elks Lodge has provided Fraternal Fellowship to its members, service to our community,support to our area youth as well as outstanding recreational opportunities. Remember at Joliet Lodge No. 296 their is always an old friend you haven't seen in a while to welcome you back again and again.

We are pleased to have you visit our Website. This site was developed to help you become familar with what the Joliet Elks does as an organization for Elkdom and an attempt to keep our Membership and visitors updated.

Any Elk visiting our fine city of Joliet is invited to stop in and visit. Once again thank you for visiting our website.

Lodge meets the second and fourth Tuesday @ 7:30pm. Fourth Tuesday in July and August. Second Tuesday in December.

Board of Director's Meeting - 3rd Tuesday of the month - 6:30pm.

Free Wi-Fi available.
MEMBERSHIP: When are you going to be next? Change our future by looking in and joining the Elks. What do you have to lose?
JOIN ELKDOM'S ACTION TEAM BY MAKING YOUR FRIEND(S) A MEMBER!
HAPPY HOUR: Takes effect 9/15/2015
Monday's - $2.00 well and Wine drinks
Monday thru Thursday - from 4pm till 6pm:
$1.50 Domestic Beers
$2.50 Imports
Lodge is now open on Sundays for Bears Noon Games, only.







Directions: 250 SE Frontage Road Joliet IL (SE of intersection of I-55 & U.S.52)
---
Back to top