Current Issue Online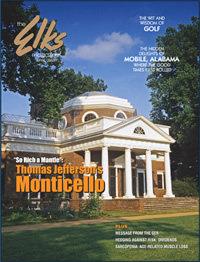 April 2015

Who are the Elks?
Elks are community.
No matter where you go in the country, an Elks Lodge is right around the corner. With more than 850,000 members and 2,000 Lodges nationwide, Elks are providing charitable services that help build stronger communities.
Click here to join us in service to your community!
Elks Magazine Online
Welcome! The Elks Magazine is published 10 times per year for the members of the Benevolent and Protective Order of Elks of the United States of America. If you'd like to submit fraternal news, please check out our fraternal news guidelines (Adobe PDF format).
If you're interested in writing a general interest article, here are our writers guidelines. If you're interesting in advertising in the Elks Magazine, please review our Media Kit.
To submit materials or provide a photo, please download and fill out a submission form.
Current Issue: May 2015
Features
26
The 3rd US Infantry Regiment: The Old Guard, by Linda McMaken
The 3rd US Infantry Regiment is the oldest active-duty infantry unit in the US Army and has its roots in the eighteenth century.
34
the Triumph and Tragedy of Mickey Mantle, by Ralph Filicchia
Mickey Mantle was a legend on the field but struggled with alcohol throughout his life.
40
Osa and Martin Johnson: Globetrotters Extraordinaire, by Shirley R. Redmond
Osa and Martin Johnson spent years traveling to film cannibals in the South Seas, monkeys in Borneo, and lions in Africa.
46
Elks National Veterans Service Commission
Elks show that veterans are never forgotten by visiting VA medical centers and holding dinners for veterans.
Departments
8
Candidates for Grand Lodge Office
10
It's Your Business, by William J. Lynott
12
Healthline, by Elizabeth A. Reid, MD
50
Elks National Foundation
51
Elks Drug Awareness Program
---
Back to top