Current Issue Online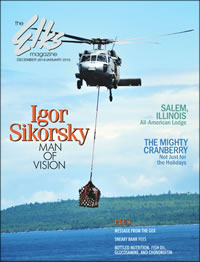 December 2014

Who are the Elks?
Elks are community.
No matter where you go in the country, an Elks Lodge is right around the corner. With more than 850,000 members and 2,000 Lodges nationwide, Elks are providing charitable services that help build stronger communities.
Click here to join us in service to your community!
Elks Magazine Online
Welcome! The Elks Magazine is published 10 times per year for the members of the Benevolent and Protective Order of Elks of the United States of America. If you'd like to submit fraternal news, please check out our fraternal news guidelines (Adobe PDF format).
If you're interested in writing a general interest article, here are our writers guidelines. If you're interesting in advertising in the Elks Magazine, please review our Media Kit.
To submit materials or provide a photo, please download and fill out a submission form.
Current Issue: Dec. 2014/Jan. 2015
Features
22
Igor Sikorsky: Man of Vision, by Nancy Williams
Igor Sikorsky--aviator, engineer, and inventor--brought the concept of helicopters to fruition in Stratford, Connecticut, revolutionizing aviation.
30
All-American Lodge, Salem, Illinois, by Aneeta Brown
In 2011, the Salem, Illinois, Lodge almost disappeared. Today, it leads the state in annual membership percentage gains.
36
The Mighty Cranberry--Not Just for the Holidays, by Joe Knight
Today, cranberries are recognized as much for their unique taste as for their nutritional and medicinal value.
40
Elks National Veterans Service Commission
Elks remember veterans by visiting VA medical facilities, delivering meals to veterans, and creating care packages for local veterans.
Departments
6
It's Your Business, by William J. Lynott
8
Healthline, by Elizabeth A. Reid, MD
46
Elks Drug Awareness Program
50
Elks National Foundation
54
Annual Report of the Grand Secretary
---
Back to top