Current Issue Online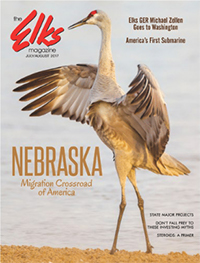 July/Aug 2017

Who are the Elks?
Elks are community.
No matter where you go in the country, an Elks Lodge is right around the corner. With more than 850,000 members and 2,000 Lodges nationwide, Elks are providing charitable services that help build stronger communities.
Click here to join us in service to your community!
Elks Magazine Online
Welcome! The Elks Magazine is published 10 times per year for the members of the Benevolent and Protective Order of Elks of the United States of America. If you'd like to submit fraternal news, please check out our fraternal news guidelines (Adobe PDF format).
If you're interested in writing a general interest article, here are our writers guidelines. If you're interesting in advertising in the Elks Magazine, please review our Media Kit.
To submit materials or provide a photo, please download and fill out a submission form.
The Order has just been featured at the Smithsonian National Postal Museum in their virtual exhibit "America's Mailing Industry," which was launched on September 13, 2016, at a reception in Washington, DC.
The Smithsonian Postal Museum recognizes the Elks' quiet network of good deeds. With 28.2 million visitors each year to the Smithsonian Museums, this is a very powerful forum on which to appear!
Read the full write-up on the Smithsonian museum's website here.
Current Issue: July/August 2017
Features
22
Elks GER Michael Zellen Goes To Washington, by Jennifer Naaden
In meetings with officials, GER Zellen discussed how the Elks can help national guard members and veterans and explained how the Order combats durg us.,
28
America's First Submarine, by Buzz Brandt
During the Revolutionary War, American inventor David Bushnell designed a submersible to help the American colonies with their independence.
36
Nebraska:Migration Crossroad of America, by Michael Stein
A number of historic American migration routes have passed through Nebraska, and today, the Platte River, near Kearney, is a stopping point for migrating sandhill cranes.
50
State Major Project
For nearly ninety years, the Illinois Elks Association has been helping children walk and overcome various disabilities.
Departments
8
It's Your Business, by William J. Lynott
9
Healthine, by Elizabeth A. Reid, MD
42
Elks National Veterans Service Commission
47
Elks Drug Awareness Program
48
Elks National Foundation
52
State Association News
---
Back to top