Current Issue Online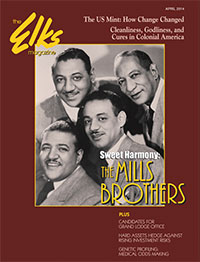 April 2014

Who are the Elks?
Elks are community.
No matter where you go in the country, an Elks Lodge is right around the corner. With more than 850,000 members and 2,000 Lodges nationwide, Elks are providing charitable services that help build stronger communities.
Click here to join us in service to your community!
Elks Magazine Online
Welcome! The Elks Magazine is published 10 times per year for the members of the Benevolent and Protective Order of Elks of the United States of America. If you'd like to submit fraternal news, please check out our fraternal news guidelines (Adobe PDF format).
If you're interested in writing a general interest article, here are our writers guidelines.
To submit materials or provide a photo, please download and fill out a submission form.
Current Issue: April 2014
Features
14
News of the Lodges
By delivering holiday food baskets and providing needy children with clothing, Elks show that Elks Care--Elks Share.
28
Sweet Harmony: The Mills Brothers, by Linda McMaken
The Mills Brothers' unique sound turned them into musical legends in their own time.
32
The US Mint: How Change Changes, by Bill Vossler
Championed by George Washington and Alexander Hamilton, The US Mint woobled into existence in 1792.
40
Cleanliness, Godliness, and Cures in Colonial America, by Elise Warner
During the colonial period in America, colonists witnessed significant changes in the practice of medicine.
Departments
8
Candidates for Grand Lodge Office
10
It's Your Business, by Timothy Middleton
12
Healthline, by Elizabeth A. Reid, MD
48
Elks National Veterans Service Commission
58
Elks Drug Awareness Program
60
Elks National Foundation
---
Back to top