Current Issue Online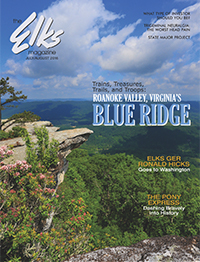 July/August 2016

Who are the Elks?
Elks are community.
No matter where you go in the country, an Elks Lodge is right around the corner. With more than 850,000 members and 2,000 Lodges nationwide, Elks are providing charitable services that help build stronger communities.
Click here to join us in service to your community!
Elks Magazine Online
Welcome! The Elks Magazine is published 10 times per year for the members of the Benevolent and Protective Order of Elks of the United States of America. If you'd like to submit fraternal news, please check out our fraternal news guidelines (Adobe PDF format).
If you're interested in writing a general interest article, here are our writers guidelines. If you're interesting in advertising in the Elks Magazine, please review our Media Kit.
To submit materials or provide a photo, please download and fill out a submission form.
Current Issue: September 2016
Features
10
The Acceptance Speech of Michael F. Zellen
At the 2016 Grand Lodge Convention in Houston, Texas, GER-elect Michael F. Zellen urged members to "kick the door down and grow membership,"
24
Right in the Very Art of It: Los Angeles County, by Michael Stein
Today, Los Angeles Museums and architechture can compete with the best of the world.
32
The Elks National Hoop Shoot: New Location, Same Determination, by Linda McMaken
No matter how they placed at the national finals, all seventy-two athletes went home with the pride that comes from hard work.
52
State Major Projects
The Arizona Elks Association helps make young people's lives better by supporting medical research and providing camp experiences.
Departments
8
It's Your Business, by Tomothy Middleton
9
Healthline, by Elizabeth A. Reid, MD
40
Elks National Veterans Service Commission
46
Elks Drug Awareness Program
50
Elks National Foundation
---
Back to top