Current Issue Online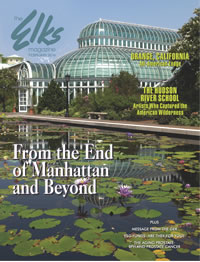 February 2016

Who are the Elks?
Elks are community.
No matter where you go in the country, an Elks Lodge is right around the corner. With more than 850,000 members and 2,000 Lodges nationwide, Elks are providing charitable services that help build stronger communities.
Click here to join us in service to your community!
Elks Magazine Online
Welcome! The Elks Magazine is published 10 times per year for the members of the Benevolent and Protective Order of Elks of the United States of America. If you'd like to submit fraternal news, please check out our fraternal news guidelines (Adobe PDF format).
If you're interested in writing a general interest article, here are our writers guidelines. If you're interesting in advertising in the Elks Magazine, please review our Media Kit.
To submit materials or provide a photo, please download and fill out a submission form.
Current Issue: February 2016
Features
28
From the End of Manhattan and Beyond, by Michael Stein
Come see an entirely different New York City, The New York City of history, neighborhoods, and nature.
36
All-American Lodge, Orange, California, by Linda McMaken
With more members today than it had in the 1960s, the Orange, California, Lodge is a significant force in its community.
42
The Hudson River School: Artists Who Captured the American Wilderness, by Betty Rivera
The Hudson River School is considered the first art movement begun in the United States.
53
Supporting Our Troops
Elks support the troops by sending care packages overseas and donating funds to assist troops families.
Departments
8
It's Your Business, by Timothy Middleton
10
Healthline, by Elizabeth A. Reid, MD
48
Elks National Veterans Service Commission
54
Elks National Foundation
56
Elks Drug Awareness Program
---
Back to top