Current Issue Online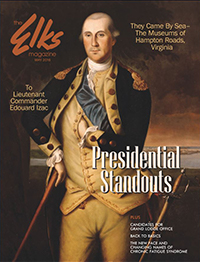 May 2016

Who are the Elks?
Elks are community.
No matter where you go in the country, an Elks Lodge is right around the corner. With more than 850,000 members and 2,000 Lodges nationwide, Elks are providing charitable services that help build stronger communities.
Click here to join us in service to your community!
Elks Magazine Online
Welcome! The Elks Magazine is published 10 times per year for the members of the Benevolent and Protective Order of Elks of the United States of America. If you'd like to submit fraternal news, please check out our fraternal news guidelines (Adobe PDF format).
If you're interested in writing a general interest article, here are our writers guidelines. If you're interesting in advertising in the Elks Magazine, please review our Media Kit.
To submit materials or provide a photo, please download and fill out a submission form.
Current Issue: May 2016
Features
28
Presidential Standouts, by Martin D. Tullai
US presidents have stood out for an array of reasons, both good and bad. These six presidents from the past are still intriguing to the public.
36
To Lieutenant commander Edouard Izac, by Paul Hogan
This letter from the author recounts how Commander Izac was captured in World War I, escaped, and went on to receive the Medal of Honor.
38
They Came by Sea--The Museums of Hampton Roads, Virginia, by Cathy Swormstedt
Come explore Hampton Roads, Virginia, where the history of America's earliest days is never more than a short drive away.
48
Elks National Veterans Service Commission
Elks remember the nation's veterans by inviting veterans to the lodge for lunches and donating funds to veterans-related charities.
Departments
8
Candidates for Grand Lodge Office
12
It's Your Business, by William J. Lynott
14
Healthline, by Elizabeth A. Reid, MD
52
Elks National Foundation
54
Elks Drug Awareness Program
---
Back to top