Current Issue Online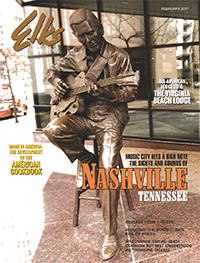 February 2017

Who are the Elks?
Elks are community.
No matter where you go in the country, an Elks Lodge is right around the corner. With more than 850,000 members and 2,000 Lodges nationwide, Elks are providing charitable services that help build stronger communities.
Click here to join us in service to your community!
Elks Magazine Online
Welcome! The Elks Magazine is published 10 times per year for the members of the Benevolent and Protective Order of Elks of the United States of America. If you'd like to submit fraternal news, please check out our fraternal news guidelines (Adobe PDF format).
If you're interested in writing a general interest article, here are our writers guidelines. If you're interesting in advertising in the Elks Magazine, please review our Media Kit.
To submit materials or provide a photo, please download and fill out a submission form.
The Order has just been featured at the Smithsonian National Postal Museum in their virtual exhibit "America's Mailing Industry," which was launched on September 13, 2016, at a reception in Washington, DC.
The Smithsonian Postal Museum recognizes the Elks' quiet network of good deeds. With 28.2 million visitors each year to the Smithsonian Museums, this is a very powerful forum on which to appear!
Read the full write-up on the Smithsonian museum's website here.
Current Issue: March 2017
Features
28
The Popularity of Pirates, by Frank M. Rudon
From fanciful garb to the Jolly Roger, the popular image of the pirate is rooted in history and fiction.
36
Encyclopedic Knowledge: What You Need to Know before Trusting Wikipedia, by Benjamin Recchie
This massive, online repository of user-edited knowledge has become an Internet fixture, but it has pros and cons attached to it.
38
Off the Beaten Path in Aruba, by Marilyn Jones
In colorful Aruba, visitors can relax on sandy beaches or explore the island's cultural heritage and natural wonders.
60
State Major Projects
The Connecticut Elks Association helps keep children safe by supporting the childhood safety initiatives of Safe Kids Connecticut.
Departments
8
A Candidate for Grand Exalted Ruler
12
It's Your Business, by William J. Lynott
14
Healthline, by Elizabeth A. Reid, MD
46
Elks National Veterans Service Commission
56
Elks Drug Awareness Program
---
Back to top