Current Issue Online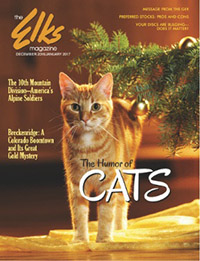 Dec/Jan 2016

Who are the Elks?
Elks are community.
No matter where you go in the country, an Elks Lodge is right around the corner. With more than 850,000 members and 2,000 Lodges nationwide, Elks are providing charitable services that help build stronger communities.
Click here to join us in service to your community!
Elks Magazine Online
Welcome! The Elks Magazine is published 10 times per year for the members of the Benevolent and Protective Order of Elks of the United States of America. If you'd like to submit fraternal news, please check out our fraternal news guidelines (Adobe PDF format).
If you're interested in writing a general interest article, here are our writers guidelines. If you're interesting in advertising in the Elks Magazine, please review our Media Kit.
To submit materials or provide a photo, please download and fill out a submission form.
The Order has just been featured at the Smithsonian National Postal Museum in their virtual exhibit "America's Mailing Industry," which was launched on September 13, 2016, at a reception in Washington, DC.
The Smithsonian Postal Museum recognizes the Elks' quiet network of good deeds. With 28.2 million visitors each year to the Smithsonian Museums, this is a very powerful forum on which to appear!
Read the full write-up on the Smithsonian museum's website here.
Current Issue: February 2017
Features
20
Music City Hits a High Note--The Sights and Sounds of Nashville, Tennessee by Michael Stein
Nashville has undergone a physical revival in recent years and is reaching new successes in music, too.
28
All-American Lodge 2016: The Virginia Beach Lodge, by Linda McMaken
The Virginia Beach, Virginia, Lodge is a home away from home for its members, many of whom are from elsewhere in the country.
34
Made in America: the Development of the American Cookbook, by Elise Warner
The American Cookbook has been a work in progress for nearly four hundred years.
48
Elks Drug Awareness Program
Elks spread their drug awareness message by distributing drug awareness school supplies and sponsoring antidrug speakers at schools.
Departments
8
It's Your Business, by Timothy Middleton
10
Healthline, by Elizabeth A. Reid, MD
42
Elks National Veterans Service Commission
---
Back to top