Current Issue Online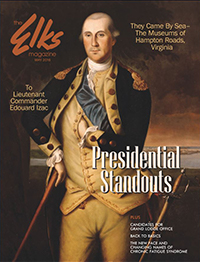 May 2016

Who are the Elks?
Elks are community.
No matter where you go in the country, an Elks Lodge is right around the corner. With more than 850,000 members and 2,000 Lodges nationwide, Elks are providing charitable services that help build stronger communities.
Click here to join us in service to your community!
Elks Magazine Online
Welcome! The Elks Magazine is published 10 times per year for the members of the Benevolent and Protective Order of Elks of the United States of America. If you'd like to submit fraternal news, please check out our fraternal news guidelines (Adobe PDF format).
If you're interested in writing a general interest article, here are our writers guidelines. If you're interesting in advertising in the Elks Magazine, please review our Media Kit.
To submit materials or provide a photo, please download and fill out a submission form.
Current Issue: June 2016
Features
10
News of the Lodges
Elks continue to show that Elks Care--Elks Share by holding Court of Honor ceremonies for Eagle Scouts and making donations to cancer centers.
18
Houston Welcomes BPO Elks for 2016 Grand Lodge Convention, by Philip Hartigan
Thousands of Elks converge on Texas to celebrate the lodge year in the Bayou City.
28
America's Front Yard--The National Mall in Washington, DC, by Gerald C. Hammon
The National Mall, designed by Pierre Charles L'Enfant, deserves high marks for beauty.
36
The Indianapolis 500: One Hundred years of Racing, by Linda McMaken
Once just a cart track in the middle of Indiana, the Indianapolis Motor Speedway has become a legend in motorsports.
Departments
8
It's Your Business, by Timothy Middleton
9
Healthline, by Elizabeth A. Reid, MD
44
Elks National Veterans Service Commission
48
Elks Drug Awareness Program
50
Elks National Foundation
54
State Association News
---
Back to top