Lodge #825 Home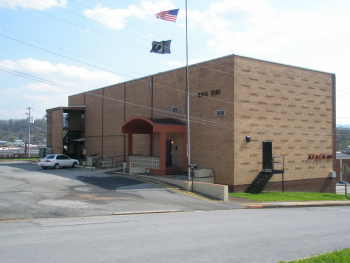 ---
SEPTEMBER NEWSLETTER IS NOW AVAILABLE UNDER THE "NEWS" TAB
---
WEDNESDAY NIGHT DINNER (AUGUST 27, 2014)
PORK LOIN - MASHED POTATOES - CORN - BAKED BEANS - DESSERT
ONLY $5
---
THURSDAY (AUGUST 28, 2014)
TRUSTEES MEETING @ 5:30PM
LODGE MEETING @ 6:30PM
INITIATION OF NEW MEMBERS
ALL LODGE MEMBERS ARE ENCOURAGED TO ATTEND
---
FRIDAY NIGHT STEAK DINNER (AUGUST 29, 2014)
STEAK ($12) - PORK CHOP ($10) - GRILLED CHICKEN ($8)
ALL MEALS COME WITH A SALAD AND BAKED POTATO (OR SWEET POTATO)
PLEASE CALL THE LODGE @ (423) 928-4842 TO MAKE RESERVATIONS
---
SATURDAY (AUGUST 30, 2014)
KARAOKE @ 7:30PM
---
SUNDAY (AUGUST 31, 2014)
FREE HAMBURGERS AND HOT DOGS FOR ALL YOU VOLS FANS!
GAME STARTS @ 7PM - JERRY WILL BE COOKING @ 6PM
---
MESSAGE FROM THE EXALTED RULER - AUGUST 2014
Hello to all the Johnson City Elk Members and our new friends. It has been a very sad time with the passing of our fellow brother Clyde Barnett. Our thoughts and prayers are with Christy and their family. Clyde will be missed by all. Please let Christy know you are thinking of her.
I want to thank all the early risers that got up and helped with the Yard Sale. For those of you that do not know, it took two Saturdays to do the yard sale. The first Saturday there were 4 of us that cleaned and priced all the items for the Sale. THEN on Saturday July 26th we had Tommy, Nick, Crystal, Dennis, Jerry, Mark, Linda, Ken S., Wolfe, Catherine, Patty and Zane all out and going strong by 7:05 AM. Then we had others that stopped by to help out . Thanks so much to all of you!!!! I think we made over $200.00 on Saturday, but sold a lot of things before the Sale. All remaining glassware was sent to ARCH to help out with the homeless Veterans when they find a place to live.
We have 3 new members for the month of July, and I hope that we will have 3 more by the end of August.
Please welcome our new cook Bill Brooks, and his wife Linda! Welcome aboard. He has also decided to become a member of our Lodge.
BE SURE AND CHECK OUT THE CALENDAR for August - Karaoke, Steak and Spaghetti Dinners etc. We really enjoy having a good crowd on Wednesday and Friday nights when we have food. Our Community project is the Washington County Humane Society's new Foster program. The Humane Society pays all the expenses to families that will foster a pet until a home is found. Of course they need funding and I would like to challenge every Elk to a $10.00 donation by the end of August.
Coming up in September - Beach Party September 13th - Hopefully we will have fresh oysters and low country boil - We have a fall Clean up Saturday coming up - be sure to get on the list of volunteers once the date is picked.
Have you a special charity you would like us to donate to? Let us know so we can plan to help them out next month.
See you at the Lodge
-Stephanie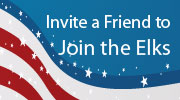 ---
Back to top