Lodge #2053 Home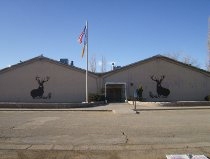 Grants-Milan Elks Welcome all of you to our Virtual Home Page!
The lodge meets every second and fourth Tuesdays, except for July and August which is the fourth Tuedays. All meetings begin at 7:30 p.m. There will be Pot Luck after the meetings.
PER Association meets every 1st Monday of the month at 7:30 p.m.
The physcial address for our lodge is: 805 Charles ST, Grants, NM The Lodge Property is on the corner of Jefferson & Anderman.
The mailing address for our lodge: P. O. Box 772 Grants, NM 87020 Phone: (505) 287-3885
The Lodge is open Monday-Friday at 5PM until 11PM, and on Saturday from 1PM- midnight. The Lodge is closed on Sunday.
We do have RV Parking, but no hook-ups available.
The Charity Gaming Room is open Monday-Saturday from 5PM-Midnight.
Our Annual dues are $40.00 per year + Assessments. Our current membership is 402 and growing.
Our lodge is also proud to have the Grants-Milan DOES #159 organization affiliated with us. The DOES meet every 1st and 3rd Tuesday of each month, except in June, July and August in which they dispense with their meetings. We have a Charity Gaming Room. We have a large Hall that is available to rent for Weddings, etc. All person's renting must have an ELK sponsor, no exceptions.
If you are traveling in the area, please stop by & say "Hi". The Lodge Officer's & Staff enjoy meeting other ELK's from around the Country
If you would like to be on the email list for upcoming events and news contact Leroy Hoisington at clubmanager2053@qwestoffice.net
---
Back to top