Lodge #1744 Home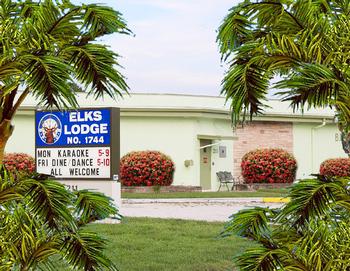 Melbourne Elks Lodge #1744 211 S. Nieman Ave, Melbourne, Fl 32901 (321)768-1744
The members extend a warm welcome to all members and guests.
Please join us for Lodge meetings, which are held on the second and fourth Wednesday of each month at 7:30 PM.
Lounge hours: Mon, Tues, Wed & Thu. 4:00 -8:00 PM; Fri. 4:00-10:00 PM & Sat 1:30 - 10:00 PM; Sunday CLOSED
Secretary Hours: Monday & Tuesday 9:00 AM - 1:00 PM. Or call for an appointment.
The Lodge Bulletin is for "members only - other Lodges may view" and is located on the NEWS Tab.
---
Back to top