Lodge #1705 Home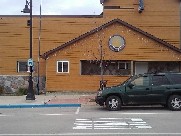 Welcome to Newberry Elk Lodge#1705 Friday Night Fish Fry and Complete Menu serving 5:00 pm - 8:00 pm Club open Monday - Thursday 3:00 - 8:00 p.m. Saturdays and Sundays open for special events only.
Check out "News" for current happenings and our "Newsletter" for upcoming events and calendar. "Like" us on Facebook!
St. Patrick's Day, March 17th, 2017 meals begin at 10:00 am serving until 8:00 pm. Stop down and be a part of the tradition!
---
Back to top