Who are the Elks?
Elks are community.
No matter where you go in the country, an Elks Lodge is right around the corner. With more than 850,000 members and 2,000 Lodges nationwide, Elks are providing charitable services that help build stronger communities.
Click here to join us in service to your community!
Elks History Project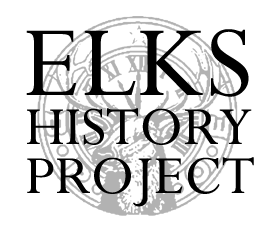 The Elks History Project is a collection of historical stories, photos, and media that date all the way back to the founding. This project is an ongoing effort and we encourage you to contribute to it.
Explore the history of the Elks - and the United State of America - through our archived issues of The Elks Magazine, 1922 - 1974.
Want to see what your local Lodge looked like when it was first built? Archive of photos from every PGER? Other interesting photos can also be found state by state.
Listen to the sounds of the time with these historical audio pieces.
A few collections of historical accounts and other historical stories from the founding.
Do you have something we should add to our archive?
A very special thank you goes to Mike Jones of Salisbury Elks Lodge #699 for his extensive collection and contributions to the Elks History Project
---
Back to top