Who are the Elks?
Elks are community.
No matter where you go in the country, an Elks Lodge is right around the corner. With more than 850,000 members and 2,000 Lodges nationwide, Elks are providing charitable services that help build stronger communities.
Click here to join us in service to your community!
Welcome!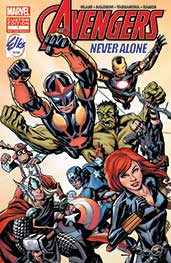 The "Avengers" are helping the Elks combat Bullying, Under Age Drinking and the Abuse of Pharmaceutical Drugs. The Avengers battle alien robots to show our children that if are being Bullied and pressured to use Alcohol and Pharmaceutical drugs you can always find help and that you are "Never Alone" because help is available and do not be afraid to ask for that help.

The printed version of the Never Alone comic book is available to be used in classroom situations. To order a Never Alone Comic Book Kit, please contact your State Drug Awareness Chair-person for the order form (See Contacts for list of State Drug Awareness Chair-person). The order form needs to be signed by a school official and your State Drug Awareness Chair-person.

You can view the online version at: http://elkskidszone.org/the-avengers-never-alone/

Spread the word that you are "Never Alone" and someone will always be ready to help you lead a safe and drug free life.

Watch this space for announcements on exciting news about the next Elks Drug Awareness Comic book – coming later in 2016.


The Benevolent and Protective Order of Elks welcomes you to the resource center for the Elks National Drug Awareness Program - the largest volunteer drug awareness program in the United States. We are very proud of our dedicated army of volunteers who freely give their time and talents to this most noble cause. The Elks are committed to eliminating the use and abuse of illegal drugs by all members of society and believe that in order to ensure a bright future for our country, it is essential that our children be raised in a drug-free environment.




PSAs
Click a title to hear public service announcements by Milton Creagh.
Latest News
→ Read more news
---
Back to top