Chicago Lodge Membership System (CLMS) provides lodge secretary's the ability to print both membership cards for members and id cards for family members. CLMS has been designed to support the two most common types of stock in use by the members of the Elks, which are the 2 cards per page and 8 cards per page.
Cards can be printed individually for specific members or as groups such as members with a specific paid through date. See how to access the Membership Card Menu and click the link for the type of card you want to print.
Opening the Batch Card menu
Step 1
Click the "Cards" button located on the toolbar of the "Members Edit" screen.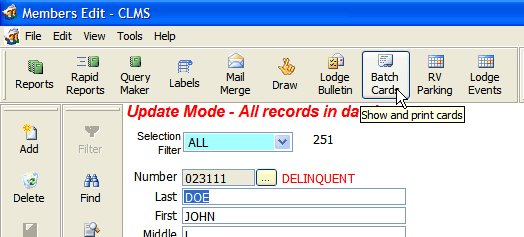 Step 2
Click the button for the type of card you wish to print. Your choices are shown below and you can click on the links below for instructions on what to do for each selected choice.
Member Cards and Members with Spouse ID
See Also
Print Member and ID Cards from the Members Edit window for current member
Reference
Printing Member Cards and Spouse ID
Editing Membership or ID cards
Printing Associate Member/Spouse Cards
Suggestions or bug reports about the CLMS product or help can be emailed to CLMS Helpdesk.
© B.P.O. Elks of U.S.A. All rights reserved.
---
Page url: http://www.YOURSERVER.com/index.html?printgroupsofmembercards.htm