You can use Bulk Email to send mass mailings to of the Lodge Bulletin, Letters and other attachments.
Step 1
On the tool bar located at the top of the "Members Edit" screen click on the "Lodge Bulletin" button.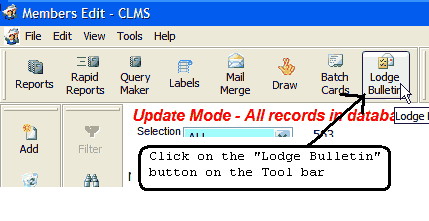 Step 2
A sceen will appear that is similar to the one you might see when preparing to send labels. Highlighted below are the two main options that are applicable to "Bulk Emails". You can change the sort which will determine the order the email addresses will be listed in and you can choose to exclude specific groups so that they are not list in the BCC blind carbon copy list. Click the "Bulk Email" button to continue.
Step 3
You will presented with a list of all records containing an email address, you can choose to send bulk emails to all of these records or you may uncheck unwanted records. Another handy feature is to select a zip code range to exclude from your bulk email. Click the "Remove" button once you have made all your changes, then click the "Next" button to proceed to the next step.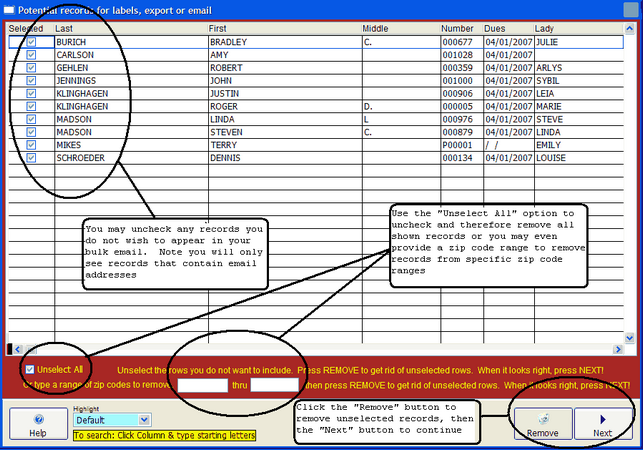 Check your "From", "To", "Cc" and "Bcc" options before continuing.
Step 4
At this point you can modify your sending to addresses. By clicking any of the buttons above the subject line you will enter into another window so that you can select members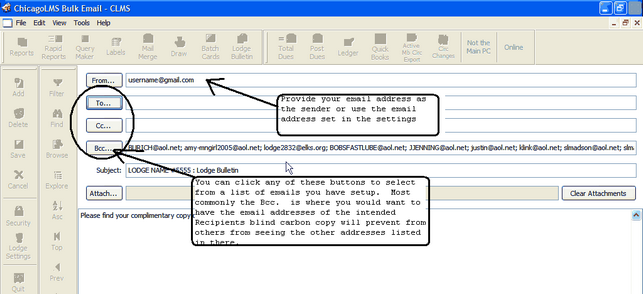 Step 5
You will see two Tabs "Lodge Members" and "Area/State/District Officers and Committee Members" **(information from this tab must be manually maintained). "Lodge Members" tab will contain email information from the "Ph/email" tab of the "Members Edit" screen for each member. Note that the Bcc... line is automatically populated with email addresses. If you wish to customize then you will have to delete the automatically supplied email addresses then click on the "Bcc..." button to select criteria for this mailing.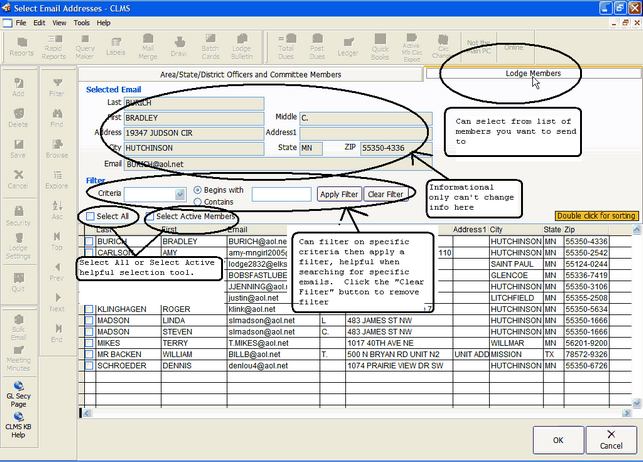 Step 6
You can attach your bulletin or any other documents and attachments you wish to send by clicking "Attach..." button below. Click the "Send" button to send you mailing. Note that you will not see the list of addresses listed in the To. Field this is because each email will be sent individually. You will see text below the "To" button and box the number of records that this email will be sent to.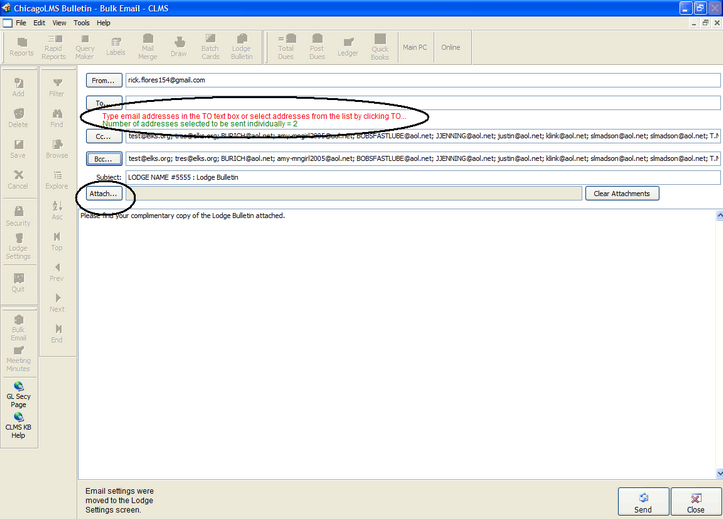 See Also
Suggestions or bug reports about the CLMS product or help can be emailed to CLMS Helpdesk.
© B.P.O. Elks of U.S.A. All rights reserved.
---
Page url: http://www.YOURSERVER.com/index.html?bulk_email.htm