Chicago Lodge Membership System contains many stock mailing labels that allow you to easily create labels for your important Lodge mailings. This section contains information pertaining to the mailing labels that are included in Chicago Lodge Membership System.
In This Section - All labels can be exported to a file using the Export button on the pre-designed labels screen.
Default Label Screen -
This label screen is for the "All Active Members" labels, however most of the other label selections contain the same options and settings. Select from the type of labels you want to print Dot Matrix, Inkjet/Laser or some other type. You can change the field that the labels are sorted by and change it to ascending or descending order, can export or print the labels.
Labels available from the list are All Active Members, Associate Members, Birthdays and Anniversaries, Candidates, Committee Members, Delinquents, Dues Notices, Forum, Life Members Only, Lodge Bulletin, Lodges, Officers, Old Timers, PDDGER, PERS, Past Elks of the Year, Past Officers of the Year, Protocol, Spouses and Windows.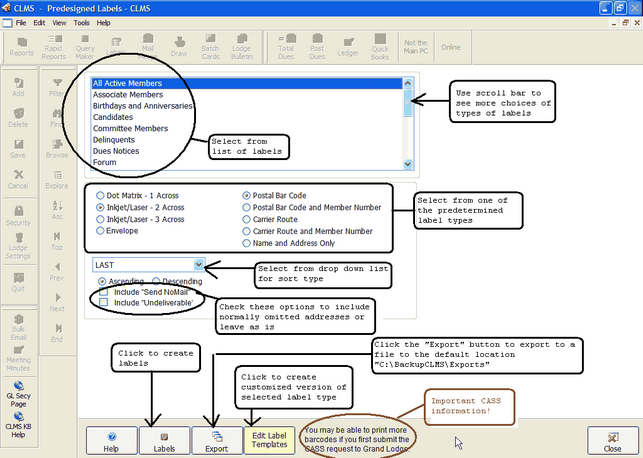 Steps for printing labels
1.

After clicking the

"Labels"

button shown on the form above, you will be taken to a page to select the records that you wish to print labels for. You can go through the list and uncheck any records you wish to omit from your selected labels. Or you can uncheck the

"Select All"

option shown below and check the records you want to create labels for. Once you have finished un-checking all the records you don't want. Once you have unchecked and checked your choices you can click on the

"Remove"

button also shown below, to remove any unwanted records from your selection. .
In the example we unchecked the "Select All" box to clear all names then manually checked off only records that have a last name that begins with the letter B. Use the "Select All" option at the bottom of this page to uncheck all records. Then manually check off the records you want to include. In this case all the Last names starting with B. Then click the "Remove" option, this will remove any unchecked records from the screen and your selection. Click the "Next" button to preview your selection and print. You can also provide a zip code range for records you want to remove instead of checking specific records.
2.

You will then be presented with a print preview of your labels where you may click the printer icon button to print. Click the

"X"

icon to exit the preview.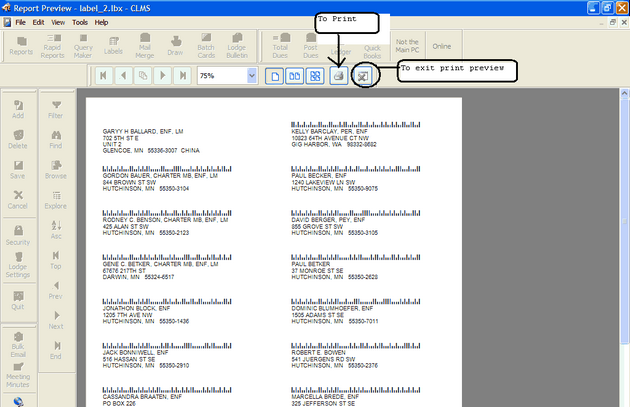 Labels Screen with other specific options
Describes the Birthdays and Anniversaries mailing label.
Describes the Delinquents mailing label.
Describes the Dues Notices mailing label.
Describes the Life Members Only mailing label.
Describes the Lodge Bulletins mailing label.
Describes the Old Timers mailing label.

Suggestions or bug reports about the CLMS product or help can be emailed to CLMS Helpdesk.
© B.P.O. Elks of U.S.A. All rights reserved.
---