Cornerstone Grant Recipients
Cornerstone Grants are awarded to Legacy scholars who demonstrate an interest in starting or expanding a community service project with an Elks Lodge. To help Legacy scholars do more for their community, the Elks National Foundation offers a limited number of $500 grants each year. Read more about the 2016-17 Cornerstone Grant Recipients below.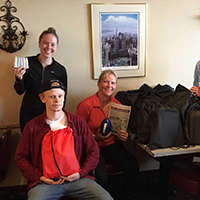 Ryan Miller
2015 Legacy Scholar
Sponsored by Hopkins, Minn., Lodge No. 2221
For kids summer vacation is the highlight of the year. They spend free time playing with toys, reading books and soaking up all summer break has to offer. But what if you are a kid who does not have the essentials? Ryan teamed up with Gretchen Peterson, the 2017 CIP Volunteer of the Year and his local Elks Lodge to serve kids in the Hopkins' community. Ryan's cornerstone grant enhanced the Hopkins Lodge's Impact Grant project called "Teaming up for Teens" which provides support packs for teens in need.
Ryan's grant funded summer packs for local elementary and junior high kids. The packs are filled with summer necessities and sunshine essentials—including books, sunglasses and summer toys.
"It meant a lot to be able to give back in my local community," shared Ryan. "It was especially cool that some of the bags we packed went to schools that I attended. I really hope the bags help the kids have a fun summer!"
---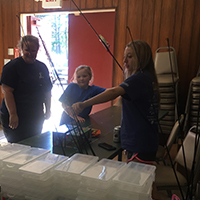 Madison Greene
2016 Legacy Scholar
Sponsored by Fairhope, Ala., Lodge No. 1879
There is nothing more rewarding than catching the largest fish after a spending the day enjoying the great outdoors. Madison Greene used her greatest catch, a cornerstone grant, to organize "Teach a Kid to Fish Day" that took place on June 10 in conjunction with Alabama's Free Fishing Day.
Madison worked with the local Lodge to ensure that each child was provided with snacks, a fishing pole and bait. She also assisted in teaching the children in how to cast their poles. At the end of the day, the kids weighed their fish to see who had the largest catch. Madison was thankful for the opportunity to bring back a program she participated in as a child. The Lodge's last "Teach a Kid to Fish Day" was coordinated by a member who passed away 12 years ago. Madison was aware that this member had a son in high school, and wanted him and other children from the area to take part in an event that was special to her growing up.
"I loved seeing new children come to this event, experience the kindness of our members, and hopefully they will join in on other events in the future," says Madison.
---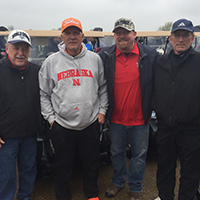 Conrad Shiu
2016 Legacy Scholar
Sponsored by Omaha, Neb., Lodge No. 39
A game of golf can be a fantastic way to make friends. Conrad used his grant to tee off a project that honors veterans and supports young professionals. He worked with his local Elks Lodge to sponsor four veterans to participate in a golf fundraiser for the University of Nebraska Lincoln Sales Center of Excellency. After golfing, the veterans enjoyed a delicious dinner, where they connected with young professionals and local businesses.
Through this project, Conrad wanted to build a bridge between two organizations that are very important to him. The project was put together to honor his grandfather who passed away in December. His grandfather loved the Elks and golf.
"It was really rewarding to bring impressionable young people and the inspirational Elk's members together," says Conrad. "The students learned a lot and the Elk members had a great time. It was a great event to tee off this relationship by swinging into action at this fundraising golf tournament." Conrad plans to join the Omaha, Neb., Lodge No. 39 when he turns 21.
2015-16 Cornerstone Grant Recipients
The ENF is proud to announce the 2015-16 Cornerstone Grant recipients. The following four Legacy Awards recipients received a $500 grant to partner in service with the Elks.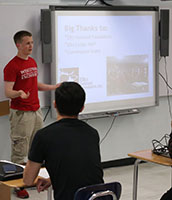 Spencer Fricke
2014 Legacy Scholar
Sponsored by Manitowoc, Wis., Lodge No. 687
Spencer used his Cornerstone Grant to partner with his local Elks Lodge to bring virtual reality technology he has been working on while studying computer engineering at UW Madison to a local high school in his hometown of Manitowoc, Wisconsin. In the past, Spencer helped to develop the Lodge's website, and now the Lodge was able to support him in spreading his computer science knowledge to local students.
"Studying in a STEM (Science, Technology, Engineering, and Mathematics) field can be very discouraging when you are not able to comprehend topics," Spencer shares. He was able to visit a local high school and share with the students about the Elks, the Elks National Foundation and present on the benefits of using technologies, like Google Cardboard, to enhance their education. He was then able to provide the school with virtual reality education tools that they will be able to utilize for years to come.
"I know that every year from now a large group of kids will be able to learn better and possibly become more interested in pursuing something in the STEM field with little things such as these headsets," Spencer reflected. "I can't be more thankful for the Cornerstone Grant and the great timing of it all and I can't wait to see what becomes of this project each year I come home to check up on it."
Click here to read more about the technology Spencer is developing at UW Madison. Click here to see his Thank You Video from when he received his Elks scholarship. Click here to hear about Spencer's experience on an Elks Scholar Service Trip.
---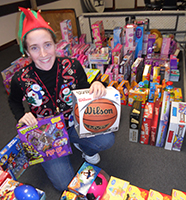 Erika Barger
2006 Legacy Scholar
Sponsored by Ormond Beach, Fla., Lodge No. 2193
Erika is a proud Legacy scholar and current Exalted Ruler, or chapter President, of her sponsoring Elks Lodge. She used her Cornerstone Grant to make her Lodge's Annual Christmas Party bigger and better than ever! The Lodge was able to welcome over 200 area children and their families to enjoy lunch and an exciting party.
Activities at the party included an outdoor bouncy slide, face painting, cookie decorating, and a personal visit with Santa that ended with a toy for each deserving child. Erika didn't pull off this project all by herself, however! Along with many Lodge members volunteering their time and efforts to make the event a success, four local Elks scholars also volunteered to help make the Christmas season brighter for the children and their families.
Click here to see how Erika is continuing to make a different in her community in the name of the Elks. Click here to read an article from the early 2000's when Erika first joined the Elks.
---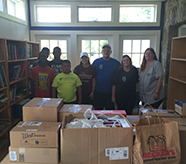 Brittany Rickard
2015 Legacy Scholar
Sponsored by Stirling, N.J., Lodge No. 2392
Brittany led "Project Phix Philadelphia" with her Cornerstone Grant. She collected and purchased thousands of school supplies to donate to a school in Philadelphia. Three Elks members joined Brittany as she dropped off the supplies that included around 1,000 children's books to build a library for the school. She interacted with the school's director, principal, faculty and students during her visit and was thankful for the opportunity to see this project come to life.
Brittany shared, "I will continue to work with the Elks in the future to keep on providing school supplies to Cornerstone Christian Academy for each academic year. This was truly an unforgettable experience!"
---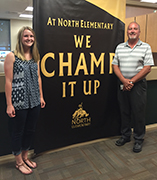 Elizabeth House
2014 Legacy Scholar
Sponsored by Goodland, Kans., Lodge No. 1528
Elizabeth connected an elementary school in her hometown with the Elks through the CHAMPS program. Teachers nominate students who exhibit exceptional behavoir in the classroom and winners are selected each week. "Local Elks members will recognize these students and present their awards," shared Elizabeth. "Hopefully these students will begin to recognize all of the incredible projects that our Elks
Lodge is a part of."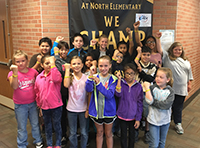 Elizabeth is thankful for the opportunity to become more connected with the Elks and the Elks National Foundation through her Cornerstone Grant. "As a child, I remember participating in Drug Awareness events and the yearly Hoop Shoot contest in my community. These projects affected my life in a positive way and were my first introduction to my local Elks Lodge. I am extremely grateful for the impact that the Elks National Foundation had had on my childhood and my academics and I would like nothing more than to create a project that could have a positive impact on the lives of students in my community."
---
2014-15 Cornerstone Grant Recipients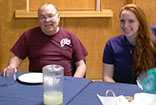 Krystyna Farrell
2014 Legacy Scholar
Sponsored by Glens Falls, N.Y., Lodge No. 81
Krystyna partnered with the Glens Falls, N.Y., Lodge No. 81 to cater a lunch for veterans at the Albany Stratton V.A. Medical Center during her spring break. Elks members from the Lodge joined her and assisted her in hosting a successful event. She was thankful for the opportunity to not only get to serve the lunch, but also to get to have some heart-warming conversations with the veterans.
"I have a lot of volunteer experience, but most of it has been with children or peers. I have spent a lot of time working with my church group to plan and execute events for kids and teens, but I have never once worked with veterans. This project was a big step for me and I'm so glad to have taken it on," Krystyna shared. "The opportunity to receive these funds was wonderful and it has made me even more interested in volunteering with veterans in the future. Partnering with the ENF means I had the Elks family behind me to support me in my endeavors and that gave me the courage to plan my first service project on my own."
---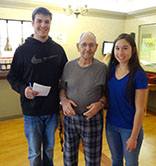 Austin Cusick
2013 Legacy Scholar
Sponsored by Ohio River Valley, Ohio, Lodge No. 231
Austin used his Cornerstone Grant funds to put together gift bags for veterans in a local nursing home. The bags included items that the residents could use during their stay such as clothing, slippers, socks and toiletries. Austin and his peers had the opportunity to spend time with the veterans by playing cards, coloring Easter eggs, and having some meaningful conversations with the residents.
"Thank you all for the opportunity to create and provide a project in the local area giving thanks to older veterans who have served," Austin expressed.
---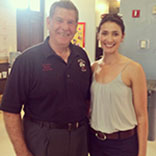 Meagan Fuller
2010 Legacy Scholar
Sponsored by Attleboro, Mass., Lodge No. 1014
Meagan partnered with The Cookbook Project and The Youth Empowerment Project to hold healthy cooking classes for children in the New Orleans community with her Cornerstone Grant. The classes culminated in a Food Culture Celebration Day in which the children got to cook and serve healthy meals. Meagan was able to connect with Terry Bruno, a member of New Orleans, La., Lodge No. 30 who attended the Food Culture Celebration Day.
Meagan shared, "The kids were so excited to cook for their friends and they did a wonderful job!" She was also grateful for the opportunity to connect the New Orleans Elks Lodge with the Youth Empowerment Project through her Cornerstone Grant event. "I couldn't be more thrilled to have facilitated this connection," Meagan shared.
---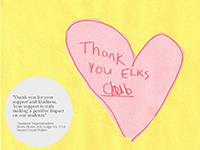 Nicholas House
2012 Legacy Scholar
Sponsored by Mountain Home, Ark., Lodge No. 1714
Nicholas partnered with Mountain Home, Ark., Lodge No. 1714 on their 2014-15 Impact Grant project–Project Uplift. Elks members at the Mountain Home, Ark., Lodge provide a mentoring program for elementary school students through Project Uplift. Members partner with students throughout the year and provide them with supplies they need.
Elks scholars like these want to volunteer with the Elks! There are Elks scholars across the country. If you are interested in inviting Elks scholars to volunteer at your Lodge, please email scholarship@elks.org.
---
Back to top