Calling All Leaders! - Are you interested in sharing your ideas to shape the future of the Elks scholar experience? Would you like to get to know other Elks scholars, Elks and ENF staff members? If so, we have a great opportunity for you! Join the Elks Scholar Advisory Board. This is a fantastic opportunity for you to get directly involved with the Elks National Foundation, become a member of a national board, and help us better serve Elks scholars.
The Elks Scholar Advisory Board is a group of Elks scholars - current and alumni - who advise the ENF on its scholar relation efforts. Currently, the Board is composed of ten members: one freshman, one sophomore, one junior, one senior, five at-large members, and the Elks Scholar Alum of the Year. Freshman, sophomore, junior and senior Board members serve for four years from the date they are appointed, at-large members serve for staggered terms, and the Alum of the Year serves for one year.

Board member responsibilities include:
Piloting Elks scholar programs in your area.
Meeting online throughout the year.
Being a role model for other Elks scholars.
Communicating and providing feedback by email throughout the year.
Attending the annual Scholar Advisory Board meeting, all expenses paid. This year, Board members must be available to travel to San Antonio, Texas from Thursday, June 28, through Monday, July 2, 2018, for the 150 for 150 Service and Celebration Weekend.
Elks National Foundation Scholar Advisory Board Application

Calling all 2018 MVS and Legacy scholars! Apply for the Freshman SAB position by May 13, 2018.

Click here to apply for the Freshman Representative position on the 2018-19 Elks Scholar Advisory Board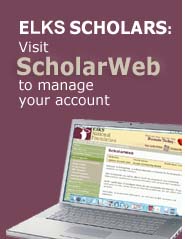 Contact Programs Associate Maryann Slater Dernlan at MaryannD@elks.org if you have any questions or would like further information.
---
Back to top