Meet the Class of 2016 Elks Scholars
Lina Zou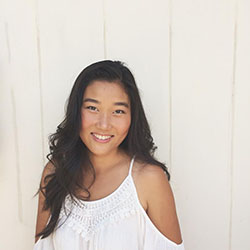 2016 Most Valuable Student Recipient
University of Washington—Business Administration Major
Sponsored by Honolulu, Hawaii, Lodge No. 616
Just like their Elks family, Elks scholars are looking towards their communities to see how they can change the world. 2016 Most Valuable Student scholar Lina Zou embodies this ideal, as she plans to use education and advocacy to change the lives of those in her native Hawaii.
Lina was active throughout high school in both her school and community, dedicating herself to a unique set of causes. She felt compelled to give back to the community after her own family struggled.
"It was easy for me to dedicate my time to help others because I saw my family in my community," says Lina. "Living in Hawaii, the lines of family and community blurred and I found myself attracted to anything that sought the skills I possessed."
This included time as a youth volunteer for the Hawaiian Humane Society, caring for and working for the rights of abused and abandoned animals as well as for Kahala Nui Care Home, where she worked with elderly residents to fully participate in activities. She also helped to tutor and mentor incoming freshmen to adjust to high school and help with homework and studying skills."
Lina's dedication to community and leadership skills were shaped during her time in student government, where she used her voice and initiative to start her own projects and facilitate ones put forth by fellow officers.
In college, Lina hopes to continue her passion for helping others through education and advocacy. In particular, she hopes to educate and encourage students to pursue careers in STEM fields and close the gap in funding for low-income public schools across Hawaii. She also hopes to develop her business skills to advocate for a better economy to equalize wealth inequalities, especially in her home state and to support Hawaii's homeless and economically disadvantaged populations.
"Ultimately, I think the key is education," says Lina. "To give someone knowledge is to give them opportunity, and I will do just that."
Lina is thankful to the Elks for providing her a key to education through monetary support and for the community of peers who are as dedicated to improving their communities as she is.
"Receiving the Elks scholarship means more than just financial assistance, but entry into a family of individuals who dedicate themselves to the community," says Lina. "The Elks have afforded me the opportunity to continue my education and affect change with my knowledge."
For 2016-17, the Elks National Foundation allocated $2.75 million to fund the Most Valuable Student scholarship program, which includes 500 four-year Most Valuable Student Scholarships. For more information about the Most Valuable Student scholarship program, including eligibility and deadlines, visit enf.elks.org/mvs
Meet Other Members of the Class of 2016
Click an image below to read about other 2016 Elks scholars.
Meet the Class of 2015
Click an image below to read about 2015 Elks scholars.
---
Back to top