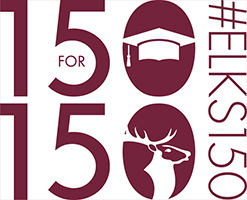 Celebrating 150 Years
In honor of the Elks' 150th anniversary, we are bringing 150 Elks scholars together--current and alumni--to serve and celebrate this milestone.
If you're joining us in San Antonio June 29 - July 2, please review the Welcome Packet PDF below for everything you need to know before you arrive. You can view the packet in its entirety or view individual PDFs.
If you're attending the Convention as an Elk, please join us in service at the Convention Center Exhibit Hall Sunday, July 1 anytime between 10 a.m. to noon to be a part of packing 5,000 hygiene kits for local veterans experiencing homelessness alongside Elks scholars!