Cortland, NY Lodge News
Cortland Elks Lodge Installs New Officers 2015-2016....Great Year Ahead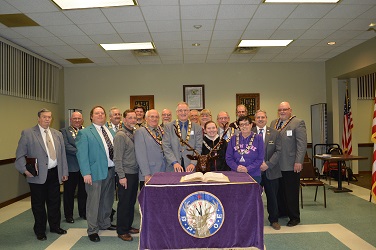 On March 22, 2015 at Old Timers and Awards Night the Lodge Installed all new officers for the 2015-16 year. The installation as performs by Elk dignitaries from the South West District. Members were inspired by a speech written by ER John Pinto. Theme was teamwork and unity.
Receivning awards that evening were Butch Garvey....50 year pin, Elk of the Year...Mike Call,Officer of the Year... Donna Johnson, Citizen of the Year...Theresa Quail.
That evening, working with a great kitchen staff, Cal prepared this famous stew. Boy, was that good! Thanks everyone for making the evening a great success.
---
Back to top