ABSENT ELKS 1981-2010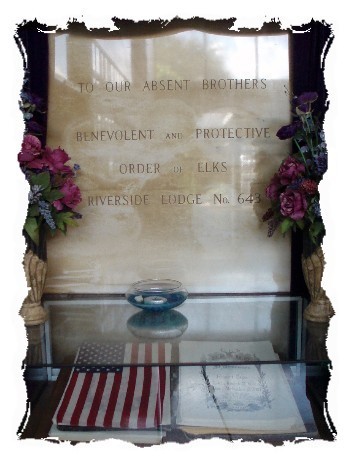 2010
Emmett Singletary, 90, 53 year member, October 6th.; John Crites, 87, 40 year Life Member, July 25th.; Robert "Bob" Budel, 63, 17 year member, July 6th.; Elzie Pettis, 85, 33 year Life Member, May 30th.; Ralph T. Brown, 84, 52 year Life Member, March 2nd.; Leonardo Erickson, 79, 9 year member, February 15th.; William Difani, 81, 50 year life member, January 14th.; MajGen John Hinton, 90, 23 year member, January 5th.
2009
Joan A. Slaick, 75, 2 year member, December 1st.; Steve Monahan, 56, 3 year member, October 18th.; William Vejchar, 74, 42 year Life member, September 27th.; Don Charlebois, 67, 45 year member, September 6th.; Edward Minasi, 86, 2 year member, September 4th.; John Bruyneel, 91, 56 year Life member, August 18th.; Leota Jarvis, 72, 6 year member, August 3rd.; Timothy W. Helms, 60, 16 year member, June 6th.; Jack Maynor, 79, 53 year member, June 16th.; Todd Sanders, 79, 42 year Life Member , June 16th.; Sam Marrocco, 88, 41 year member, March 31st.; Robert Bowen, 80, 40 year Life Member, January 9th.; Robert J. Mitchell, 79, 42 year Life Member, Unknown Day in 2009.
2008
Clarence W. Minor, 86, 21 year member, December 25th.; James Kealy, 87, 26 year member, December 2nd.; Charles M. Stewart, 86, November 20th.; Albert Bottel, 87, 57 year Life Member, November 17th.; David MacKay Ramsay, 86, Past Elk of the Year, 42 year Life Member, November 11th.; Elmer O. Nelson, 90, 44 year Life Member, October 27th.; Norbert Lewandowski, 78m, 15 year member, October 11th.; John "Jack" Coogan, 79, 52 year Life Member, September 28th.; John Murray, 60, September 11th.; Robert J. "Uncle Bobby" Castillo, 86, 38 year Life Member, August 17th.; James Duncan, P.E.R., P.D.D.G.E.R., 90, Life Member, 52 year member, August 4th.; Joe Dunbar, 85, Life Member, 55 year member, July 27th.; Richard Thornton, 89, 44 year Life Member, July 13th.; Dorthy McAffee, 87, Elks & Emblem Club, June 2nd.; James Decker, May 21st.; Don W. Sherwood, 76, 32 year Life Member, May 18th.; Thomas J. Cribbs, 85, 38 year Life Member, May 17th.; Philip E. Naucler, 76, 51 year Life Member, April 17th.; Jacob Bowser, 51 year Life Member, March 25th.; Edward King Sr., 79, Life Member, February 16th.; Donald Chenault, 34 year member, February 2nd.; Delbert Murphy, 76, 20 year member, January 8th.
2007
Michael A. Garcia, 68, December 16th.; James Shipley, 51, October 26th.; John "Red" Kerr, 83, 51 year member, & Life Member, September 20th.; Ray Whiting, 82, 34 year member, September 17th.; Harry E. Danko, P.E.R., 79, August 5th.; Felix Wicker, 82, June 17th.; Wilford Skylar, 90, May 14th.; Paul Ogilvie, 83, March 18th.; Paul Booher, 78, Life Member, March 14th.; Loren Weatherwax, 85, Life Member, February 22nd.; Charles "Chuck" W. Barnes, 89, February 12th.; Glenn Waterman, 69, January 16th.; Vincent Martorella, E.o.Y. , 91, January 8th.; Ruppert "Rupe" C. Pitman, P.E.R., 71, January 1st.
2006
Ryan Carroll, 33, December 10th.; Ron Thornton, 53, November 28th.; Dale Dee Zentner, 69, September 17th.; James R. Curtis, 68, August 1st.; Gene Porter, 78, July 1st.; John M. Loper, 80, June 26th.; Dale E. Haynes, 90, June 2nd.; James J. Tighe, 85, June 1st.; Harry C. Palmer, 89, May 1st.; Gerald G. Robinson, 90, April 4th.; Lloyd B. Sellin, 92, March 23rd.; Calvin R. MacGillivray, 84, March 5th.; Earl J. Topham, P.E.R., 73, February 1st.; William Shipman, 74, January 26th.; Thomas G. Hayes, 71, January 22nd.; James W. Hargrove, 60, January 4th.; William G. Skotty, 83, January 4th.
2005
Thaddeus J. Roszkowicz, 71, December 29th.; Walter E. Shaidnagle, 92, December 9th.; Roy Schinhofen, 73, November 4th.; Michael L. McCaulley, 59, October 31st.; William H. Hughes, 86, September 29th.; Roy J. Robertson, 43, September 9th.; Dale Kraemer, 65, August 19th.; Edward Sadler, 90, July 22nd.; Robert L. Moon, 87, July 19th.; Leo J. Giroir, 64, July 5th.; Elwood L. Sebelius, 74, April 28th.; Bernard J. Clark, 78, March 4th.; Anthony W. Perrone, 84, February 12th.; James C. McKellips, 67, February 11th.; Arthur L. Keesling, 84, February 8th.; Harvey A. Rife, 88, January 8th.; Coleman Curry, 79, January 7th.
2004
George E. Paulin, 91, December 5th.; Robert Diaz, 67, November 13th.; Al Morrison, 86, November 13th.; Susan L. Ruh, 47, September 2nd.; Joseph E. Syms, 79, August 8th.; J. Rory O'Rourke, 79, August 5th.; Edgar W. Madsen, 73, August 4th.; James J. Schmitt, 82, July 29th.; James J. Pelissero, 81, June 30th.; Joseph L. Dunkel, 91, May 31st.; Guy A. Trifone, 88, May 3rd.; George E. Petrie, PDDGER, 77, April 10th.; Al Christie, 79, April 2nd.; James E. Taylor, 86, March 28th.; Marvin Olson, 89, March 13th.
2003
Lloyd C. Rose, 81, December 24th.; Christopher R. Grove, 75, November 1st.; Joseph E. McNamara, 82, October 26th.; William R. Dunivin, 79, September 23rd.; William "Bill" Carr, September 14th.; Roland Hentzschel, September 5th.; Frank Cochran, August 30th.; Robert Hoge, August 25th.; John Casseday, August 19th.; Ronald Trapp, August 2nd.; Edward Aubry, July 31st.; George Grosso Jr., July 10th.; Robert Showalter, June 25th.; Roy Whitehead, June 5th.; Charles Davis, June 1st.; Eugene Pekarske, May 28th.; David Gossard, May 18th.; Leroy Greisch, May 7th.; George Shepard, April 10th.; Frank Ricker, April 8th.; Earl Wilson, ,January 29th.; William "Bill" Harris, Jr., January 21st.; Carl Nelsen, January 18th.
2002
Rees "Bill" Mack, December 24th.; James Bright, December 19th.; James Totman, December 15th.; Theron Bursell, December 12th.; George Osborne, December 7th.; James Corselli, December 6th.; Leon Bowls, December 6th.; Gail Berge, November 7th.; George Bagley, October 19th.; Ernest Berchtold, September 17th.; Willard "Bill" Niedens, August 13th.; Dan Cauffiel, July 23rd.; Leo Rogers, July 19th.; Robert Walsh, May 19th.; Robert Perry, May 17th.; Kenneth Smith, May 8th.; Donald Hagen, May 5th.; John Woodhead, April 16th.; Cecil Martin, April 10th.; Clarence Voll, February 22nd.; Lucian Croteau, February 22nd.; John Lacey, February 18th.; Donald Wilson, February 2nd.; Daniel Benner, January 15th.
2001
Bernard Stiengon, December 20th.; Joseph Cagliostro, December 12th.; Earl Gulbertson, November 16th.; Gene Knott, October 29th.; Elmo Schott, September 10th.; Donald Kischell, August 20th.; Edward Seifke, July 15th.; Richard Holzer, June 30th.; Bill Berndt, June 19th.; Calvin Sessions, May 15th.; Lawrence Pickett, May 6th.; Edmund Cluke, April 2nd.; Melvin Puxhorn, March 19th.; Ray Bishop, March 17th.; Sam DiGati, January 31st.; Jack H. Hammer, January 5th.
2000
Joe Qualls, December 29th.; Edward McConnell, December 25th.; Melvin W. Flodine, December 18th.; Robert A. Steingone, December 1st.; Howard Connelly, November 15th.; George W. Jackman, October 9th.; George J. Heffley, August 9th.; Carlos DeLlamas, July 31st.; Edward F. Gould, July 25th.; Raymond S. Lindefel, July 9th.; Roy P. Denney, July 11th.; Harold J. Rookey, March 1st.; Cecil C. Bird, February 28th.; John J. McQuire, January 16th.; John Ackles, January 15th.
1999
Ernest Kelly; James Rush; Cataldo Bevacqa; Edward Cronan; John Schoppe; Harry Roquet; Richard Fritts; Robert Watson; Darrel Thomas; John Gulizia; Wendell Kyseth; Art Swarner, P.E.R.; Richard Shyer; Donald Bucher; Ward Engsley; Donovan Bacon; Robert Wright; Charles Robertson; Robert Phillips; Paul Glab; John H. Lehne; Robert Phillips; Robert James; Fred Hageman.
1998
Edwin R. Wells; Paul A. Litherland; David E. Cornwell; Louis E. Terflinger; Charles F. Mullen; Charles J. Powell; Frank Sallaro; Joseph A. Williams; James Richardson; Robert J. Preciado; R. J. Hawkins; Charles Staup; Norman E. Geib; Albert Sheldon, Jr.; Grover C. Cox; Homer J. Stroud; Tom Rutherford, P.E.R.; Ray Evans; Frank Markley; Paul Everhart; William Griffith
1997
Jack Packwood; Bud Densmore; Herman Witt; George Hallaran; Clyde McElroy; James Matthews, Jr.; William Bailey; Vince Rea; Lawrence Hopcroft; Duane Aamodt; Richard Newton; Robert Algren; Fletcher Morris; George Engelauf; Norman F. Hoff; Robert D. Lynch; Marion Waldron; Harold Larson; Chuck Quinette; John E. Cote
1996
Robert Jarvis; Edward Paul; Stephen Sells; Joseph Misfield; David Wells; Clifford Wilson; Raymon Fowler; Marvin Groffman; Skip Fordyce, P.E.R.; Robert Ross; Willis Spell; Elmer Morey; Houston Smith, P.E.R.; Ronald Bisatt; Evart Jacobs; Clarence Shaw; Glen Kohrell; Sherman Strife; Michael Barrile
1995
Glenn Webb; John Collins; Phil Wright; Alpheus Jennings; Raymond Ghathom; Keith Small; George O'Rourke; Sam Gaines; Vincent Fallon; Bruce Enyart; George Hendricksen; Hank Munksgaard; William Meyers; Albert Brown; George MacGillivray; Robert Weeks; Charles Haines
1994
Duthrey Johnson; Charles Bailey; William R. Morrison, Sr.; Earle F. Klimback; Lloyd V. Mattson; Donald C. Coutts; Emil R. Vecchio; R. Warner Vitelle, P.E.R.; Orrin Rife; Francis Beuche; Charles Edward; John Sanders; Melbourne Davis; Edgar Gates; George Riddle; Bob Austin
1993
Edward Campbell; John Robb; George "Eddie" Larue; Roy J. Mitchell; Leo A. Deegan; Gerhard W. Enge; Hole L. Hundter; Coleman J. French; Robert J. Carpenter; Bill Ray Dockery; Alfred H. Logan; H. Lee Dunn, P.E.R.; Iver Berg; John Hammer; Edward O'Keefe; Vernon L. Schwab; Willis Horton; John V. Boud; William C. Schultz; Phillip Modica; Michael G. Ervin; Johnny W. Miller; Francis "Father"O'Donnell; Walter H. Brittman; Richard D. Cartier; Newton Goedert; Howard W. Jones; Charles L. Traugott
1991
Roy B. Jester; Raymond L. Coate; Garland D. Anderson; Frank Szegedy; Orville Salak; Kenneth A. Hedrick; Herschel Barnes; Roy C. Adair; Bert O. England; John "Jack" Casey; Richard V. Brockman; Patrick McGill; James Simpson; Bob Barnhart; William G. Holly; Fritz Fieber, P.E.R.; Ralph L. Cimino; Brooks Dickey; Wallace S. Muir; Harry L. Kincade; Stephen Nagy; Bernard Savage; Len Thompson; Chester B. Filkin; Russel C. Stevens; Kyle Mullins; Lawrence B. Valen; Anthony Verani; Ted Heisig; John Dahl; Bobby Wallace; Gordon Wurst; Leo Vargason
1990
P. Collins; Walter F. Sullivan; Frank Mankin; H.J. Green; Kenneth O. Brown; Robert L. O'Keefe; Marvin B. Shapiro; Sel M. Chaffee; James J. Farrell; Jim E. Topham; Dennis J. Toulouse; Russell S. Waite, P.E.R.; Robert Parks; Edward J. Boss; Frank M. Conser; Gordon Johnson; Dominic Tavaglione; Richard W. Englehorn
1989
Del D. Smith, P.E.R.; James Pringle; Robert B. Saucke, P.E.R.; Forrest S. Christensen; Homer G. Wilson; John P. Nelson; Elmer J. Wood; Leonard D. Moore; Charles Munson; Charles S. Zuppardo; Morris M. Robinson; Paul Bentley; Ernest Drake; Robert W. Weeks; Jerome A. Benoit; Harold Blackely; Phillip J. Florio; James W. McAnolly; Joseph Sandertto, Jr.
1988
Luther F. Holman; Robert T. Grant; Stanley B. Belton; Lyle W. Lammon; William J. Steffy; James J. Gunn; Robert D. Yunag; William D. Nemer; Johnston R. Staples; William C. Trombley; Donald Hatch; J. Lee Johnson; Myron L. Payne; Howard C. Lechner; Lowell O. Orr; John F. Lamb; A. A. Kilday; Theodore Brainard; Joseph F. Nagy; Robert J. Radice; William J. Mays; Marcus W. Meairs; Dean Abbe; Robert C. Barrett; Robert F. Clark
1987
Jack E. Barth; Leonard K. Brown; Stanley Czarnecki; Elton Jack Neel; Ralph F. Couste; Roy W. Henry; Seth M. Norman; Stephen M. Singletary; James McFall; James M. Hastead; Leonard J. DiFani, P.E.R.; Francis D. Peters; Ronald D. Cook; M. B. Walton; Joe L. Robinson; Jack E. Borth; Jack B. Mansfield; James A. McKeen
1986
Richard Connolly; Earl D. Reed, Sr.; Gus Rinella; George Kriss; Edward B. Costo; Charles F. Pettit; Harry H. Iverson; Harry B. Wells; Ernest M. Adams; Chester B. Anthony; Donald Elston Smith; George D. Mansion; Archie Dashburn; George Leroy Schniep; J.B. "Bud" Stevens; Robin J. Cheuer; Martin B. Peterson, Sr.; Claude A. MuLanae; Frank W. Fagerlund; Fane H. Flickinger; Harold H. Sheldon; Thomas J. Keaney; James F. Ireland; Frank C. Mannino; Kenneth C. Benter; Harry Quillman; Joseph R. Fabion; Richard Murray; Dale Doty
1985
Frank D. Bowers; Erhard F. Muir; T. Coleman Bangs; Floyd E. Jorgerson; Robert L. Bickford; Edward Pernett; Lewis Edward Phelps; Arthur O. Thayer; Pete Richards; John A. Rodgers; Harold M. O'Brien; Thomas S. Huddleston; Charles Walsh, Sr.; Dr. L. R. Sattler; Richard Stearns; Robert M. Metzel; Robert T. Topham; Bernie B. Cole; Harold C. Banks; Elroy M. Erickson; Fran Koluzak; J. M. Floyd Dell; Elmer J. Lawrence; Bruce Arnold; John F. Tuso; Thomis J. Keedes.
1984
Ramon A. Alcantoro; James F. Freschauf; William B. Cornell; Edgar Koughtby; Herbert M. Robertson; Albert W. Harris, Jr.; Fred H. Conard; Edgar R. Kargo; Frank Ciminski; Ernest J. Oberschmidt; John B. Moran; Delmer Don Rinehart; Gene Norrison; Edwin J. McEntire; John Slodky; Thomas F. Spalding; Jack Schnorr; William J. Shawler; Arthur B. Montmini; Benny Diaz
1983
S. L. Barr; Chester B. Franklin; Lester O. Hoffman; Charles S. Barnes; Harold J. Rookey, Sr.; Howard H. Rahmlow; Earl W. Porter; Charles R. Derr; Milton H. Rudolph; Louis Getlin; Dudley B. Wheelock; Otto S. Metzker; Herbert C. McCollum; Edward J. Devlin; J. Carl Stafford; Kenneth P. Smith; Rollo Larson; Jack J. Kovely; Charles Butz; Harold R. File; Carter H. Waugh; Don H. Pell; Henry Clark Smith; Harlan E. Hardison; B. Schweger; Alfred Quereau
1982
Thomas J. Bauch; John B. Guilfoy; Lee Davis; Emmet C. Smith; Stephen H. Guttman; Allan W. Johnson; Fred P. Huber; Christian N. Hager; Rex E. Martin; Harry G. Eggert; Donald L. Bergstedt; Grover H. Traphagen; George W. Evans; Lyle D. Shufflebanger; Henry J. Jefferson; Raymond Lee Neff; Frank W. Banfield; Edwin H. Prescott; Maurice Johnson; Ernest E. Evans; Marion E. Horton; R. L. Christenson; Emerson J. Pann, P.E.R.; Norman M. Kischel; Robert H. Anstett; Joseph E. Kazmierski; Anthony F. Kennedy, Sr.; Byron C. Morton; Harry D. Lamarr
1981
William Preciado; Darrell G. Hendricks; Curtis D. Riley; Howard C. Simons; Thomas E. Kasterko; George L. Bell; Alvin E. Partlow; Uli Jack Bauman; James N. Sappington, Sr.; Clarence E. Andrew; Robert I. Tansey; Roy I. Bussee; C. Fred Pettit, P.E.R.; Vince S. Del Rio; Stephen Mowry; B. A. Kristofferson; Paul W. Holmes; John A. Flannagan; Fred A. Ross; Albert A. Webb; Walter D. Berlin; John J. Mahoney
---
Back to top