ABSENT ELKS 1901 to 1980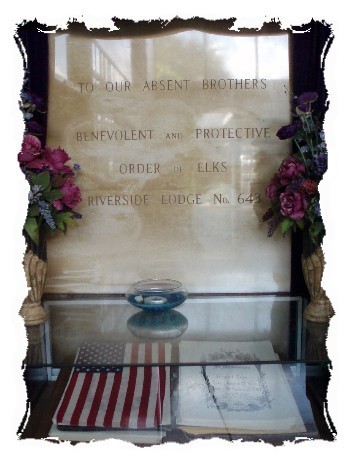 1980
Olin H. Little; Kermit H. Mitchell; Lawrance W. Cross; Edward A. Walker; Roland Wilson; W. J. Bradley; C. T. Ferry; Cabray Wortley; Harold L. Giffin; Robert D. Strong; Louis Engel; Miguel J. Garat; Romaine C. Christie; Robert Schickel; William O. Laanden; Samuel Freedman; W. G. Gunnison; James R. Bell; Forest H. Banks; Muriel C. Haines; Millard H. Orcutt; William D. Mackey, P.E.R.; Robert J. Moorehead; Daniel Klug; Mark Paul; Martin E. Guhin; O. C. Harvey; Roy John Shettel; Gaylord M. Wintringham; Read Easton; R. B. Edmonson, P.E.R.; William V. Potter; Earl Phaneuf
1979
Clarence C. Lockwood; F. E. Nadeau; Joseph B. Dowp; Richard F. Gough; W. Phil Josephson; Andrew J. Evensen; Vincent W. Grubbs; Hack A. Davis; Benjamin C. Done; Howard I. Pike; Robert Winfield; Mark C. Thomas; Ralph L. Renolds; J. C. Post; David E. Copeland; Lloyd E. Polen; Ralph E. Hughes; Albert F. Heyde; Arthur Rendall; William F. Holmes, P.E.R; John C. Higgins; Harvey R. Specht; Raleigh A. Raylor; E. A. Topping; Scott J. Cross; Ernest L. Yeager; Calvin F. Baker; Edward DeGennaro; William R. Hamilton; James E. Hutchins; Harvey A. Lynn; Ivel R. Thompson; Edward J. Herbert; Clifton N. Bruderer; Jess H. Kuykendall
1978
John Curry Norton; Libro Leo A. Oliveri; B. J. Starkweather; Collin W. Lovesee; Harold McHendry; William H. Douglas; Brainard T. Campbell; Harry Nelson; Roy E. Evans; Robert F. Lynn; Harlan E. Jones; John B. Logan; Marion Abild; Leonard L. Lesnikowski; Maurice O. Nordstrom; Brank Bresson; Whitney C. Hodges; Otto R. Graser; Virgil Roy; Langdon Maxwell; George E. Camp; Frank J. Kapple; Arthur J. Schmidt; Lewis F. Crosby; Allen J. Oliver; Maxwell L. Conaway
1977
William R. Kilgore; George B. Littlefield; Rich Prokop; Victor H. Lussier; Robert D. Hall; Max Scheer; Harry E. Snyder; Elzie Davidson; Edward J. Devener; Joseph C. Nonemake; Floyd I. Kimbell; William Darryl Porter; William McKee Henry; Frank O. Witbeck; Lester K. Solberg; William G. McCoy; Clarence H. Huffman; A
1976
Gus Chambon; Fred C. Rohlfing; C. L. Briggs; Max Kilcher; John J. Orlando, P.E.R.; A. V. Jester; Paul A. Loizeaux; Douglas D. Paterson; Carl L. Elber; Meyer Shifress; Frank M. Allen; Chandler W. Rydin; John Frech; Howard G. Kraus; Elvin E. Larson; Harvey C. Cooke; Raymond A. Drew; Kenneth A. Johnson; William B. Plockman; F. O. Stoakes; John I. Martin; Donald G. Metcalf; George Hickey; Adam J. Beno; Norris W. Houser
1975
Martin J. Kaplan; Jackson G. Hemstead; Charles R. Flood; John G. Greenan; Cecil Watson; Thomas G. Evans; Stanley M. Briggs; George J. Lohnes; Thomas J. Maley; A.B. Bonnett; J. R. Walker, Jr.; John C. McGrath; Harmon C. Brown, P.E.R.; Charles E. Stearns, Jr.; John H. Lindt; Clarence R. McKinlev; Laurian Charlesworth; Arthur M. Bunnell; Earl M. Nordlund; Leslie M. Jensen; Harry E. Smith; Herman Helbush, Jr.; Edgar A. Turner
1974
F. L. "Les" Magnuson; Fred S. Miller; Robert E. Dauber; Paul C. Plue; Carl Charles Roman; Anthony Elmo; Paul R. Seematter; Constatine L. Metz; William F. Jenkins; James A. Hamner; Nevelle McFarlane; James A. Ennis; Leon R. Goodman, P.E.R.; William Miller; Carl Grein; Eugene E. Brooks; L. Clay Freeman; Thomas B. Vinson; Roy Helgeson; Van W. Kave.
1973
James G. Lowey; Samuel Rushall; M. S. Slaughter; Kenneth C. Torkelson; Harry E. Burkey; Friel Frost; Merle J. Leach; Kenneth A. Farris; Kermit P. Jones; Arthur P. Courtney; James A. Taylor; Hugh Butler; Horace C. Warren; L. Donald St. Clair; Hal H. Ewalt; Francis S. Scudder; Don Gilkerson; Laurence Carty; Paul J. Anderson; Chester A. Vaught; J. A. Spavin; H. Clay Begloe; Edwin A. Mortenson; Richard J. Welch; William W. Shaw; George Atkins; Allan Fineman; Harry Haun, Sr.; Don D. Parkhill; Jim McDowell; Lloyd D. McKenzie
1972
Lyman D. Hasen; Henry B. Rainwater; Robert J. Lennon; George S. Childs; George Reade, Sr.; John O. Harvey; Everett L. Bennett; George Lewis; Garnett B. MacDonald; Kenneth L. Reynolds; Stephen F. Lynch; Basil Creager; Edward C. Burrows; W. J. Mazzetti; Stanley V. Fisher; Harry Kauffman; Sherman L. Holmes; Robert Eagle; Ed Martin; John A. Barber; Palmer Robinson; Frank Baxter; W. E. Dickerson; John M. Devers; George B. Bartlett; William C. Coryell; Clarence G. Fox; Theodore Hartpence; Lester De Chene; Carl C. Cress, P.E.R.; Thomas E. Seddon
1971
Kenneth J. Poth; Homer G. Best; Hennig Nasman; William W. Augustin; Jacob A. Richman; John H. Gray; John T. "Chief" Meyers; Glen E. Finney; Don Casaletti; Carl A. Peel; Irwin L. Welch; Waling De Kiewit; R. L. Hopkins; Clarence Maine; C. M. Folger; Maurice Kustner; Fred Smith; J. D. Montgomery; Richard L. Heinemann; Erasmus Burt; Ben F. Snider; Willard McBride; C. A. Miller-Jones
1970
M. C. Bellah; Eric L. Waite; William E. Little; Le Roy Bucknell; William H. Bonnett; Edward Malana; Roy D. Lay; Sebastian Giuliano; Raymond K. Fairfield; Bill L. Reid; Alfred J. Pearse; Charles M. Cane; Edward A. Dvorak; D.S. Gilmore; Ed F. Lingo; Na Dell E. Jensen, P.E.R.; Ivan P. Chappell
1969
Lew W. Evans; Thomas Webster; Clay C. Runyan; George W. Phillips; Armand Gross; Harvey Anthony; Alfred B. Parsons; Gus Schmidt; Clifford A. Brown; Russell Guibault; John H. Garven; Randall H. Wightman; John Dozier; ; Peter J. O'Malley; Cecil H. Miller; Gerald W. King; B. E. Taber; Morris Johnson; ; A. J. Vetro; Richard Bartholomew; Carl H. Thomas; Donald L. Hammer; ; Joseph L. Golden; Gordon A. Pequegnat; George W. Scott; Robert W. Bush; Karl H. Adams; Tracy C. Prichard; George C. Lawson
1968
Joseph A. Beaven; John D. McGrew; Matt De Kiewit; C. P. McCullough; William L. McDonald; Paul A. Marlar; Paul L. Garzee; George R. King; Arthur B. Shepard; John A Cantarini; Brad Dayton; Charles G. Sease; James W. Davis; Benjamin Antoyan; E. D. Dorris; George C. Cowles; Montgomery Ellott; Benjamin F. Doss; George L. Paul; Richmond L. Buck; Carl C. Cress, Jr.; Harry Cherrington; Rex Estudillo; John W. Farrell; George J. Sherman
1967
John E. Andres; Harold J. Hess; Charles E. Frost, Sr.; Caryl J. Post; Norman Dent; Cecil H. Thomas; Arthur W. Reynolds; Robert E. Chauveau, Jr.; Lester J. Carnahan; James A. Merrick; Guv R. Graham; Charles Fredenburgh; Charles B. McPhee; Alvin W. Owen; Jack Critchlow; Merle W. Harris; Clarence L. Ritzau; Robert E. Bouer; Charles H. Dittman; Hyman Bernstein; William T. Rafferty; William K. Powell; Harry A. Stevens
1966
Harold F. Hoffer; Frank J. Shea; J. A. Bennett; Frank J. Salfer; Leonard G. Littell; Dr. S. H. Keller; Gordon Berg; Alfred B. Hill; Carlton W. Hodges; Coleman C. Collins; L. H. Heineman; Victor E. Harris; Leon S. Heseman, P.E.R.; Louis L. Shephard; Jack K. Sherwood; Dale Kilday, P.E.R.; Guy E. Stephenson; Theodore Bradford; Ronald P. Shumway; Phil M. Lutin; C. A. Emond; G. F. Cooper; Vernon R. Dent; Herschel Daniels
1965
Maurice O. Graves; Edward Johnston; Edward L. Begun; Samuel B. Resh; James H. St. Clair, P.E.R.; Wes W. Walrath; Ernest J. Lowe; William E. Towers; John P. Laivell; Larry Papini; Leon M. Mattson; J. B. Stringfellow; Will Cunnison; M. H. Simons; Irving E. Howard; Fred Tune; Leo H. Wood; Philip E. Huber; Roy O. Huffman; Kenneth M. Buck; John F. Kennedy; Thomas McCrory; George W. Graham; Roy Yoder; E. H. Mathews; James J. Murphy; Kenneth R. Dittman; Charles Ferchaud
1964
A. E. Peay; A. R. Ables; Hal B. Harlow; John B. Rosenkranz; James A. Reid; Albeno J. Fedri; Burgess H. Henry; Nicholas M. Heeres; Carl A. Strandberg; Vincent Jester; T. L. Wallace; Paul Scharringhausen; L. M. Backstrand; William Over; Miles C. Sheehan; J. J. Fleisch; Jack Pearson; Walter L. Schauer; William G. Carter; E. L. Singletary; Gugo Guenthe; Percy Robinson; Edward A. Olsson; Jerald R. Lambert; Elvin C. Cloninger; Oliver Patterson; Doyle Pressnall
1963
J. M. Johnson; E. J. Waugh; Murray Deverich; Milton F. McGahee; Ivan E. McKinley; Val Staley; W. V. Pittman; Clarence Burgess; George L. Shields; Ben Bitter; C. Lee Dryden; Joe Rice; Cecil Snodgrass; George S. Eisen; Roy E. Simser; Claude L. Patterson; John Zuppardo
*********** THE RECORDS BETWEEN 1945 AND 1962 WERE LOST ***********
1944
Glenn W. Gurtner; George A. Hackett; Carl A. Wurth; Archie L. Casteel; William S. Purdy; H. L. Thompson; Orrie S. Norstad; Ralph O. Butcher; F. F. Oosterbeek; O. R. Vanderhoff, P.E.R.; E. B. Criddle, P.E.R., P.D.D.
1943
Frank B. Wolcott; Frank A. Gardner, P.E.R.; Myron P. Bland; S. H. Goodin; William Farr; H. K. Stahl; George Robertson
1942
R. P. Schultz, P.E.R.; R. D. Brough; John A. Newcomer; V. N. Dupuy; C. R. Stibbens; James Lynwood Kellam
1941
A. H. Schultz, P.E.R.; F. L. Hamblin, P.E.R.; C. N. Funk, P.E.R.; R. E. Bourell; M. M. Millice, P.E.R.
1940
B. F. Larabee; W. F. Gouty; Arthur L. Brown; L. E. Bower; Edward Hagen, P.E.R.; Edward Bertino
1939
S. R. McDougall; R. F. Randell; A. H. Isbell; Harry Brainard; Mart Mummy; P. W. Greenleaf; J. R. Bowden; L. F. Reinke; George E. Manzel
1938
Fred W. Stalder; Francis L. Bonner; R. L. Loucks
1936
C. L. Pequegnat; Philip Lucius; J. H. W. Warren; J. E. McGregor; J. T. Garner; M. J. Twogood
1935
W. B. Wells; Ray Jessup; C. Van Zwalenburg
1934
H. W. McDougall; Joseph Schneider
1933
George H. Morton, Sr.; R. H. Rubidoux; M. C. Dotten
1932
Lyman Evans; P. T. Evans; G. C. Conklin; C. S. Dickerson; George F. Mott; F. S. Trump
1931
David McClure; H. B. Slater; C. P. Hancock; C. C. Brinkman; A. N. Sweet; J. E. Shaw; Harry Volk
1930
S. F. Cain; Charles Wimperis; C. W. Curtis; G. D. Parker; J. W. Arnold; E. B. Howe; A. A. Gamble; F. A. Noyes; O. L. Hitchock
1929
E. H. Jefferson; R. B. Sheldon; W. B. Clancy; C. A. Newcomb; M. E. Lee; H. R. Martin
1928
E. E. Guy; James Borden; C. O. Tribou; George A. Herdeg; William H. Ellis; Frank T. Morrison; J. H. Holland; Wirt P. Boggs; Charles A. Ables
1927
F. E. Middleton; Frank P. Wilson; Alfred C. Murray
1926
A. L. Huddleston; W. U. Sharp; P. J. Murphy; Albert Braunschweiger;
R. T. Shea; O. J. Palmer; A. J. Stalder; D. G. Mitchell; F. K. Josly; J. V. Bird
1925
Fred D. Smith
1924
G. C. Spencer; W. J. Newman; T. J. Leeds; J. C. Deagan, Jr.; Fred Peter
1923
William Kitchen; James McDougall; J. S. Castleman; Gaylor House; Fred H. Speich, P.E.R.; Alvin C. Donovan; John R. Westfall
1922
John A. Stockman; Hugh H. Craig, P.E.R.; Hiram Butts; J. E. Schweng; L. V. W. Brown, P.E.R.; Louis J. Baty
1921
Theodore Crossley; Joseph F. Daniels; John F. Megginson; John B. Hannah; Samuel A. Mosgrove; Ira A. Woy; Clarence B. Rome
1920
Wesley W. Wilson; Karl T. Amstutz; George F. Ward
1919
S. A. White; C. W. Hickok; Andrew S. Milice; William B. Sawyer; Charles P. Hebert; Hansen F. Gilliland; Orange C. Darling; J. Boyd McDougall
1918
Henry B. Hamner; Nathan O. Winship; Frank H. Serry; Allen C. Wilson; John A. Woodman
1917
Charles M. Craig; Clarence J. Hicks; James W. Carroll; Ozro K. Dunham; J. Archibald Merrill
1916
W. Guy Smith; George H. Brown; Frank E. Densmore; George Boyle; Ernest S. Moulton
1915
Charles E. Gyger
1914
Edwin J. Stewart; William W. Poole
1913
August W. Boggs; Fred M. Dunbar
1912
Philip M. Colburn; Corliss A. Stewart; Howard P. Gray; Frank W. Forsythe; Sidney D. Pelton
1911
Thomas W. Laidlaw; George N. Reynolds; Andrew W. Cochran; Alfred A. Woods, P.E.R.
1910
Frank C. Butler; William S. Gilmore
1909
Charles E. Kennedy; Charles N. Gardner
1908
D. Albert Newcomb; John R. Cuttle; Isaac A. Witherspoon
1907
Howard T. Hayes, P.E.R.
1906
James A. Blandy
1905
Emerson H. Gruwell
1902
Elwood Lilly
---
Back to top