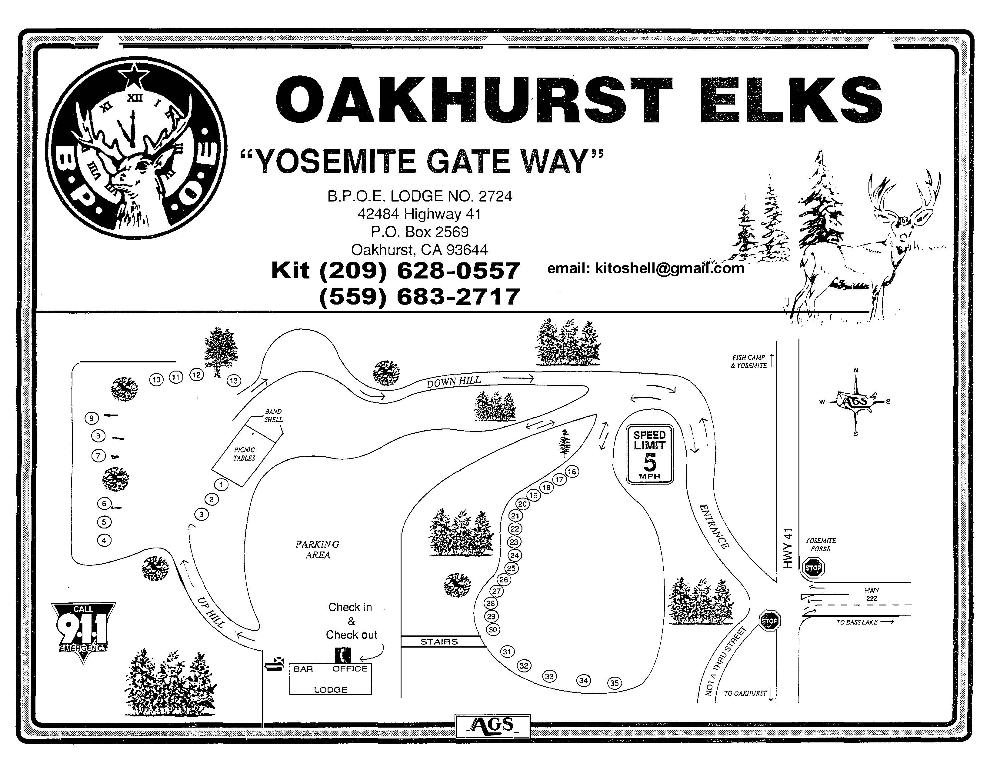 OAKHURST ELKS IS A VERY GOOD RV PARK DESTINATION TO THE GATEWAY INTO YOSEMITE!
Call Kit O'Shell, our park manager at 1-209-628-0557 for Park Reservations or questions about our RV facilities or email her at: kitoshell@gmail.com
Kit has suggested that once you are in the "business area" of Oakhurst, call her directly for further instructions as you DONT want to miss the turn off to lodge.
Please Visit our RV facilities on this short 30 second video, click on link.
More great pics to come; in the meanwhile please read on.
We are a good RV destination to the Yosemite National Park, just 20 minutes south of the Yosemite Gate. Our Lodge is the last RV park before the Gateway. Bass Lake is only 6 miles to the south. We ae currently is the process of installing a dump station. The Lodge is in the transitioning process of upgrading our facilities, the RV park is open 24/7 . Park your RV, detatch your vehicle, and head up into the Yosemite Valley or Bass Lake for the day fun and splendor.
Our Lodge, No. 2724 is located at 42484 Highway 41. Coming from Highway 99 head east up Highway 41, you will come upon the valley of Oakhurst major shopping and eating opportunities, both on your left and right sides. (A listing of many of the businesses below.) As you come to the center of the town of Oakhurst, give Kit a call. Our lodge is located five minutes up the road heading east towards Yosemite .
When you reach El Cid's Restaurant, on your right, you are 1.1 miles from turnoff to our lodge..
When you are close to the lodge there is a green sign on your right that says " Bass Lake, Road 222," enter the left hand turn lane at the intersection. You will be facing our lodge sign, proceed right up the slight hill and you are at your destination. RV lot is on first level, lodge on second, where you will fill our a self registration envelope, deposit cash or check and drop in slot below.
Cost: Elk Members $25 per night
Cost: Passport America members is $25 per night for the first night, regular rate for every night thereafter.
Cost: Non Elks $45 per night
Sites: Over 20 plus sites and two handicap sites.. Up to 45 feet RVs. All sites are back in.
30 amp, 50 amp, wifi, water hookups, and trash, sewer hookups coming soon.
Friday Night Dinners at the Elks Lodge: Great Food, Great Prices and a Great country style bar Call lodge for menu and reservations.
Shopping: Vons Supermarket, Raileys Supermarket and Grocery Outlet.
Stores: Rite Aid, CVS, Boardware (snow and summer clothing and Vacation toys.) Big 5., Reimers
Services: USPS, BofA, Chase, United Security Bank, Wells Fargo,
Entertainment: Met Cinema, Golden Chain Theater, Sugar Pine Railroad, Sierra Nevada Jeep Tours
Coffee and Teas: Starbucks, Cool Beans Cafe, Peet's Coffee, Time for Tea
Additional Eating opportunities; Papa Murphy's, Round Table Pizza, Me and Eds Pizza, McDonalds, Jack n' Box, Pizza Factory, Carls Jr., Taco Bell, Deli Delicious and Subway.
Local Cusine: Pete's Place, Breadhead Kitchen, Plazuelas Mexican Restaraunt , South Gate Brewing Co., Di Cicco's Italian Restaurant, El Cid's Mexican Restaurant, Smokehouse 41, Love Cafe, Rev's Farm House.
Bass Lake eateries: Duceys, Forks, Millers Landing, Casa Velasco