Wounded Veterans Project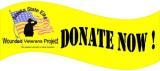 The Alaska State Elks Association has adopted as a Worthy Project the newly formed Alaska State Elks Wounded Veterans Project.

This project raises funds to assist our Alaska Wounded Veterans by providing outdoor experiences unique to Alaska and as a component of the Wounded Veterans' rehabilitation program.

More importantly the project provides an "Outdoor Program" for these deserving veterans. The Outdoor Program includes activities such as fishing, snow machine trail riding, rafting, hunting as well as other numerous activities which are sponsored by the individual Alaska Elks Lodges.

Please join us with your support of this most worthy project by sending in your donation today.

Donate NOW to help us help our young wounded veterans.

For more information about this Wounded Veterans Project, contact the Lodge or visit the Alaska State Elks Association website. Web address can be found by clicking on our "Links" button.

Alaska State Elks ~ Wounded Veteran's Project
"....not all wounds are visible"
---
Back to top