Lodge Facilities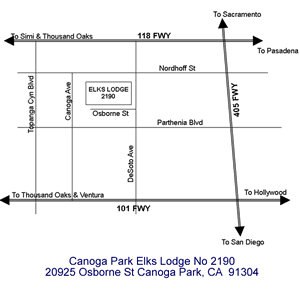 Welcome
Inside the lodge we can accommodate over 200 for weddings, quincanera, birthday parties, dances, sit-down dinners, Christmas Parties and meetings. Offers private entrance from the entry way/parking lot. Have a stage for bands or guest speakers. Offer Bar just outside main room, women's lounge and men's bathroom, speaker system and podium available if needed. Lots of parking for your event is available. Competitive prices and packages for your event are available and if you need insurance we can arrange that for you quite inexpensively. We can help you make your event successful.
We also have our picnic area which can be used for outside events of all kinds, large and small. BBQ and grill, full kitchen, outside bar, men's and women's bathrooms, bandstand, dance area, PA system if needed. Can use picnic benches and/or tables and chairs.
For our traveling Elk's we have 6 camp spaces available for RV's and Trailers in the rear of the lot. Sites rent for $20 per night and include water, electricity and wifi. We also have a dump station for your convenience located on the east side of the front parking lot and it is easily accessable to all.
For rental information, call Rosemary at (818) 998-2193.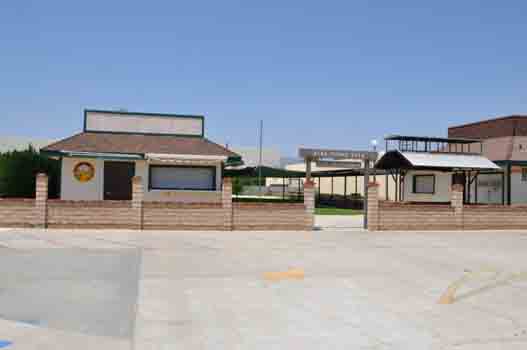 Picnic Area - Entrance
From the front parking lot, you can enter the Lodge Picnic Area. The Entrance welcomes everyone, reminding us not to forget our absent members.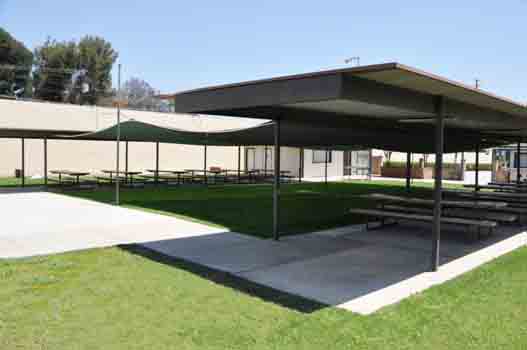 Picnic Area - Picnic Tables
In the middle of the picnic area is a large grassy area for games and other activities. On either side of the grassy area are the picnic tables - six on each side, seating 10 per table - on concrete pads with a cover to reduce the Southern California mid-day sun. We also have a Horseshoe pit where you can test your abilities.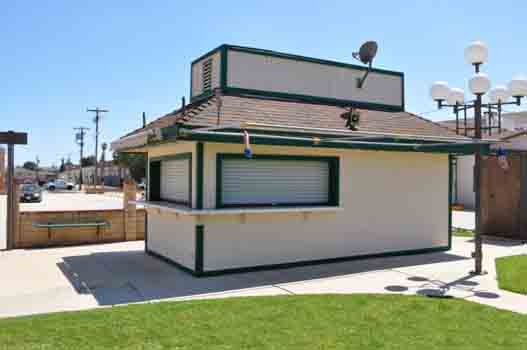 Picnic Area - Outdoor bar
When the weather is warm and the days are long (much of the time in Southern California), the outdoor bar serves up many refreshing drinks. With seating on 3 sides and mist-ers going, patrons can relax and stay cool.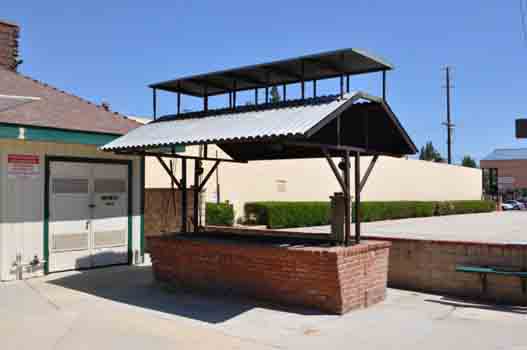 Picnic Area - Barbecue
What would any picnic area be without a barbecue? And our barbecue is large enough to grill a ton of burgers and hot dogs, barbecue loads of tri-tips or even a whole pig! With a fully-equiped cook-shack right next to it, there's no need to go all the way to the Lodge Kitchen to prepare and serve potato salad or other sides.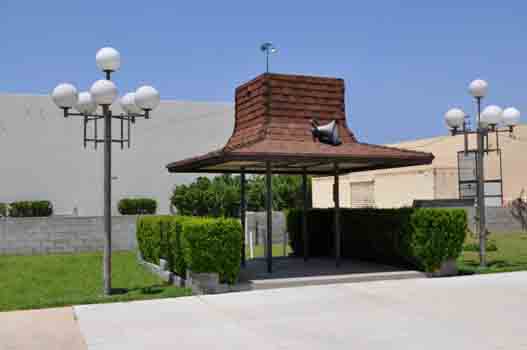 Picnic Area - Band & DJ Pad
In the rear of the picnic area are the Bandstand and DJ facilities. A covered concrete pad with Electrical hook-up, room for the DJ and needed equipment, or most any band! Right in front of the pad is a very large concrete pad that serves as the dance floor.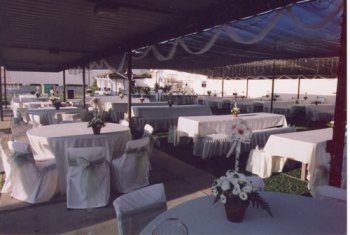 Picnic Area - Dressed
Here's our Picnic Area all set up for an outdoor wedding. Room for guests, well shaded, and plenty of room for dancing!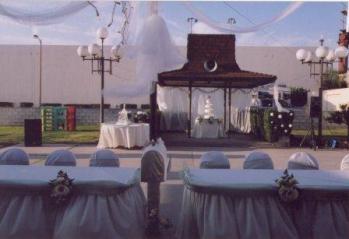 Picnic Area - Dressed
Another view of our beautiful picnic area, set up for a wedding. You can see how large the dance area is.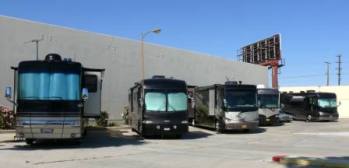 RV Parking
There's room for plenty of RVs, from the smallest camper to those 40 ft toy haulers. With full hook-ups (dump on-site), and dinner just feet away in our Dining Room most nights, camping in the Valley is comfortable, inexpensive and convenient.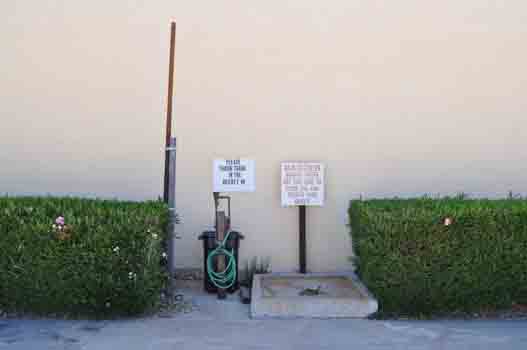 RV Dump Station
We are proud to provide our visitors with a place to empty their holding tanks.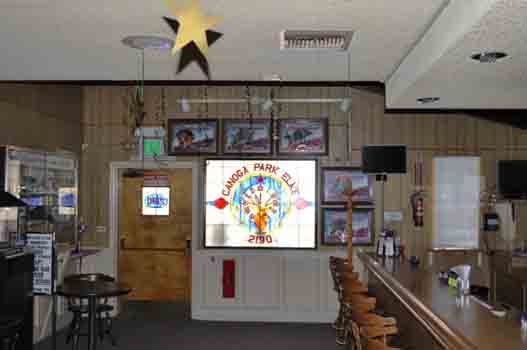 Elk's Lounge - Welcome!
The entrance to our lounge features a beautiful stained-glass window, welcoming all Elks and guests.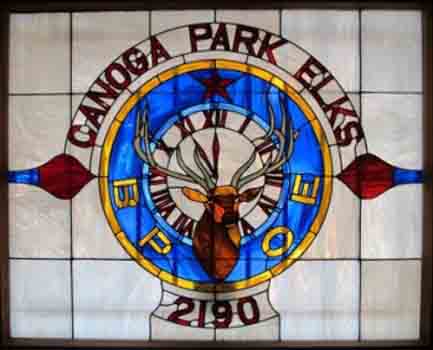 Lounge Stained Glass
From inside the lounge, our lovely stained glass emblem welcomes everyone.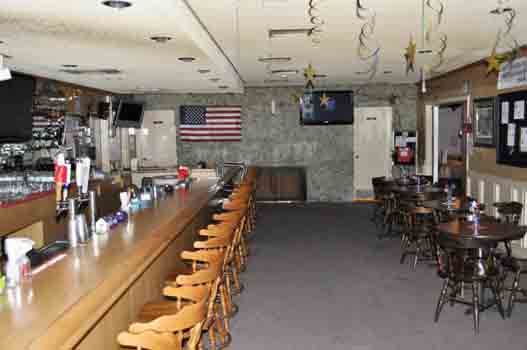 Elk's Lounge - Bar
As you enter our lounge, you'll feel comfortable and at home. Our bar has comfortable seating, with several tables and chairs for more intimate conversation. On many nights, the lounge is hopping, with shuffleboard, pool, and 3 TV's to watch sporting events.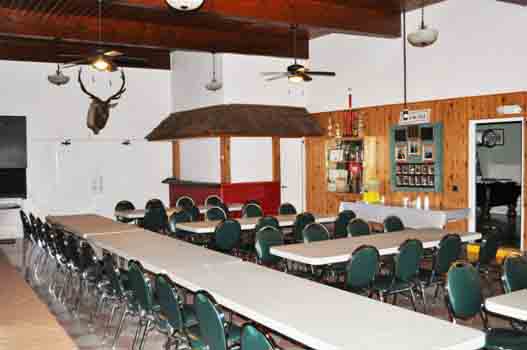 Dining Room
Our Dining Room is the main seating area for many functions. Sunday breakfasts, Emblem Club Dinners, Monday - Thursday and Friday Night Dinners are all an excellent way to meet our great members and have loads of fun. We use the small bar in the far corner when we have large functions in the Banquet Room.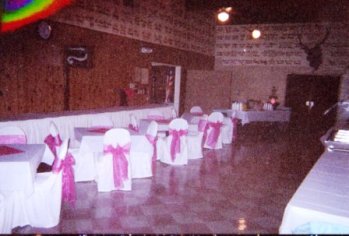 Dining Room - Dressed
Here's the Dining Room dressed for the party in the photo below. The Dining Room can be used to supplement the Banquet Room for seating, or used for single purpose events. It has a small bar so we can acomodate large groups when necessary.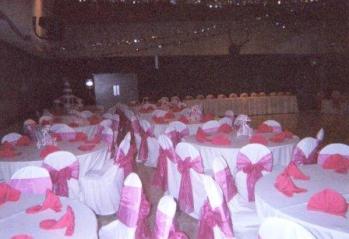 Banquet Room - Dressed
Here's our Banquet Room dressed for a party. Seating for over 100, with room to dance, a large stage, with direct access to the small bar and Dining Room.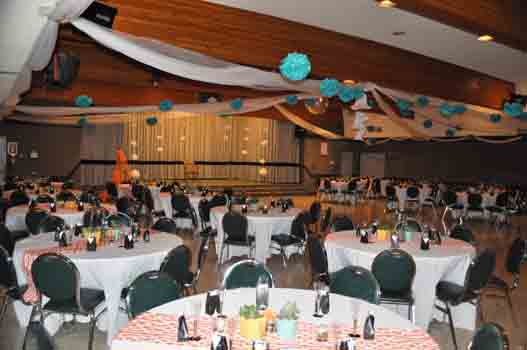 Banquet Room - Dressed
Here is our spacious Banquet Room dressed for an elegant wedding. Service was set for 160 in this photo, with the stage available for a band and lots of dancing room.
---
Back to top