Champion of the Week - Bryce Bolio
Congratulations to our 2015 National Champions!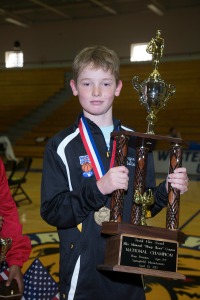 Bryce Bolio
Age Group: Boys 8-9
Sponsoring Elks Lodge: Des Moines, Iowa, Lodge No. 98
Height: 5'2"
National Finals Score: 24/25, 10/10 in a shoot-off
Hobbies: Basketball
Favorite Athlete: Stephen Curry, Golden State Warriors
Key to Success: Bryce sings a song in his head on the foul line.
How Bryce Feels about Being a National Champion: "It's great to have my name in the Hall of Fame before my favorite player, Stephen Curry. I'm really excited."
Results are in! Click here for complete results, as well as photos from the big contest!
---
Back to top