Contestant of the Week- Reese Gardner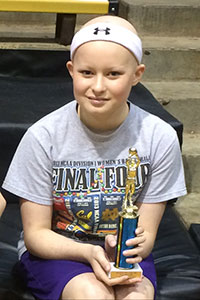 Reese Gardner
Age Group: Girls 12-13
Sponsoring Elks Lodge: Jonesboro, Ark., Lodge No. 498
2014 Hoop Shoot District Free Throw Percentage: .92
Height: 5'1"
Hobbies: Playing and watching basketball
Favorite Athlete: Michael Jordan, Chicago Bulls and herself
Fun Fact: Reese's lucky number is 13.
Why Reese Loves the Hoop Shoot : "So I can win!"
Through the Elks National Hoop Shoot Free Throw Program, the Elks National Foundation teaches kids the values of hard work and good sportsmanship. In 2013-14, the ENF allocated $692,750 to fund this program. For more information on the Hoop Shoot, visit www.elks.org/hoopshoot.
---
Back to top