Maryann Slater Dernlan , Senior Associate, Program Relations
Joined Team ENF: June 2015
---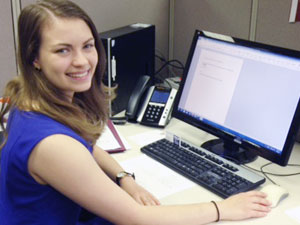 Hailing from New Jersey and a recent graduate of Rutgers University, 2011 Legacy Awards scholarship recipient Maryann Slater Dernlan moved to Chicago in June 2015 to join the ENF staff as the first Elks Scholar Fellow. Maryann was promoted to Programs Relationship Associate in November 2015 and to Senior Associate in August 2018.

"At Rutgers University I had the opportunity to lead Alternative Break trips to Washington D.C. to serve those suffering from hunger and homelessness," says Maryann. "After serving on the Elks Scholar Advisory Board for four years, I was fortunate enough to be offered the position of Elks Scholar Fellow which intersects my passions for service, nonprofit work, and helping students to become active citizens who have a lifelong commitment to giving back."

Maryann, a member of Metuchen, N.J., Lodge No. 1914, is most looking forward to connecting with scholars and Elks members from all over the country.

In her free time, Maryann, who has been a dancer for the past 17 years, can be found performing in and choreographing musical theater productions. She even choreographed and performed in a surprise flash mob engagement proposal that has almost 100,000 views on YouTube. You can also catch her cheering for the New York Giants and the Rutgers University Football team.