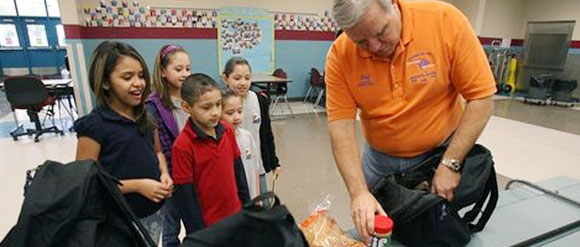 How to Promote the Elks to Your Community
You know the Elks are doing big things in your community. But are members of your community aware of the Elks' good work? What would a community member say when asked, "Who are the Elks?"
If the answer to this question has nothing to do with all the ways your Lodge is serving the community, it's time to change your community image.
When promoting your Lodge's Community Investments Program project, make sure the community knows the Elks are a leading service organization and a resource to meet needs in the community. By effectively promoting the Elks while serving your community, your Lodge will gain the notice of people who want to be part of an organization that's doing big things.
Remember, every person you come in contact with is a potential member, so you must be prepared to talk about the Elks in a way that will encourage community members to join your Lodge. This is where an elevator speech comes into play.
An elevator speech is a short summary used to quickly and simply define an organization and its work. It should be no longer than the length of an elevator ride. Below is an elevator speech you can use to encourage interested community members to get involved with the Elks and hopefully join the Order. The italicized text should be replaced with information from your Lodge.
---
Elevator Speech
The Elks is a fraternal organization focused on serving local communities. We have programs that support veterans, help youth, and meet needs specific to community name. For example, every year, our Lodge tutors students with special needs at the local high school. We'd love for you to help, so if you're interested, give me a call or stop by the Lodge!
---
If you start telling people how great the Elks are, soon your entire community will know of your Lodge's good work and will want to be a part of the Elks family.
---
Back to top