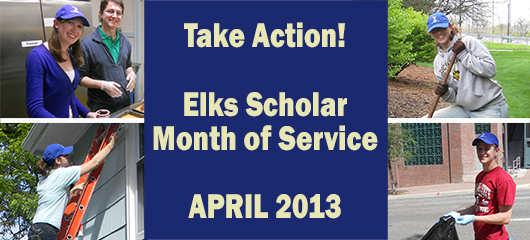 Share
Share your month of service ideas! Browse through the list of ideas below and click here to submit a new one.
Ways To Serve
Promote a campus recycling program.
Plant a garden in your community.
Paint a fence.
Pair with the Elks Lodge near you and adopt a highway.
Visit a nursing home.
Volunteer at an animal shelter.
Serve a meal at a homeless shelter.
Deliver meals to homebound individuals.
Hold a used book sale and donate the money.
Tutor students who are learning English as a second language.
Collect children's books for the needy.
Clean up litter in a local park.
Hold an afternoon dance for your local nursing home.
Start a collection drive for old sports equipment and donate it to needy families.
Help neighbors paint and repair their homes.
Contact Habitat for Humanity to see how you can support them in your community.
Clean up vacant lot.
Organize a local blood drive with the American Red Cross.
Recognize veterans in your community.
Volunteer to help at a Special Olympics event.
The possibilities are endless! We encourage you think outside the box and find a service project you are passionate about. Also, think about inviting Elks scholars to join you in a service project you are already involved in.
---
Back to top