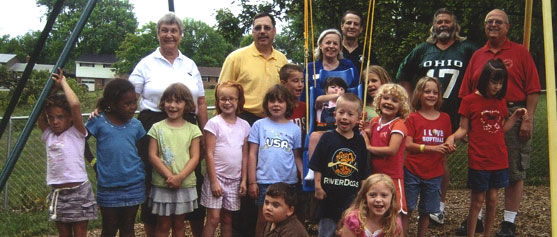 Impact Grant Resource Page
Whether your Impact Grant funding has reached its last year, or your Lodge is simply looking for other sources of support for your charitable projects, this page is designed to help. Click on one of the links below to read more about each of these topics.
Individual Giving
Corporations and Businesses
Foundations
Submitting a Grant Application
Applying for a 501c3
Other Resources
Individual Giving
Statistics show that 75 percent of charitable giving comes from individuals. Take advantage of this.
Publicize the project. Contact local papers, radio stations and the local news so people will hear about the project and how it is helping the community.


Have fundraisers. Though fundraisers take a lot of work, it is a great way to get the community involved in the project.


Consider partnering with another group in the community, such as civic groups, women's clubs, and other business or fraternal organizations. Each of these groups brings more volunteers and more people to spread the word about the project. Don't forget to also contact like-minded groups. For example, if your project benefits veterans, talk with the local VFW or contact a VA hospital if there is one nearby.


Be creative. Have someone run a race to raise money for the project. Ask a local teen club if they want to volunteer. Organize a poker or golf tournament to raise money. Visit our Elks Scholar Volunteers page to get in touch with scholars in your area who are interested in volunteering.


Be sure to acknowledge your supporters and thank them for their time and/ or money.
Contact local businesses to see if they would be interested in supporting the project. Local businesses are more likely to give to local causes. Make sure to offer them recognition and publicity for their contributions.


Have your Lodge members and friends check their employers' policies. Many businesses/ corporations have matching gift policies and volunteer hour matching programs.


Many larger businesses and corporations also have a set amount of money that they have to give out every year. If there is a place nearby, get in touch with their corporate giving office and try to start a relationship with the person who makes the giving decisions. Again, tell them how great the project is for the community, and make sure to offer recognition and publicity in return for a donation.


Look into Lodge Assistance Grants. These grants are designed to help Lodges secure donations from local businesses for specific Lodge charitable projects through monetary donations to the Foundation. Visit our webpage for more details.
Most foundations post their new grant listings on their websites, so the internet is a great place to start looking. Don't forget to check the newspaper and newsletters for announcements too. The federal government also offers many grants for charitable projects all over the country. State and local governments do too.


Once you've found a possibility, make sure to read all of the requirements to make sure your proposal is within the giving priorities of the organization. For example, if funders say they are accepting applications for children's programs, do not submit an application for a veterans program. Another thing to keep in mind is that Elks Lodges are not 501c3 organizations. Some foundations require this of grantees.


If your project fits the guidelines, reach out to the organization with a phone call or a letter. Tell them about your project and ask them if they would be interested in funding it. This is important for two reasons: First, it ensures that your project is what they are looking for. Making this call will save you time, in case it's not something they are looking to fund. The second reason is to establish a relationship with the contact person so that if you do submit an application, they will remember you.


When you receive the grant application, read the directions carefully. Many foundations won't even read proposals if they do not follow the rules. Example: If they ask for the proposal to be written in a certain font or on a certain type of paper, make sure it is.


Show that there is a need in your community, and demonstrate how your project will meet that need. The statement of need should be compelling, thought-through, well-documented with objective evidence.


Show that your organization is credible, the staff and volunteers will be responsible, and the finances will be carefully managed.


Have an established plan on how the carry out the project. Do as much of the planning as possible before applying for the grant.


Make sure the application is easy to understand.


Make sure you clearly state the need for the project.


Show that you have a concrete and measurable way of documenting the project's success.


Take extra care with the budget. Some funders look at this first.



Pay attention to the budget rules in the application.


Include all costs for the project. This is important because the Lodge will have to cover the cost of anything not included.


Check with suppliers to get accurate prices for the budget items.


Include in-kind items to show that your project has other support.


Double check the math.



501c3 refers to a certain tax exemption status from the government that is granted to non-profit organizations. A non-profit organization is loosely defined as any organization whose primary objective is to support some matter of private or public concern.
If your Lodge partners with an organization that is a 501c3, talk with them about applying for the grant. If your Lodge does not have a partner, think about applying for a 501c3 for the project. Funders looks for this, and private donors are more likely to donate to a group that is one. In the meantime, our Lodge Assistance Grant may help. Visit our webpage for complete details.
Here is the IRS website with requirements and instructions. www.irs.gov/charities/charitable/article/0,,id=96099,00.html
The Foundation Center has a lot of information about finding and applying for grants, as well as a wealth of other information. foundationcenter.org/getstarted/individuals/
The Center for Non-profit success has a database of case studies so you can learn from other organizations in similar situations.
cfnps.org/research.aspx
The Alliance for Non-Profit Management has a resource library with articles and advice about a number of topics.
allianceonline.org/knowledgebase/index.php
The National Network of Grantmakers has a searchable list of grants being offered.
www.nng.org
The Council on Foundations is full of great information for all kinds of philanthropic groups.
www.cof.org
Subsidyscope presents government data and summary statistics on federal spending and subsidies in the nonprofit sector.
http://subsidyscope.com/nonprofits/
Information taken from Donors Forum, Grant News (Illinois State University) and Non-Profit Guides.
---
Back to top