Who are the Elks?
Elks are community.
No matter where you go in the country, an Elks Lodge is right around the corner. With more than 850,000 members and 2,000 Lodges nationwide, Elks are providing charitable services that help build stronger communities.
Click here to join us in service to your community!
Dictionary Project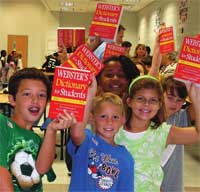 The Dictionary Project was founded in 1995 by Mary French of Charleston, SC. It's primary focus is to promote literacy to children in third-grade as they transition from learning how to read to identify and use information. Over the course of the program nearly 15 million third-grade students have received dictionaries including about 2.5 million dictionaries donated in 2009.
Elks joined this movement in 2004. Nationwide they have donated more than 1.2 million dictionaries to third-grade students and their teachers as sponsors of The Dictionary Project over the last 6 years. There are 600 lodges that actively participate in the program. To see if your nearest lodge participates in this program, find a lodge near you.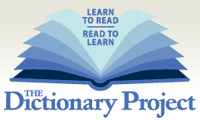 Sample Kits
There are two different sample kits available from The Dictionary Project. Each sample kit contains five books and can be obtained for $15. One kit provides all five of the American English language dictionaries. The other kit contains a dictionary and thesaurus usage guide, Spanish to English dicionary, an English to Spanish dictionary, atlas and thesaurus.
The Dictionary Project website http://www.dictionaryproject.org.
---
Back to top