Jenna Johnson, Elks Scholar Fellow
Joined Team ENF: April 2016
---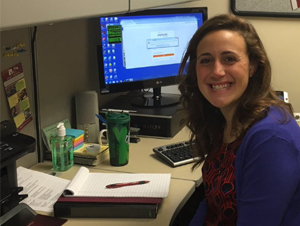 Jenna Johnson is the second Elks Scholar Fellow to join the Elks National Foundation team. She doubled majored in English and Vocational Missions before graduating from Abilene Christian University in December 2015. She moved to Chicago from Abilene, Texas in April to begin her new role.
When asked what brought her to the ENF, Jenna had this to say:
"I was privileged enough to be offered the opportunity to serve as the Elks Scholar Fellow. I received an MVS scholarship my senior year [of high school] so I stayed connected to the Elks throughout college. I was thrilled to hear about the fellowship position because I really respect the mission and vision of the Elks and I am passionate about relational service, which is what the fellowship role is all about."
Jenna's education has provided her with the skills she now uses to plan and lead the Elks Scholar Service Trips.
"Service trips offer an opportunity for scholars to build lasting relationships with fellow scholars and community members while simultaneously being introduced to societal issues that they can participate in addressing," Jenna explains.
When she is not at work Jenna enjoys running and biking. She has trained for several half marathons. Her other passions include reading and writing.
Jenna's unique experience as an MVS Scholarship recipient, and now working as the Elks Scholar Fellow at the ENF has given her this perspective:
"I admire the ways in which the Elks actively invest in communities and in the lives of their scholars. I'm really looking forward to being part of that experience and I'm thankful for the many way the Elks initiate service opportunities."